Denny Hamlin claims Brickyard 400 NASCAR Sprint Cup pole
| | |
| --- | --- |
| By Diego Mejia | Saturday, July 28th 2012, 20:54 GMT |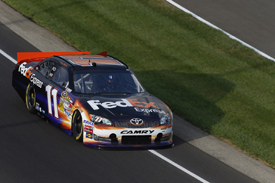 Denny Hamlin claimed his second NASCAR Sprint Cup pole position of the season in qualifying for Sunday's Brickyard 400 at Indianapolis.
The Joe Gibbs Racing driver set a laptime of 49.244 seconds at an average speed of 182.793 mph, which beat the previous benchmark set by his team-mate Joey Logano.
Roush Fenway Racing's Carl Edwards, who enters the weekend with a new crew chief, came closest to beating Hamlin and will start from the front row of the grid.
"It's been a good day," said Hamlin. "We started off today not where we wanted to be speed-wise and car handling but we identified the problem with our car... It looked like [it] picked up speed and obviously it was a great qualifying lap.
"This is a great start to our weekend, knowing that we have the number one pit-stall, we have obviously a fast car and I have a great pit crew that's going to hopefully keep me up front all day.
"If you put me out front for the last run no one's going to get around me, I don't think."
Logano and Richard Petty's Aric Almirola made it a combination of Toyota and Ford in the first two rows of the grid, followed by Edwards' team-mate Greg Biffle, and the fastest Chevrolet of three-time Brickyard 400 winner Jimmie Johnson.
Kyle Busch was seventh, making it three Gibbs Toyotas among the top 10, followed by last year's event winner Paul Menard, four-time Brickyard winner Jeff Gordon and points leader Matt Kenseth.
Hendrick's Kasey Kahne had set the benchmark in practice with the fastest lap of the weekend during the opening session, but he had a disappointing qualifying and will only line up 15th in the order.
Brad Keselowski and former Indianapolis 500 winner Sam Hornish Jr were 22nd and 24th in the Penske Dodges respectively.
Wood Brothers' Trevor Bayne was the best of the non-guaranteed drivers in 18th, while Reed Sorenson and Joe Nemechek failed to make the cut on speed.
Michael McDowell had been fast enough in qualifying to make the grid but his car failed post-qualifying inspection and thus missed his spot in the race, giving his place to Mike Bliss.
Pos  Driver              Team/Car                     Time     Gap
 1.  Denny Hamlin        Joe Gibbs Toyota             49.244s
 2.  Carl Edwards        Roush Fenway Ford            49.455s  + 0.211s
 3.  Joey Logano         Joe Gibbs Toyota             49.517s  + 0.273s
 4.  Aric Almirola       Petty Ford                   49.538s  + 0.294s
 5.  Greg Biffle         Roush Fenway Ford            49.578s  + 0.334s
 6.  Jimmie Johnson      Hendrick Chevrolet           49.626s  + 0.382s
 7.  Kyle Busch          Joe Gibbs Toyota             49.711s  + 0.467s
 8.  Paul Menard         Childress Chevrolet          49.720s  + 0.476s
 9.  Jeff Gordon         Hendrick Chevrolet           49.737s  + 0.493s
10.  Matt Kenseth        Roush Fenway Ford            49.819s  + 0.575s
11.  Ryan Newman         Stewart-Haas Chevrolet       49.831s  + 0.587s
12.  Juan Pablo Montoya  Earnhardt Ganassi Chevrolet  49.857s  + 0.613s
13.  Kurt Busch          Phoenix Chevrolet            49.865s  + 0.621s
14.  Regan Smith         Furniture Row Chevrolet      49.869s  + 0.625s
15.  Kasey Kahne         Hendrick Chevrolet           49.876s  + 0.632s
16.  Jamie McMurray      Earnhardt Ganassi Chevrolet  49.879s  + 0.635s
17.  Martin Truex Jr     Waltrip Toyota               49.880s  + 0.636s
18.  Trevor Bayne        Wood Brothers Ford           49.892s  + 0.648s
19.  Mark Martin         Waltrip Toyota               49.893s  + 0.649s
20.  Dale Earnhardt Jr   Hendrick Chevrolet           49.932s  + 0.688s
21.  Jeff Burton         Childress Chevrolet          49.951s  + 0.707s
22.  Brad Keselowski     Penske Dodge                 49.959s  + 0.715s
23.  Marcos Ambrose      Petty Ford                   49.980s  + 0.736s
24.  Sam Hornish Jr      Penske Dodge                 50.020s  + 0.776s
25.  Casey Mears         Germain Ford                 50.134s  + 0.890s
26.  David Stremme       Inception Toyota             50.220s  + 0.976s
27.  Kevin Harvick       Childress Chevrolet          50.309s  + 1.065s
28.  Tony Stewart        Stewart-Haas Chevrolet       50.318s  + 1.074s
29.  Bobby Labonte       JTG Daugherty Toyota         50.331s  + 1.087s
30.  Travis Kvapil       BK Toyota                    50.408s  + 1.164s
31.  David Gilliland     Front Row Ford               50.418s  + 1.174s
32.  Dave Blaney         Baldwin Chevrolet            50.424s  + 1.180s
33.  Clint Bowyer        Waltrip Toyota               50.443s  + 1.199s
34.  Scott Speed         Leavine Ford                 50.603s  + 1.359s
35.  Josh Wise           Front Row Chevrolet          50.635s  + 1.391s
36.  David Ragan         Front Row Ford               50.667s  + 1.423s
37.  Stephen Leicht      Circle Sport Chevrolet       50.748s  + 1.504s
38.  Landon Cassill      BK Toyota                    50.750s  + 1.506s
39.  Mike Skinner        Go Green Ford                50.878s  + 1.634s
40.  Scott Riggs         R3 Chevrolet                 50.888s  + 1.644s
41.  JJ Yeley            Baldwin Chevrolet            50.985s  + 1.741s
42.  Ken Schrader        FAS Lane Ford                51.497s  + 2.253s
43.  Mike Bliss          Humphrey Smith Toyota        51.084s  + 1.840s

Did not qualify:

     Reed Sorenson       Humphrey Smith Ford          51.250s  + 2.006s
     Joe Nemechek        NEMCO Toyota                 51.387s  + 2.143s
     Michael McDowell    Parsons Ford                 50.590s  + 1.346s