Williams says car damage spoiled Pastor Maldonado's German Grand Prix
| | |
| --- | --- |
| By Glenn Freeman and Tom Mallett | Sunday, July 22nd 2012, 16:26 GMT |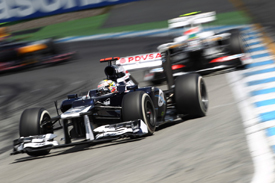 Williams's chief operations engineer Mark Gillan said substantial damage to Pastor Maldonado's car from debris led to his lapped 15th-place finish at Hockenheim.
The damage was sustained on lap 12 when the Venezuelan driver ran over a piece of carbon fibre that damaged the left hand side of his car.
Maldonado had been confident of a strong finish after starting in fifth position on the grid and was running sixth when he hit the debris. The Williams was too badly damaged to maintain that pace.
"It is obviously very disappointing today with Pastor, he was going quite well at the beginning and he went over some debris on lap 12 and it has quite badly damaged his car. He has quite a big loss, the car is so sensitive to it and almost immediately we lost the grip and never got it back," Gillan told AUTOSPORT.
"He picked up a little bit of carbon that was lying in the middle of the track and it must have disintegrated as he ran over it so it must have been big enough to damage quite a few of our aero bits on the left hand side of the car," he added.
"Pastor was pushing hard and looking to finish pretty much where he was and there was no reason why he couldn't. He was confident in the car and our long-run pace was pretty good."
After incidents in Valencia and at Silverstone for Maldonado and a poor run of form for Bruno Senna, Gillan said that the team will need to do better in Hungary, but believes this is possible.
"We have been pretty good on all kinds of circuit so there is no one circuit where I rub my hands with glee but we are looking forward to it and we need to start scoring points. We lost a number of points today through no fault of the drivers," he said.