Mercedes says tyre temperature issues caused Nico Rosberg's German Grand Prix qualifying struggles
| | |
| --- | --- |
| By Edd Straw | Saturday, July 21st 2012, 17:43 GMT |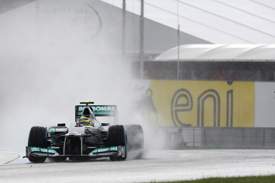 Ross Brawn blamed Nico Rosberg's struggles to get temperature into intermediate rubber for the German's poor qualifying performance at Hockenheim.
Rosberg was slowest in Q2 after failing to set a quick time on intermediate rubber. By the time he made a second attempt on wets, conditions were too bad to manage a time anywhere near the top 10. Rosberg will also take a five-place penalty for a gearbox change after a problem on Friday.
Brawn pointed out that while Michael Schumacher, who was fourth fastest in qualifying, was happy with the tyres in those conditions, Rosberg was not.
"Rather peculiarly, Nico was pretty happy with his dry tyre performance and not the wet and Michael was vice versa," said Brawn. "Nico was the fastest on the prime tyre, but struggled to get the temperature into the intermediate for Q2. Michael was the opposite.
"With Nico, we missed the window when the intermediates worked. There was no way we were going to be able to run around on the intermediate in the second half of Q2 as it would just be too wet.
"The frustration was that we didn't manage to get the tyres working well in the first half of Q2. If we didn't get the tyres working in the first half of Q2, we suffered. And we weren't alone in suffering.
"It wasn't a mistake as such but it was a problem that we didn't get the intermediates that Nico went out on up to temperature. Michael was able to do that and the difference in laptime between them was down to that."
Rosberg admitted that he struggled on his set of intermediates, even though he has no doubts that on warm tyres he would have been able to match Schumacher's pace.
"If I had intermediates [up to temperature] on my car then I could do that time too," he said. "On the set that I had, it was just not working. There was no warm-up and I was sliding all over the place."
Despite Rosberg's gearbox problem, Brawn has no doubts that the Mercedes unit will be reliable from now on.
The team introduced a carbon fibre gearbox casing at the Spanish Grand Prix in May and changes have been made to prevent a repeat of the problem.
"It was introduced at Barcelona and Michael and Nico both ran their first five-race cycle with that box," said Brawn. "When we investigated Nico's box we found that there was a dis-bond within the gearbox itself but we don't know what caused it.
"We've got some reinforcement in that area and we don't expect a problem."