Tony Stewart stays clear of Daytona NASCAR Sprint Cup carnage
| | |
| --- | --- |
| By Diego Mejia | Sunday, July 8th 2012, 05:11 GMT |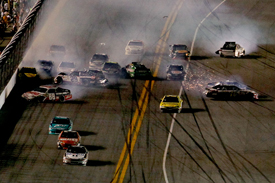 Tony Stewart beat the Roush Fenway duo of Matt Kenseth and Greg Biffle in a wild finish at Daytona on Saturday night, claiming his third win of the NASCAR Sprint Cup season.
Reigning champion Stewart charged all the way from the back of the grid after his second fastest qualifying time was disallowed on Friday due to an open cooling hose found on his Stewart-Haas Chevrolet during inspection.
Having gained track position through strategy and avoided getting caught in one of a number of multi-car incidents while in the draft, Stewart placed himself on the front row for the final restart, where he faced stiff competition from polesitter Kenseth, who was set to be pushed by his team-mate Biffle. The Roush duo spent all evening in tandem, except when Biffle was put to the back for entering a closed pitlane as the third caution began.
Once the green waved for the last five miles of racing, Hendrick Motorsports' Kasey Kahne pushed the rear bumper of Stewart's car, helping him get a run on both Ford drivers on the final lap. Then Stewart carried the momentum alone to take the lead as Kahne seemed to make contact with Richard Childress Racing's Jeff Burton, who was being pushed by his team-mate Kevin Harvick.
Although the Roush tandem seemed to be on a run to get the lead back entering the last half lap, when Kenseth tried to break from Stewart's draft he ended up making contact with Biffle, cutting all their momentum and leaving Stewart unchallenged out of the final corner.
Behind the Stewart-Haas driver a massive crash was ignited, involving no less than 10 other cars while the chequered flag waved ahead of them.
"The biggest challenge was the #17 [Kenseth] and the #16 [Biffle] car and when they hooked up I don't think there was anybody that could beat them," said Stewart. "But we were able to stay in touch with them and we got a great restart with Kesey Kahne helping me. They were coming in the outside on [Turns] 3 and 4 and the last wreck happened there. We were just fortunate we were leading still."
Burton finished second and was a surprise contender in the end after pairing with Harvick, who was one of those involved in the massive pile-up on the last lap.
Kenseth, who led more than half the distance, finished third behind him but was disappointed to lose a clear shot at victory.
"I'm really disappointed," said Kenseth, who continues to lead the points. "We thought we had one of the best cars. I was hoping it was going to be me or the #16 in victory lane. I don't know, it's hard to figure out. The [Daytona] 500 went one way and then we lost Talladega because I didn't keep Greg with me good enough... Before I got a run Tony got outside of him and then I don't know what happened because everybody started wrecking."
The race saw little action for most of its first half, the caution flag waving for the first time just past lap 80 when Sam Hornish Jr spun on the backstretch following a puncture. The Penske driver flew from North Carolina to Daytona in the afternoon, to fill in for AJ Allmendinger who got suspended after failing a random substance abuse test performed by NASCAR last week.
Besides the final incident there were another two pile-ups, one of them involving 14 cars with only six laps remaining. The crash was ignited after Joe Gibbs Racing's Denny Hamlin got sideways while running towards the front of the pack, his team-mate Kyle Busch ending up also involved.
Jimmie Johnson failed to finish for the second time this year at Daytona after getting spun and hitting the wall head on 35 laps from the end. His Hendrick team-mates were also involved in incidents but Gordon salvaged a 12th-place finish with Dale Earnhardt Jr was 15th.
Stewart's third win of the year moved him up four spots in the standings and virtually locks him up in contention to defend his title in this year's Chase.
Results - 160 laps:

Pos  Driver              Team/Car                         Time/Gap
 1.  Tony Stewart        Stewart-Haas Chevrolet       2h32m14.000s
 2.  Jeff Burton         Childress Chevrolet              + 0.111s
 3.  Matt Kenseth        Roush Fenway Ford                + 0.403s
 4.  Joey Logano         Gibbs Toyota                     + 0.951s
 5.  Ryan Newman         Stewart-Haas Chevrolet           + 2.317s
 6.  Carl Edwards        Roush Fenway Ford                + 2.911s
 7.  Kasey Kahne         Hendrick Chevrolet               + 2.953s
 8.  Brad Keselowski     Penske Dodge                     + 3.007s
 9.  Michael Waltrip     Waltrip Toyota                   + 3.008s
10.  Bobby Labonte       JTG Daugherty Toyota             + 3.010s
11.  David Reutimann     Baldwin Chevrolet                + 3.303s
12.  Jeff Gordon         Hendrick Chevrolet               + 7.418s
13.  Jamie McMurray      Earnhardt Ganassi Chevrolet      + 8.005s
14.  Paul Menard         Childress Chevrolet              + 8.085s
15.  Dale Earnhardt Jr   Hendrick Chevrolet               + 9.144s
16.  Travis Kvapil       BK Toyota                       + 11.103s
17.  Martin Truex Jr     Waltrip Toyota                  + 12.587s
18.  Casey Mears         Germain Ford                    + 12.588s
19.  Aric Almirola       Petty Ford                      + 14.640s
20.  Terry Labonte       FAS Lane Ford                   + 15.497s
21.  Greg Biffle         Roush Fenway Ford               + 22.862s
22.  Dave Blaney         Baldwin Chevrolet               + 23.813s
23.  Kevin Harvick       Childress Chevrolet               + 1 lap
24.  Kyle Busch          Gibbs Toyota                      + 1 lap
25.  Denny Hamlin        Gibbs Toyota                     + 4 laps
26.  David Ragan         Front Row Ford                  + 6 laps*
27.  Trevor Bayne        Wood Brothers Ford              + 8 laps*
28.  Juan Pablo Montoya  Earnhardt Ganassi Chevrolet     + 8 laps*
29.  Clint Bowyer        Waltrip Toyota                  + 8 laps*
30.  Marcos Ambrose      Petty Ford                      + 8 laps*
31.  David Gilliland     Front Row Ford                  + 8 laps*
32.  Landon Cassill      BK Toyota                        + 9 laps
33.  Sam Hornish Jr      Penske Dodge                    + 11 laps
34.  Regan Smith         Furniture Row Chevrolet         + 27 laps
35.  Kurt Busch          Phoenix Chevrolet               + 28 laps

Retirements:

     Jimmie Johnson      Hendrick Chevrolet               124 laps
     Bill Elliott        Turner Chevrolet                 123 laps
     Josh Wise           Front Row Ford                    47 laps
     David Stremme       Inception Toyota                  25 laps
     JJ Yeley            Robinson-Blakeney Toyota          16 laps
     Joe Nemechek        NEMCO Toyota                      10 laps
     Stephen Leicht      Circle SportChevrolet              4 laps
     Michael McDowell    Parsons Ford                       3 laps

* Involved in late accident, not running at flag