Carl Edwards critical of 'artificial' racing in NASCAR Sprint Cup
| | |
| --- | --- |
| By Diego Mejia | Friday, July 6th 2012, 08:24 GMT |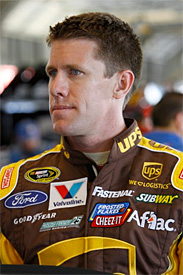 Carl Edwards believes NASCAR does not need any more rules to make racing 'artificial' amid suggestions of planned caution periods being the answer to more action-packed and competitive races.
Earlier this week track owner Bruton Smith said NASCAR needs to look at ways of enhancing races and suggested periodic cautions as a possibility to make them more exciting to the fans.
This season has seen unusually low caution averages and few incidents at most races, which Smith believes are "damaging" to the sport.
Last year's Sprint Cup championship runner-up Carl Edwards was one of a number of drivers who emphatically rejected such proposals.
"Just throwing a caution because the race is 'boring' to someone or doing things like that, I think that's a dangerous road to go down, in my opinion," Edwards said. "I think if somebody is good and they go out and win every race by a lap for a year, then they ought to be held up for that and say, 'Hey, that's great.'
"And if it makes the race a little bit more boring, we get a little bit less sponsorship dollars or a few less people in the seats, that's just the way it is. That's real competition. That's the way things can go sometimes.
"You can't fabricate competition, I don't think."
Edwards also said some of the current NASCAR rules are already making racing artificial and believes if mandatory cautions were ever to be implemented, they should not be at the expense of those who have worked hard to gain an advantage.
"The double-file restarts isn't artificial," said Edwards. "The wave-around it is and you're right on that one. Three green-white-chequers, I think that's OK. But the idea of a mandatory caution is completely different...
"If auto racing wanted to move towards something that kept real competition alive, you'd throw a caution and take note of where everyone was on the race track, you'd line them up like that from a standing start and you'd throw the green flag again. That way, if a guy's got a 100-yard lead, he starts with 100-yard lead.
"Now I know that's not as exciting maybe to some fans, but that rewards the guy who works hard."