Jack Roush surprised by Matt Kenseth's decision to leave his NASCAR Sprint Cup team
| | |
| --- | --- |
| By Diego Mejia | Friday, June 29th 2012, 20:44 GMT |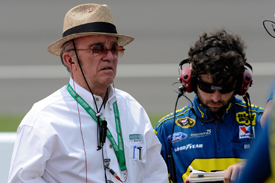 Jack Roush says he was surprised by Matt Kenseth's decision to leave his NASCAR Sprint Cup outfit at the end of the year.
Although Kenseth has yet to reveal where his future lies in 2013 and beyond, the current Cup points leader has already confirmed he has a deal in place, and is tipped to be heading for Toyota squad Joe Gibbs Racing.
Speaking at Kentucky Speedway on Friday, Roush admitted he was surprised when he learned Kenseth would not be driving for him anymore but he remains confident of a solid future with existing drivers Greg Biffle and Carl Edwards, plus Kenseth's replacement Ricky Stenhouse Jr and team protege Trevor Bayne.
"I will say that I was as surprised as most of you must have been when I learned that he would not be signing with us to go forward," said Roush of Kenseth. "It was a surprise and I had no idea that we were at that point.
"I won't comment on the negotiations, on any negotiations that might have occurred, because we have an agreement to not talk about that.
"His leaving the team creates a window, a hole if you like, that we have very capable, able, ready, enthusiastic, motivated and ambitious drivers [to fill]."
Roush believes he could have prevented Kenseth from looking elsewhere had he not been more focused on the technical side of his organisation.
"If I had been as vigilant and diligent and interested in that side of the business as I am on finding why a fuel pump broke or why a connection rod bearing failed or how we could get the next pound of downforce... if I had been taking care of the business side of the business as hard as I tried to take care of the technical side I might have been able to stop that," he said.
Roush said his team is putting together sponsors for Stenhouse's #17 car for next year, while he plans to have 2011 Daytona 500 winner Bayne at the wheel of a full-time Nationwide Series entry.