Michael Schumacher open-minded about British Grand Prix chances
| | |
| --- | --- |
| | Friday, June 29th 2012, 09:41 GMT |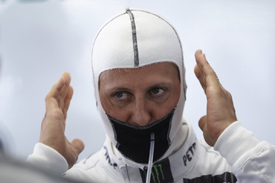 Michael Schumacher says he goes into next weekend's British Grand Prix open-minded about his and Mercedes' prospects of success at Silverstone.
Although the seven-time Formula 1 world champion returned to the podium for the first time in his comeback in Valencia last weekend, Schumacher says that with 2012 form so unpredictable he is not assuming that the breakthrough European GP result will mean he is a top-three contender in Britain too.
"I have many contrasting memories of this circuit; good, not so good and some that are even a little strange... as for how things will go this year, I'd prefer to wait and see," said the three-time British GP winner.
"We have already seen plenty of races this year that turned out differently to the expectations before the weekend.
"Of course, we want to take the momentum from our result in Valencia and put on a good show in Silverstone, especially because this is one of our home races. It goes without saying that we want to give everybody in Brackley and Brixworth a result to be proud of this weekend."
Team boss Ross Brawn said Mercedes had been buoyed by Valencia after Schumacher's problems and misfortune earlier in the season.
"Our successful weekend in Valencia has provided a further boost to the team, with a lot of hard work continuing at the factories to further improve our performance, and we look forward to having another strong weekend at Silverstone," he said.