Ferrari president Luca di Montezemolo 'worried' about team's chances
| | |
| --- | --- |
| | Wednesday, June 27th 2012, 15:31 GMT |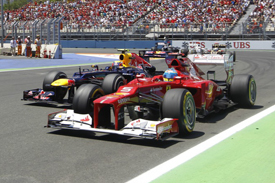 Ferrari president Luca di Montezemolo has warned his team against complacency in the wake of Fernando Alonso's European Grand Prix victory - saying the pace of Red Bull in Valencia should "worry" his squad.
Last weekend Alonso came through from 11th on the grid to become the first man to claim a second race win in the ultra-competitive 2012 Formula 1 season, in the process pulling out a 20-point world championship lead.
But Red Bull's Sebastian Vettel had been dominating before the mid-race safety car and his later alternator problem, and in an address to Ferrari personnel at its Maranello base, di Montezemolo said he feared a run of difficult races ahead.
"I am worried and all of us should be," he said. "Yes, I am worried, because I expect three very tough races at Silverstone, Hockenheim and Budapest and because we have seen that Red Bull is very strong, having had four tenths in hand over everyone in qualifying and in the race it was flying away, at least until the safety car. If we want to achieve our goals then we must make a step forward."
Although Ferrari has made great progress since its troubled winter testing period, di Montezemolo echoed team boss Stefano Domenicali's belief that it needs to find more space to defend its championship position.
"Now we must ensure we do everything as well as possible because winning depends solely and exclusively on us," he said. "It would be a big mistake to think the win in Valencia means we have done enough: today we have a competitive car, but to win, we must do even more."
He added: "I don't want outsiders to think that one win is enough for us to put on a fireworks display. I know how much you are working, how many sacrifices have been made, but I am the first to know that that all of us, without exception, must still give something more."
Di Montezemolo paid tribute to Domenicali's handling of the criticism Ferrari faced during its difficult start to 2012.
"Stefano Domenicali has never shirked his responsibilities, even acting as a lightning conductor for all the criticism, protecting his people, while at the same time knowing how to demand the maximum effort, how to build a team and look to the future in a positive way and with the right sense of realism," he said.