Renault to look into alternator issues after Vettel and Grosjean retirements in Valencia
| | |
| --- | --- |
| By Jonathan Noble | Sunday, June 24th 2012, 17:12 GMT |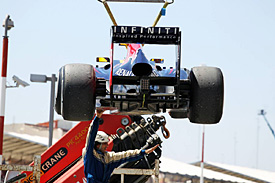 Renault says it will have to wait until its engines are returned to its base to work out what caused the alternators to fail on Sebastian Vettel and Romain Grosjean's cars in the European Grand Prix.
Both drivers saw their chances of victory taken away when they retired shortly after a safety car period, which had been caused by Jean-Eric Vergne leaving debris on the track following a collision with Heikki Kovalainen.
Vettel retired from the lead on lap 34, while Grosjean was running second behind Fernando Alonso when his alternator failed on lap 41.
Renault Sport F1's deputy managing director and technical chief Rob White said that the French manufacturer was not sure of the causes of the failures - or even if they were identical problems.
"We don't yet know whether it was the same incident on both cars, but it is very, very suspicious to all of us that it happened to both cars at such a similar point in the race," he told AUTOSPORT.
"We need to get the engines, and of course the alternator is on the engines, back to the factory."
White said that there was no indication that the alternator failures were triggered by the safety car period interfering with the operations of the engine.
"We don't think there is any reason to think the safety was involved," he said. "We have seen the consequences of the alternator stopping, but we don't know what caused the alternator to stop.
"So we don't know whether we have had this kind of failure before. We need to get back to the factory to work it out; and obviously we will not dodge the question. When we have an answer we will give it to you."