Juan Pablo Montoya confident Earnhardt Ganassi NASCAR team is improving despite poor results
| | |
| --- | --- |
| By Diego Mejia | Saturday, June 23rd 2012, 03:26 GMT |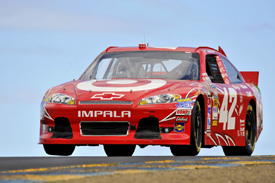 Juan Pablo Montoya remains confident changes to his team will bear fruit during the year, following a disappointing NASCAR Sprint Cup season thus far for Earnhardt Ganassi Racing.
During the winter Earnhardt Ganassi hired a new technical director, new team manager and a new crew chief for Montoya, as team boss Chip Ganassi attempted to move on from what he described as a "pathetic" 2011 and return to the form that saw EGR taking four victories and challenging for the championship in 2010.
Fifteen races into the 2012 season, drivers Jamie McMurray and Montoya rank 18th and 19th in the points respectively, their best results being a seventh for the American, the 2010 Daytona 500 winner, and two eighth places for Montoya, the latest coming last week at Michigan.
The Colombian, who became the first driver to make the Chase for Ganassi back in 2009, believes things are finally starting to happen following a slow start to their campaign.
"I think we've done a lot of progress," said Montoya. "If you really go to the team right now and see how different everything is working, it's pretty good on the car; we made a lot of gains in how the whole engine department is working. We're definitely making progress, I think.
"We have really good people that you know are working their butts off together to give us better race cars every week.
"Last week we ran really good, the week before we ran good as well. It's hard because you want to make a big jump. I think we put in key people in the right places and things are happening."
McMurray echoed Montoya's view and reckons that the changes made to the team's structure have been for the better, although he thinks it will still take some time to translate that into results.
"The way the team is structured with personnel in the engineering department and crew chiefs, it's so much better than it was last year," he said. "It's hard for you guys to see that when you write your stories, but when you're on the inside it's a completely different environment than what it was a year ago.
"It's all for the better and Chip is still out hiring people and looking for more engineers and people to make it better than what it is right now. I think for us, my guess is somewhere around the last 10 races you're going to see a lot of the progress."
Ganassi announced on Friday that Montoya and McMurray will be part of its Grand-Am line-up for the series' first Indianapolis race in July, making their second sportscar outing of the year following their fourth place with Ganassi's IndyCar drivers Dario Franchitti and Scott Dixon in the 24 Hours of Daytona.