Eight-time Le Mans winner believes the 2014 LMP1 rule changes will improve the category
| | |
| --- | --- |
| By Matt Beer | Tuesday, June 19th 2012, 10:27 GMT |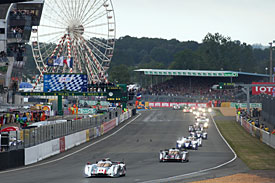 Eight-time Le Mans 24 Hours winner Tom Kristensen believes the event's 2014 LMP1 rules package will both make sportscar racing more relevant to fans and ensure parity between different technologies.
Le Mans and World Endurance Championship organisers the Automobile Club de l'Ouest and the FIA announced last Thursday that from 2014 the regulations would be opened up to allow a greater variety of energy recovery systems, with a variable fuel allocation per lap designed to ensure performance equivalency between cars with different size hybrid devices, and petrol or diesel engines.
LMP1 hybrids' energy-recovery devices are currently limited to 500KJ, but under the 2014 rules, devices of up to 8MJ will be permitted. Audi scored the first Le Mans wins for a hybrid car last weekend with its e-tron.
Kristensen hopes the new rules package will lead to a greater variety of engine types and hybrid solutions racing equally at the front of the Le Mans field, and thinks it will tie in well with the growing role of eco-technology in road car design.
"It's perfect. The same for everyone. It's the right way to go," he told AUTOSPORT.
"For sure you will see more different concepts and it sounds brilliant.
"You need 24 hour racing and Le Mans to have relevance with what's going on in, let's say, real life - what the spectators arrive and drive in. I think this makes it exactly relevant to that."
The Dane also believes that the new rules, which equalise different technology systems through fuel allocations, will give the Le Mans organisers have a better chance of achieving performance equality compared to the restrictors used to try and get diesel and petrol engines on a level playing field in recent years.
"I think so [that it will work better], because you will of course see that some are able to adapt better to different circumstances," said Kristensen.
"Now it's up to some of the brains behind the scenes to try and optimise the different ways.
"It will still count for the world championship as well, so you'll have to think, OK, there are double points for Le Mans, but you need a solution that can work at different racetracks in all areas."