Dale Earnhardt Jr ends long winless streak in Michigan NASCAR Sprint Cup race
| | |
| --- | --- |
| By Diego Mejia | Monday, June 18th 2012, 01:25 GMT |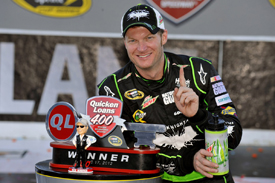 Dale Earnhardt Jr ended a four-year winless streak in dominant fashion on Sunday by taking victory in the Michigan NASCAR Sprint Cup race.
NASCAR's most popular driver finally got back to victory lane in a points paying event following a performance worthy of a championship-calibre team. Earnhardt led nearly half the distance and looked untouchable in the closing stages, when reigning champion Tony Stewart was his closest contender.
Following the final stops for fuel, where the frontrunners went for two new tyres, Earnhardt was in a league of his own as he was able to stretch the gap to Stewart (Stewart-Haas) to almost six seconds, pulling away to see the chequered flag first 1,463 days after he last did so at the same track in what was his first season as a Hendrick driver.
Earnhardt and his team dealt best with an unexpected tyre change that threw a curve ball to all teams after Goodyear was forced to switch the left-side tyre specification for a harder one for the race to try to avoid blistering. Morning rain, which delayed the race for nearly two hours, made conditions even more treacherous ahead of the 400-mile event.
"That race four years ago was a fuel-milleage race," said Earnhardt. "Today we just 'whooped' them really good. So that feels good."
Ford drivers dominated most of the first half of the race but in the end points leader Matt Kenseth was the best of them, finishing third ahead of his Roush Fenway team-mate Greg Biffle and Hendrick's Jimmie Johnson.
The five-time Cup champion was strong all day long, recovering from the back of the grid following an unplanned engine change on Sunday morning. Although he had as much speed as Earnhardt in the end, the long green-flag stretch that covered the last 60 laps made it hard for him to really get into contention.
Johnson, who crossed the finish line running out of fuel, was also hampered to some extent by blistering right-side tyres, as were Biffle and Hendrick man Jeff Gordon, who came home sixth.
Michael Waltrip Racing's Clint Bowyer was Toyota's leading contender all afternoon and finished seventh, edging Earnhardt Ganassi's Juan Pablo Montoya, who enjoyed his best race of the season thus far, beating early race leader and polesitter Marcos Ambrose (Petty) to eighth.
Results - 200 laps:

Pos  Driver              Team/Car                         Time/Gap
 1.  Dale Earnhardt Jr   Hendrick Chevrolet           2h52m29.000s
 2.  Tony Stewart        Stewart-Haas Chevrolet           + 5.393s
 3.  Matt Kenseth        Roush Fenway Ford                + 5.891s
 4.  Greg Biffle         Roush Fenway Ford                + 7.706s
 5.  Jimmie Johnson      Hendrick Chevrolet              + 16.549s
 6.  Jeff Gordon         Hendrick Chevrolet              + 17.684s
 7.  Clint Bowyer        Waltrip Toyota                  + 19.598s
 8.  Juan Pablo Montoya  Earnhardt-Ganassi Chevrolet     + 21.725s
 9.  Marcos Ambrose      Petty Ford                      + 22.872s
10.  Kevin Harvick       Childress Chevrolet             + 23.942s
11.  Carl Edwards        Roush Fenway Ford               + 24.509s
12.  Martin Truex Jr     Waltrip Toyota                  + 24.641s
13.  Brad Keselowski     Penske Dodge                    + 28.250s
14.  Jamie McMurray      Earnhardt-Ganassi Chevrolet     + 31.109s
15.  Ryan Newman         Stewart-Haas Chevrolet            + 1 lap
16.  Bobby Labonte       JTG Daugherty Toyota              + 1 lap
17.  Aric Almirola       Petty Ford                        + 1 lap
18.  Landon Cassill      BK Toyota                         + 1 lap
19.  AJ Allmendinger     Penske Dodge                      + 1 lap
20.  Casey Mears         Germain Ford                      + 1 lap
21.  Jeff Burton         Childress Chevrolet               + 1 lap
22.  Paul Menard         Childress Chevrolet               + 1 lap
23.  David Ragan         Front Row Ford                    + 1 lap
24.  Austin Dillon       Childress Chevrolet              + 2 laps
25.  Dave Blaney         Baldwin Chevrolet                + 2 laps
26.  Travis Kvapil       BK Toyota                        + 3 laps
27.  David Gilliland     Front Row Ford                   + 3 laps
28.  Regan Smith         Furniture Row Chevrolet          + 3 laps
29.  Mark Martin         Waltrip Toyota                   + 5 laps
30.  Kurt Busch          Phoenix Chevrolet                + 6 laps
31.  Ken Schrader        FAS Lane Ford                    + 7 laps
32.  Kyle Busch          Wood Brothers Toyota            + 43 saps

Retirements:

     Kasey Kacne         Hendrick Chevrolet               151 laps
     Denny Hamlin        Gibbs Toyota                     132 laps
     Joey Logano         Gibbs Toyota                     125 laps
     Tony Raines         Baldwin Chevrolet                 68 laps
     JJ Yeley            BK Toyota                         67 laps
     Michael McDowell    Parsons Ford                      41 laps
     Mike Bliss          Humphrey-Smith Toyota             35 laps
     Joe Nemechek        NEMCO Toyota                      32 laps
     Scott Riggs         R3 Chevrolet                      27 laps
     Josh Wise           Front Row Ford                     9 laps
     Trevor Bayne        Wood Brothers Ford                 7 laps