Denny Hamlin believes strategy to be key in Pocono's Sprint Cup race
| | |
| --- | --- |
| By Diego Mejia | Friday, June 8th 2012, 07:53 GMT |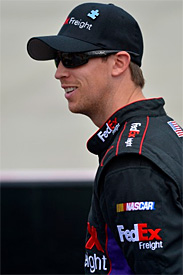 Denny Hamlin expects tyre and fuel strategies to be more decisive than ever at Pocono when Cup teams race on the new surface of the 'Tricky-triangle' on Sunday.
The four-time Pocono winner believes any information from the past at the 2.5-mile venue will not be of much use this weekend as drivers continue to discover the limits of the new surface, following the first repave of the track for the past 17 years.
The Joe Gibbs Racing driver was eighth fastest during Thursday's afternoon practice session, where speeds rose considerably as grip levels continued to increase, leading to all cars running during the test to lap under the existing track record.
Hendrick Motorsports' Kasey Kahne, who holds the standing benchmark, led the session with a lap that was more than two seconds faster than what he set back in 2004 during qualifying.
"The success we had here and things like that are gone, it's kind of a reset." said Hamlin following the two-day test. "You're not going to be able to look at any notes from previous race winners and things like that and try to predict a race winner for this thing.
"Strategy is going to be huge. Track position is going to be big. Of the test guys, I think you can probably put anyone in the top-20 out front with 15 laps to go and no one is going to catch them. It's going to be one of those types of races."
Hamlin expects tyre strategy to play a big role in how the race unfolds as there seems to be little wear so far, tyres lasting comfortably more than a fuel run, thus opening the window for gambling with gaining or maintaining track-position during pitstops.
"Everyone's fast lap, unless it was a qualifying run, was on cycled tyres," Hamlin said. "More than likely at the very end of a fuel run was everyone's fastest lap.
"The only balance is, at Charlotte and other tracks where tyre wear really is non-existent, you just run on a full fuel run, you'll pit for fuel and then run again and pit and run again.
"I think that the tyre wear will be noticed. You can get about a tank and a half of fuel out of your car before your tyres wear out, where you have to change them."
This year's Pocono race will be 100 miles shorter than past events at the track, which is also expected to have an impact on strategies during Sunday's 400-miler.
Once again it will also be the only oval where drivers downshift under braking, many entering turns on third gear in order to improve corner-exit speeds.