Kimi Raikkonen sets sights on Sepang podium for Lotus
| | |
| --- | --- |
| By Glenn Freeman | Monday, March 19th 2012, 19:40 GMT |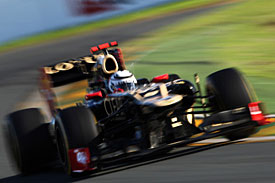 Kimi Raikkonen has set his sights on fighting for a podium finish in this weekend's Malaysian Grand Prix.
The 2007 world champion rallied back from a difficult qualifying session to score points on his return to the sport in Australia last weekend.
That performance has given him confidence that the Lotus E20 is capable of fighting at the front in Sepang - where he scored his maiden win for McLaren nine years ago.
"The car feels very good," said Raikkonen. "In the race I was stuck in traffic a lot so it didn't show so much, and who knows what might have happened if we had a better grid slot.
"There is a lot of speed in the car. As long as qualifying goes well we could be fighting for podiums.
"There's much more to come. We're learning about the car all the time and the last race didn't really give us a chance to use its full potential. Hopefully Malaysia will be a bit more straightforward."
Raikkonen sees no reason why Lotus shouldn't be on the pace this weekend, citing the fact that the car has gone well at every track it has run on already this year.
"We'll be trying to improve our performance in Malaysia," he added. "We don't know how the car will behave there but it's been good everywhere so hopefully it'll be the same there.
"You still need a good car [at Sepang] and that looks to be what we have. Hopefully we'll have a smoother weekend than we did in Australia with no mistakes."
Team-mate Romain Grosjean, who starred in qualifying last weekend by taking third on the grid, said that he expects the team to be able to hit the ground running in Malaysia because it doesn't have any major work to get through.
"The car was working very well in Australia," said the Frenchman. "There are always small improvements you can make but there's nothing major I could point to right now. The car is performing very well."