De la Rosa says F-duct needs time
| | |
| --- | --- |
| By Jonathan Noble and Pablo Elizalde | Friday, March 26th 2010, 09:20 GMT |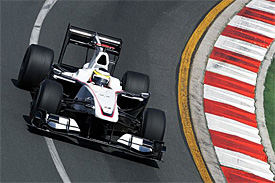 Pedro de la Rosa says it will take his Sauber team some races before it can run the new F-duct system properly.
The Swiss squad became the first team to copy McLaren's idea, introducing its own system in Melbourne and running it on Friday morning.
Sauber, however, took if off the car for the second session and de la Rosa suggested the team is unlikely to use it in the race.
"The driver has to activate the system," de la Rosa told reporters about the system. "You can do it with the knee, you can do it with your hand. You just have to make sure you activate the system. The whole purpose is to gain top speed.
"We are learning with it, and that's the reason why we took if off for the second session. We are just learning and trying to make it work for the next few races, because in the next races most teams will run it, so the earlier you start the more you learn. It's not an easy system to make it work properly."
He added. "The plan is to get it working in the next few races. We knew in advance that it was going to be very difficult to make it work straight on."
The Spaniard, who had been a McLaren test driver for seven years before joining Sauber, denied his knowledge of the existence of the system before the start of the season had any influence in his team being the first one to copy it.
"No, I guarantee that it has absolutely no influence in the fact that I knew the system, because I obviously knew. But the team started work once the system was basically published in the media."
De la Rosa admitted he felt much more confident of a strong race than in Bahrain two weeks ago.
"I felt stronger than in Bahrain. Generally happier, the car's grip level is a lot higher and we will fight strongly to get into the top ten. It's going to be tough as always, but I'm a lot more positive than in Bahrain, although we have a lot to do and to make sure we get one clean lap in.
"Today was very difficult to get a clean lap. There was a lot of traffic and a lot of spots of rain, which made it quite tricky."