Q & A with Mark Webber
| | |
| --- | --- |
| By Edd Straw | Wednesday, February 10th 2010, 20:37 GMT |
Mark Webber's first day in the new Red Bull RB6 was disrupted by an oil leak that forced an engine change, but despite that delay and the incessant rain, the Australian still ended the session satisfied and optimistic.
Afterwards he shared his thoughts with the assembled press, including AUTOSPORT.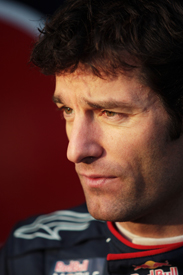 Q. What do you make of the Red Bull RB6 after your first day in the car?
Mark Webber: It was a pretty positive feeling actually. It wasn't exactly a clean day of testing with the changeable conditions but that is the same with everyone. Then we had an unfortunate, pretty basic oil leak that turned into a bit more of a palaver than that.
It was unfortunate that with hindsight we probably could have handled that a little bit better but that's the way it goes sometimes. We haven't done the track time that we should have but in the end we still got 50 laps on the car. Hopefully tomorrow it is dry so we can get more information.
Q. Did you get much of a feeling for the handling of the car?
MW: Everything felt as we targeted and expected. On a normal wet, slippery day at Jerez it felt fine. There were no real vices in the car. We still have to understand a few things with it but now it is shaken down we can start to do a bit of work tomorrow and in the back part of the month we can start to look at lap times. It's impossible because you've got people out there who are minute flying and the next minute not flying, so it's hard to say who is doing what.
Q. Does the car feel much the same as last year's car?
MW: Yes.
Q. Are you comfortable in the car?
MW: Yes, so far so good. We got a few hot spots on the seat but the guys have done an awesome job installing. We were so well prepared at the factory because we knew we didn't want to waste time with driving position and stuff like that.
Q. Does the car feel more lazy in the slow stuff because of the longer wheelbase?
MW: Yes - it's natural. It's got to happen with a long car. To get round a chicane or Turn 5 for example, the car is lazier. That's physics.
Q. Did you have any problems with the intermediate tyres going off and will this be a problem in the next few days?
MW: We'll see. It was a bit of a surprise to see some people getting as much wear as they were but I don't see it changing this week. In the dry, the track changes characteristics but when it is wet nothing is going to change. The compound is the same, the lap times will be the same and the track conditions are the same so the tyre is receiving the same stress. For most of the week it will be like that.
Q. Is it difficult to do the shakedown in this weather?
MW: Not really. It was nice to get one lap at least with a clear track, but even then I had a bit of traffic with [Vitaly] Petrov. But those are the cards we have been dealt with. I'm sure we will get some dry running and we will make the most of that. Also, we race in the rain and there is no question that we did learn some things today.
Q. Do the rainy days hurt you more than the others because of the late start?
MW: If you were to ask in Abu Dhabi or Brazil did it cost you anything big I don't think it's going to cost us much at all. They had a few dry days in Valencia, but Valencia is not the best track in the world either, so we missed some nice conditions.
Q. Did you personally miss the extra days in the car?
MW: As a driver, yes because you always want to do a little bit more. But I felt pretty comfortable in the car straight away today and had a reasonably good feeling straight away. I've done nothing since I got out of the car in Abu Dhabi. It's maybe a little bit too far the other way in testing. We need to do something for the youngsters to get mileage, this is clear, but the mileage when I came into F1 was too far the other way. To do 45 days a year testing is also crazy and we need to find a balance. At the moment it's pretty aggressive, but for the future they should look at something a little bit difficult and have more mileage for rookies.
Q. Everyone was expecting a radical car from Adrian Newey, but it seems to be an evolution. How do you see that?
MW: I saw the car months ago so I knew what it was like. Everyone copied his ideas from last year, which is a real credit to Adrian, but there is only so much the guy can do. You don't know what he might come up with and you might think it is going to be strange or different but he has generally done a good job of designing F1 cars for regulation changes and we are very confident that this is a strong evolution of what we had this year and we hope it stands us in good stead. But hoping and wishing doesn't get you anywhere. We know what we are up against and we are respectful of the opposition. We've done enough, that's all you can do.
Q. How do you see the season for yourself. Is it a combination of pressure and confidence after you raised the bar last year?
MW: You have hit the nail on the head. The bar has been raised. It was a good season for me last year for a lot of different reasons. I had a tricky start in terms of my own physical condition but that is behind me now which was also a great burden mentally, not just physically. I am really optimistic about racing this car. There is absolutely no reason that I cannot do a better job than I did last year and achieve more things.
Q. How do you rate yourself against Sebastian Vettel?
MW: Seb is a quick guy, but there were times last year when it went well for me. He had certain strengths at certain times last year, but things are changing all the time – qualifying, traction control, there's always things moving around so as a driver you need to get on top of those things and we have another new challenge this year.
Q. Does it help that you and Sebastian were together last year compared to Fernando Alonso having to work with Felipe Massa, for example?
MW: We had a pretty similar style last year, so this was a benefit to the team in terms of development. That's a huge bonus for the team when you don't have a split situation. We will see if that is the case again this year with the regulations how they are. A lot of teams are going to be doing a lot of learning into the first part of the championship irrespective of drivers being partners or not partners.