Salzburgring WTCC: Michel Nykjaer pole as 12 drivers penalised
| | |
| --- | --- |
| By Matt Beer and Sam Tremayne | Saturday, May 18th 2013, 19:42 GMT |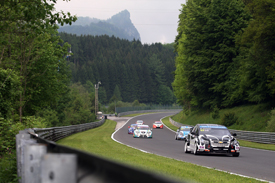 Michel Nykjaer has ended up with pole position for the opening World Touring Car Championship race at the Salzburgring as 10 of the top 12 drivers on the grid were penalised amid the fallout from the farcical end to qualifying.
The Austrian event was thrown into chaos as the entire 12-strong Q2 field missed out on final flying laps while driving slowly to try and get slipstreams from each other.
Tom Chilton, heading the pack in his RML Chevrolet, had not needed to chase times as he and team-mate Yvan Muller occupied the provisional front row.
WTCC officials were unimpressed with both the end-of-Q2 scenes and traffic jams in Q1 as drivers tried to back each other up to get clear runs.
Stewards handed out fines and penalties to a total of 12 drivers in the qualifying aftermath.
They also subsequently ruled that all three Honda Civics did not conform to post-session technical checks, meaning that Gabriele Tarquini, Tiago Monteiro and Norbert Michelisz will all start from the back of the grid for race one.
Their penalties supersede the punishments handed out as a result of the qualifying fall-out.
All qualifying punishments, awarded as per the table below, apply to race one only.
Driver           Grid*    Penalty  Fine(€)
Yvan Muller         1     -12      3000
Tom Chilton         2     -12      3000
Rob Huff            3     -10      1000
Alex McDowall       4     -8       3000
Michel Nykjaer      5
Gabriele Tarquini   6     -24      6000**
Tiago Monteiro      7     -12      3000
Pepe Oriola         8     -16      6000**
Norbert Michelisz   9     -12      3000
James Nash          10    NFA
Stefano D'Aste      11    -5       1000
Tom Coronel         12    -15      4000**
Mehdi Bennani       13
Mikhail Kozlovskiy  14    NFA   
Fredy Barth         15
Franz Engstler      16
Marc Basseng        17
Hugo Valente        18    -5       3000
Darryl O'Young      19    -5       1000
James Thompson      20
Charles Ng          21
Rene Munnich        22
Fernando Monje      23

*As determined by qualifying, before application of penalties
**Penalties and fines handed out based on transgressions in Q1 and Q2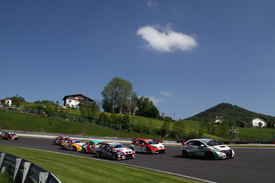 The final starting positions be revealed on Sunday morning, as officials have yet to confirm the order in which penalties will be applied.
One certainty is that Nykjaer ends up on race one pole as the four drivers who outqualified him all have substantial penalties and he was not penalised.
James Nash's race two pole is unaffected.
Revised race one grid:

Pos Driver              Team/Car
 1. Michel Nykjaer      Nika Chevrolet   
 2. James Nash          Bamboo Chevrolet 
 3. Mehdi Bennani       Proteam BMW      
 4. Mikhail Kozlovskiy  Lada             
 5. Fredy Barth         Wiechers BMW     
 6. Franz Engstler      Engstler BMW     
 7. Marc Basseng        Munnich SEAT     
 8. James Thompson      Lada             
 9. Charles Ng          Engstler BMW     
10. Rene Munnich        Munnich SEAT     
11. Fernando Monje      Campos SEAT      
12. Alex MacDowall      Bamboo Chevrolet 
13. Yvan Muller         RML Chevrolet    
14. Rob Huff            Munnich SEAT     
15. Tom Chilton         RML Chevrolet    
16. Stefano D'Aste      PB BMW           
17. Pepe Oriola         Tuenti SEAT      
18. Darryl O'Young      ROAL BMW         
19. Tom Coronel         ROAL BMW         
20. Hugo Valente        Campos SEAT      
21. Gabriele Tarquini   Honda            
22. Tiago Monteiro      Honda            
23. Norbert Michelisz   Zengo Honda