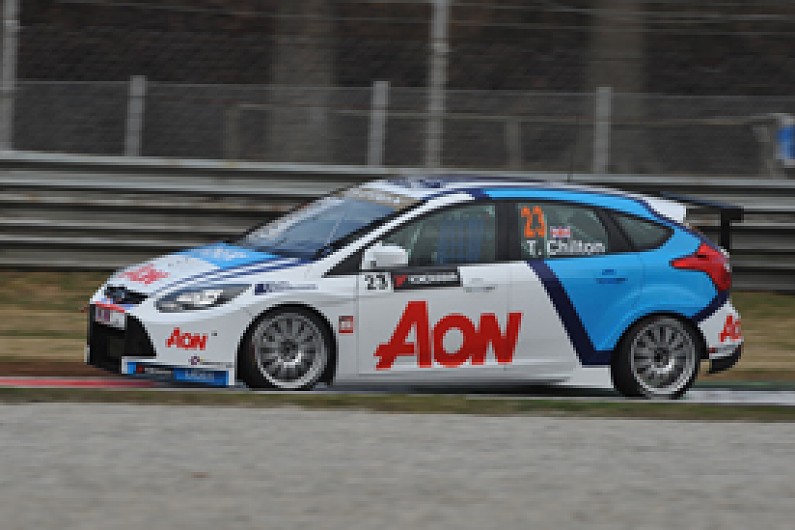 Arena Motorsport's Ford Focus S2000 TCs will again carry 30kg of penalty ballast when it heads into the second World Touring Car Championship round in Valencia.
The ballast relates to issues over the floor of the Focus - just one of the inevitable problems the squad faces as it makes the jump between the British and World championships.
Arena team manager Alan Cole outlined the problems his team has already faced and what steps it needs to take in order to avoid them in the future.
Q: There seemed to be quite a lot activity in the Arena garage at Monza, could you explain some of the challenges that you dealt with?
Alan Cole: "We had an oil issue that occurred at Monza that we had never had before during 1500km of testing in the winter. That was something that was peculiar to the track. I think we were on the brakes for something like four and half seconds and then suddenly flicked it right and then left. That was something out of the blue, but we got it under control for the races. [Engine builders] Mountune did a great job. We're learning, we're learning about World Touring Cars, and that was a good half lesson to start with."
Q: The red flag in qualifying hurt you, but the overall performance from the weekend was promising. You qualified with a flat floor, but it was taken off for the races. What was the reason?
AC: "There was a question mark with the FIA regarding the floor. At the moment we are still in negotiations with the FIA about where the tyre sits. We believe we're correct, they believe they're correct, and they came and asked us to make a change just before the race. It was like, 'Ah, okay'. We did that. It put us in a bit of a spin, but the drivers coped with it well."
Q: Will you have the flat floor back on the car for Valencia?
AC: "We applied for that to the FIA, to have the same as the other teams some time ago and we're waiting to hear back from them at the moment. We just have to sit and wait, and they'll tell us when they're ready."
Q: Would it be a problem if you couldn't run the floor?
AC: "Well, there is a good reason why every other car has one."
Q: Is it a homologation issue?
Cole: "It is a homologation issue. It is an ongoing discussion with the FIA. They are helping us as much as possible. It is the interpretation of the rules, we have interpreted it one way, and they have interpreted it another, and everything has been very late. They have only just finished the Group A homologation, but now they are going to come back to us and we have just got to work with them and hopefully over the next few rounds we'll get on top of it."
Q: Did the problem arise because the FIA did not have an opportunity to see the car during pre-season testing?
AC: "No, we were very late. It was our fault, we were very late getting them to come and inspect the car. As you know, developing a car, we were changing bits test on test on test - and we left it too late to be honest, which was our fault. And then there was a difference of opinion."
Q: Obviously you must prefer if this hadn't happened, but with an all-new car should these things be expected?
AC: "You hope it doesn't happen, but we spoke with some guys at Chevrolet - we have some friends there - and they said they had a similar issue when they first came in when they were testing."
Q: Was there a change to the suspension as well, or is that related to the floor?
AC: "No, no changes to the suspension. We'll run it as it is. Basically, they don't like the way we've made things, and we think we made them correctly. We can remake them how they want them, but we're not going to do that in four weeks. We have to manufacture new parts and test them. It isn't going to happen in four weeks. It is just the way that it is made. The position of nuts and bolts and pickup points won't change; it is just how they got there. There is one particular point where we admit we have slipped up; we have made one part out of steel and one part out of aluminium, on the same part of suspension. The rules do say it can only be made out of one material. We now have to remake that and then test it. As I say, the FIA have been very good, just talking to us, going through how they see the rules should be interpreted. We were out testing on Wednesday at Rockingham with the BTCC boys."
Q: Valencia is a very different track to Monza, is the aim just to continue the learning process?
AC: "We did test at Valencia before the season started. It will be a very different track from Monza, but again it is going to be a learning curve. The drivers know the track reasonably well, whereas at Monza they didn't, so that should make them get onto it a bit quicker. We qualified where we did and finished where we did at Monza. We'll have to see if we can improve on that, and every time we go out we just want to keep improving. If we do that, hopefully next year we'll start challenging at the front."
Q: On the weight situation, is there any news on when the 30kg might come off?
AC: That probably won't come off until such time as these issues with the FIA are resolved. Again, they have come back to us, we have gone back to them, and it is going backwards and forwards at the moment to agree where we need to be on that. So we will probably be paying the ballast for the next race, and possibly at Marrakech.
Q: Did the imposition of the 30kg have any relation to the difference in interpretation, or was it unrelated?
AC: "For us, it is a problem, but you know if it's coming to us then they are doing that... If they're not happy, and they don't think it's within the rules, they have to do something. They won't just wave it through and say just get on with and we'll sort it out later. You know it will be the same for everybody else in the pitlane."
Access even more news on Autosport.
Register for free to increase your monthly limit from 15 to 25 stories - or subscribe today and get unlimited access.
Get unlimited news
Full access to our news and in-depth Autosport Plus features - all in an ad-free enviroment.
Subscribe to Autosport Plus
Get 10 free extra stories
A quick upgrade and you'll boost your monthly news limit instantly - for free.
Register for free