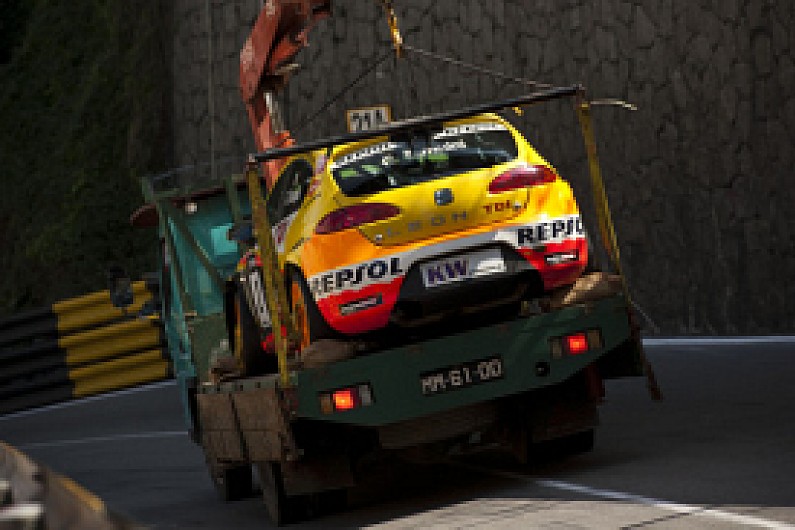 Gabriele Tarquini, the newly-crowned World Touring Car champion, conceded that his path to the title had been a particularly hard one.

The Italian, who at 47 has beaten Juan Manuel Fangio's long-standing record as the oldest FIA world champion, believed his two crashes in the build-up to the Macau race, and strong challenges from Yvan Muller and Augusto Farfus, had made extra difficult for him.

"I started crashing, so it was not the best way to approach the weekend in Macau," he said. "I went to hospital like Yvan [Muller], because I had a big crash on Friday, but the mechanics were fantastic.

"They rebuilt the car better than before, they spent all night and one day to rebuild the car and they made a fantastic job.

"It is great. What can you say about age? Experience pays maybe, but I took a good chance. Maybe it was my last one as I don't know my future, so I took this chance.

"I was focused on the championship. It was very tough because to fight with Yvan and also Augusto, they made a really good season this year and it was not very easy. I scored a lot of points, the record on points to beat them, because it was a really tough season."

Tarquini was suffering a misfire in the second race, which left him nervous about his title chances if there had been a restart following the late-race restart. However, with the race abandoned, Tarquini revealed he was not aware at first that he was champion without moving a wheel.

"I was in a safe position with my team-mate behind me, so I was thinking - it is a shame that we must restart another time, but fortunately the race was stopped," he said. "So I was world champion without knowing, as everybody in front of me was smiling and crying, but I didn't understand because I didn't have the radio. I realised just a little bit later."

Tarquini also paid tribute to the efforts of his SEAT team, who had to work overtime to repair the damage caused by the collision with Muller in qualifying.

"They made a really fantastic job," said Tarquini. "I was watching from a competitive team when they entered in WTCC [then the European Touring Car Championship] in 2003, to this moment when they have improved a lot.

"Now they are unbelievable. Watching how they can rebuild the car [that was] completely destroyed, because Yvan's was completely destroyed.

"I must say thank you to these people because they work really, really well and it is always difficult to compete with brands like BMW and Chevrolet that have a lot of history in motorsport. SEAT has become a team to beat. I want to say thank you to these people."