Remembering modern day rally showman Ken Block
OPINION: The late Ken Block's extraordinary passion and peerless ability to connect with a huge and diverse fanbase defied the conventionalities of motorsport. It's what made him so special
"Passion sometimes is perhaps more important than winning all the time," said 2003 World Rally champion Petter Solberg when asked during an Autosport podcast last week to sum up the career of the late Ken Block, who died aged 55 in a snowmobiling accident.
Solberg couldn't have hit the nail on the head any harder. Block wasn't a world champion and, while a look over his career shows that he was capable of competing at the highest level, he enjoyed limited success. But what the American gave to motorsport, and in particular the rally scene, cannot simply be measured in trophies.
In Block, the motorsport world has lost one of its most passionate icons, a pioneer, a visionary and a game-changer both in and outside the cockpit. The outpouring of tributes from across the world of motorsport, including Formula 1 champions Lewis Hamilton, Fernando Alonso and Jenson Button, underlines his impact.
It's perhaps fair to say that when Block is mentioned, the first thought for many is the sight of a tyre-squealing rally car performing insane stunts amid a wall of tyre smoke. While these daredevil moves helped Block transcend the motorsport crowd to become a household name after garnering hundreds of millions of views through his successful Gymkhana YouTube series, he was much more than a stunt driver and a showman.
Block was a late arrival on the motorsport scene. He competed in his first national rally aged 38, having enjoyed a successful career as an entrepreneur, during which he co-founded DC Shoes. Its rapid success would offer a glimpse into the marketing and PR skills Block would unleash on motorsport.
Starting a motorsport career at an age when most are considering hanging up their helmets meant Block was always going to face an uphill struggle to compete with the masters of the craft. But a relentless passion drove him to compete at the top level in the World Rally Championship, where a seventh at Rally Mexico in 2013 was his best reward.
There were podiums in the World Rallycross Championship, while Block enjoyed plenty of success on home soil, finishing runner-up in the Global Rallycross Championship in 2014. And just last year he narrowly missed out on the American Rally Association national title driving a 2021-spec Hyundai WRC car.
While Block didn't achieve huge success at the very top level, with seventh on the 2013 Rally Mexico his best result, he was still one of the biggest stars and attractions in modern rallying
Photo by: McKlein/Motorsport Images
"Ken was an incredible man," explains Solberg, a close friend of Block and who raced alongside him in WRC and World Rallycross. "He had an enormous passion for motorsport. He worked very hard to be good and he had a fantastic career. We have all learned a lot from him. He achieved by thinking outside of the box. I think in rallycross he really impressed and did really well with his technical driving in Gymkhana events.
"He has been recently driving in the American rally championship and last year he was very impressive. I think he was a guy that knew he would never be a world champion, but was very good and happy enough to compete at the top in many different types of motorsports."
While success may have been fleeting in the top level of rallying and rallycross, it was Block's ability to bring eyeballs to the disciplines through his hit Gymkhana series that is arguably most important. He made rallying and rallycross cool, and his antics permeated those who may have bypassed this area of motorsport completely.
Like his hero Colin McRae, Block was box office and the excitement he brought guaranteed bums on seats wherever he went as he helped rallying crack the American market. No doubt Subaru, Ford and latterly Audi all benefited from being associated with Block.
"He did so much for the sport and I think the sport didn't use him enough for what he was capable of. It was not about the money all the time, it was all about the vision and dreams, and everything else will sort itself after" Petter Solberg
A capable driver with expert car control, a master marketer and a sponsor's dream – Block was all of these. This is what made him special, and sadly was perhaps overlooked and underutilised by the motorsport industry.
"For sure, we are jealous, a lot of us as we wonder how this can be possible," adds Solberg. "If I was a marketing company or a sport, he is the guy I would have brought in straight away to try and recreate what he has done. At the end of the day, it's all about the people and they make the biggest difference, and what he's done for brands and manufacturers, it's so impressive.
"He did so much for the sport and I think the sport didn't use him enough for what he was capable of. It was not about the money all the time, it was all about the vision and dreams, and everything else will sort itself after. He created many friends and a level of marketing that people can only dream about."
Solberg raced against Block in rallycross and regarded him highly both for his driving skill and his affinity with sponsors
Photo by: McKlein / Motorsport Images
Block for many will be an inspiration, particularly for the younger generation. Solberg's son Oliver, who has gone on to forge his own rallycross and WRC career, can count himself among the legion of young talents inspired by Block. Despite having a world rally champion as a father, it was Block who was his hero growing up.
"He brought the sport to the people and to the American market and made rally into a different show, and he did the same when he came into rallycross," says Solberg Jr. "It made a difference straight away because of all the action and videos he made.
"This is what the young people love and as a kid that is what I loved. I loved the slides, the jumps, the fire and these cool things that he made, and that is why he was my biggest idol. When I was young he was an inspiration and one of the reasons why I like rallying because he made it cool."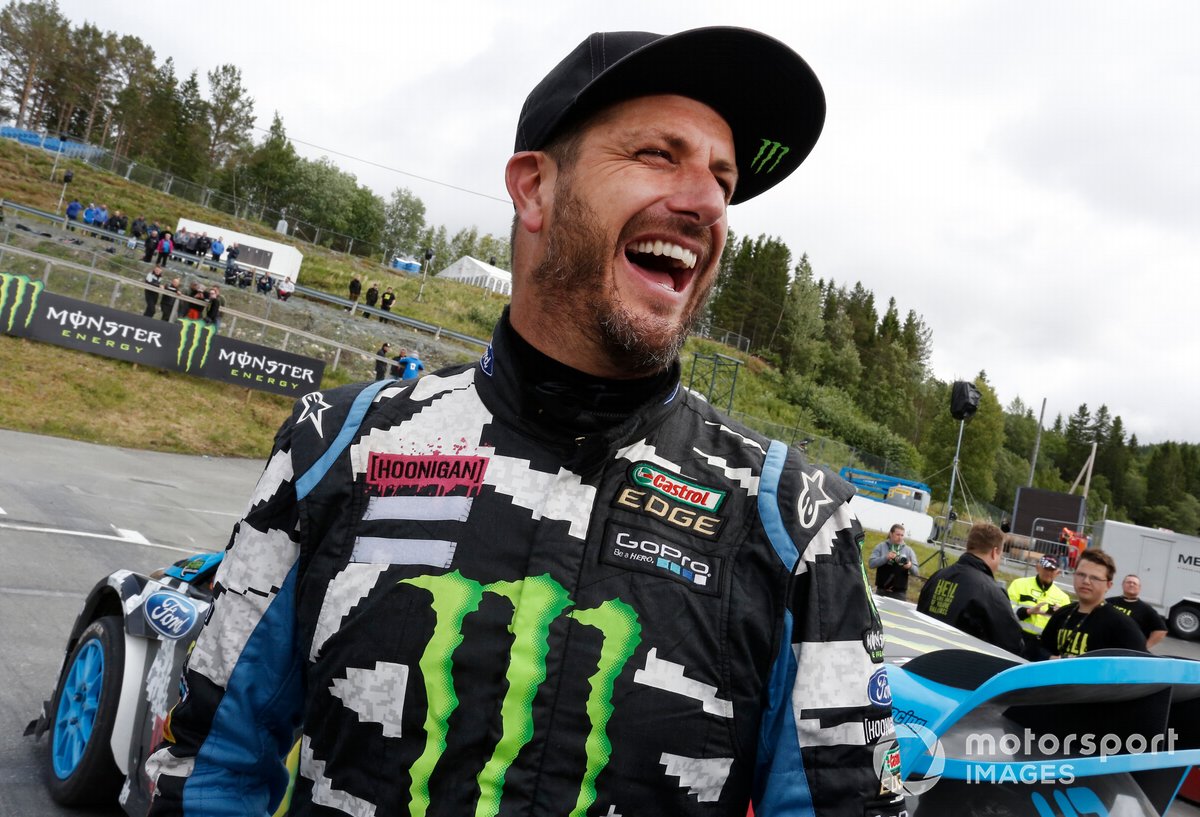 A hero to many, including Oliver Solberg, Block will be missed sorely by the motorsport community
Photo by: McKlein / Motorsport Images
Subscribe and access Autosport.com with your ad-blocker.
From Formula 1 to MotoGP we report straight from the paddock because we love our sport, just like you. In order to keep delivering our expert journalism, our website uses advertising. Still, we want to give you the opportunity to enjoy an ad-free and tracker-free website and to continue using your adblocker.
Become a subscriber.
Disable your adblocker.