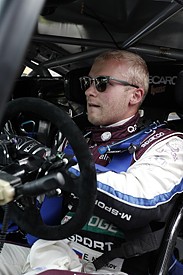 Rally Finland stewards have decided Evgeny Novikov did block Kris Meeke on the Palsankyla stage on Friday morning.
The British driver has been credited with the time he posted on the second run through the stage - which was 23.7 seconds faster than in the morning, so has had 23.7s deducted from his overall time.
The new time does not alter his position in the classificiation, but it does mean he starts the final day just eight seconds behind his team-mate and Citroen team leader Mikko Hirvonen and more than a minute ahead of sixth-placed Jarkko Nikara.
Meeke's first ever event with the French factory squad - and his first WRC round since 2011 - was hampered when Novikov pulled out ahead of him following the Russian's accident. Novikov was reprimanded by the stewards.
After viewing onboard footage from both cars and hearing statements from representatives of both the Qatar M-Sport and Citroen Abu Dhabi teams, the stewards' decision stated: "The stewards conclude that the passage of car #10 [Meeke] was impeded by car #5 [Novikov] through SS8."