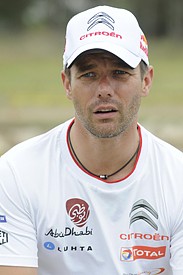 Sebastien Loeb cannot see anyone stopping Sebastien Ogier from becoming his successor as World Rally champion.
Ogier enjoys a 54-point lead in the WRC after just four rounds this season, only two of which Loeb has contested.
Loeb returns to the WRC in Argentina this weekend and says he has been impressed with Volkswagen driver Ogier's pace.
"He seems very comfortable in his car, which is well born," said Loeb. "It makes a good package. We knew he was very quick and so there is no real surprise [in his results].
"According to me, he is at the level where we thought he could be."

Seb vs Seb: an epic battle resumes
The nine-time champion thinks Ogier will clinch the title with time to spare.
"I don't think anyone can beat him. On paper, it looks like he will win the title very soon, but it's never finished before it is and we have also experienced seasons where fate and luck were going up and down," said Loeb.
"As far as I know from the team, the Polos have encountered a lot of technical problems, so they might have some [more of those] too."
Having missed Mexico and Portugal, Loeb is back aboard a Citroen DS3 WRC in search of an eighth straight Rally Argentina win this week.
"I haven't competed for two months and I am cautious," he said. "I don't know where I will stand after day one.
"But once the helmet is on, Daniel [Elena co-driver] and I will be motivated for the best result possible."