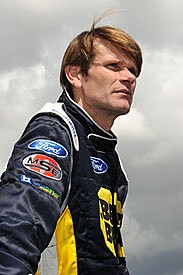 Double world rally champion Marcus Gronholm is reported to have made good progress through his second night in hospital following his crash during practice for last weekend's X Games.
The Finn has undergone further tests in a hospital in Los Angeles and has been visited by members of his team through the night and into this morning. The 44-year-old is said to be in good spirits, but sources have indicated there were serious concerns for Gronholm.
"There's no doubt that Marcus was in a pretty serious condition when he came into hospital," said a source.
"He'd been unconscious and he'd experienced some serious forces on his body from that crash. The team in the hospital has monitored him throughout, but it's fair to say there was a lot of concern straight after the crash."
A spokesman for Gronholm said: "Marcus has made a significant improvement since he arrived in hospital with two days of positive reports from doctors. He's awake, talking to the team and joking about the fact that Sebastien [Loeb] won because he wasn't in the race.
"It's fair to say, he's pretty frustrated that he wasn't there to challenge Sebastien for the win."