The #68 Ford GT has been excluded from the results of the Le Mans 24 Hours due to an apparent breach of fuel tank capacity regulations.
The Ford Chip Ganassi Team USA entry, raced by Sebastien Bourdais, Joey Hand and Dirk Muller, finished fourth, heading a Ford 4-5-6-7 result in GTE Pro.
It was the team's last Le Mans 24 Hours with Ford backing, as the marque is pulling out of the World Endurance Championship for next year.
A report from the FIA and ACO Technical Delegates have decided following post-race scrutineering that the "total onboard fuel volume [was] found to be in excess of the permitted limit".
The maximum permitted volume per the Endurance Committee Decision for the car was 97 litres, and scrutineering revealed the #68 Ford's tank to hold 97.83 litres.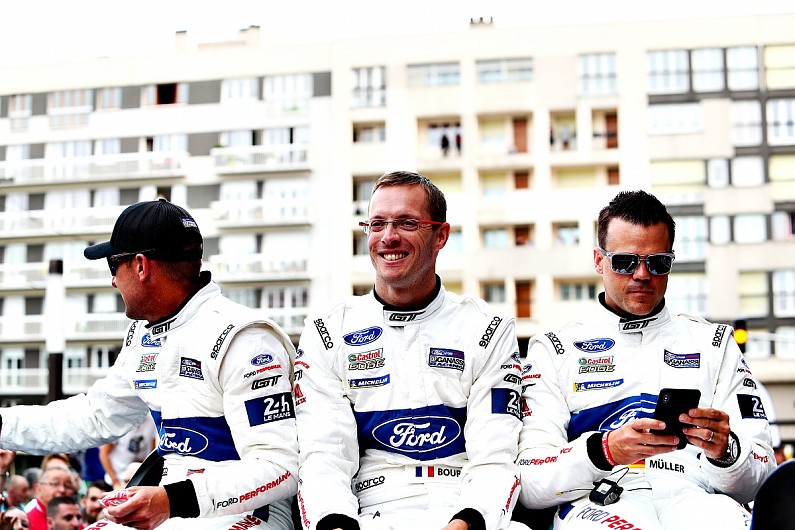 According to the ACO/WEC release: "The competitor explained that the team checks the Maximum Onboard Fuel Volume at their facility in the US using the same measurement technique as the scrutineers.
"Since the car was shipped, the BoP [Balance of Performance] has changed, and the competitor made the changes to their tank, but given the resources on site, they were not able to do a calibrated check.
"Therefore order the usual penalty for a technical breach of this nature and disqualify the competitor from the event.
"The Stewards therefore order the forfeiture of any prizes and trophies and that the final classification be amended and the order of the other cars behind the competitor shall be adjusted up."
The team does have the right to appeal the decision.