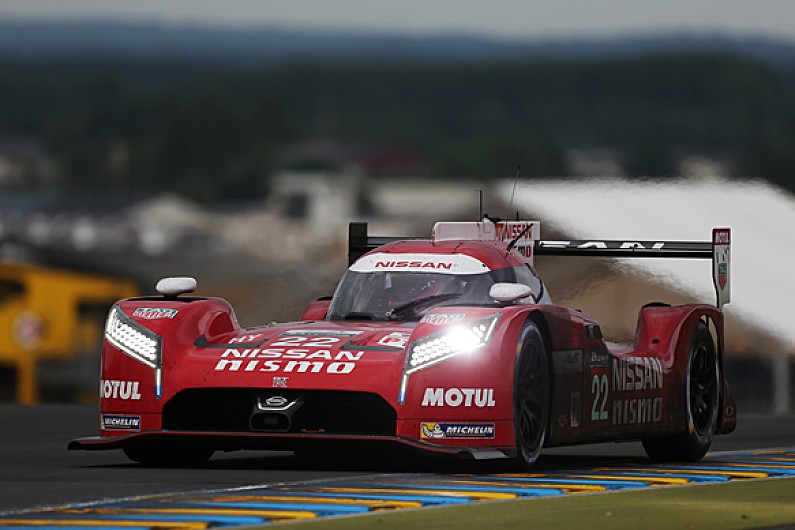 Nissan has admitted that its front-wheel-drive GT-R LM NISMO LMP1 contender raced in last weekend's Le Mans 24 Hours without its hybrid system engaged.
Darren Cox, the Japanese manufacturer's global motorsport boss, made the admission in the wake of a race in which the best Nissan lapped 18 seconds off the pace, confirming the widely held conclusion that the GT-R LM gained no benefit from hybrid power.
"No, we didn't try running it," Cox told AUTOSPORT.
"For reliability reasons we didn't engage the hybrid system."
Cox explained that the decision was made after the Le Mans test two weeks before the race.
Ben Bowlby, technical director and team principal at the Nissan Motorsports squad, had suggested at the test that the fully-mechanical system developed by Torotrak would operate at reduced power in the name of reliability.

GARY WATKINS: What did Nissan actually accomplish?
The GT-R LM was conceived to run in the hybrid sub-class that allows for eight megajoules of retrieved power to be deployed over the 8.47-mile Le Mans lap.
The transmission arrangement designed to send power retrieved from the front axle to the Nissan's narrow rear wheels proved unreliable on the dyno and has yet to run on the car.
This forced Nissan to retrieve and deploy via the front wheels and to downgrade to the 2MJ division.
Cox stated that Nissan's simulations suggested that 8MJ of hybrid boost would be worth four seconds per lap at Le Mans.
Harry Tincknell posted the best time by a Nissan driver at 3m35.888s, which compared with Audi driver Andre Lotterer's fastest race lap of 3m17.475s.