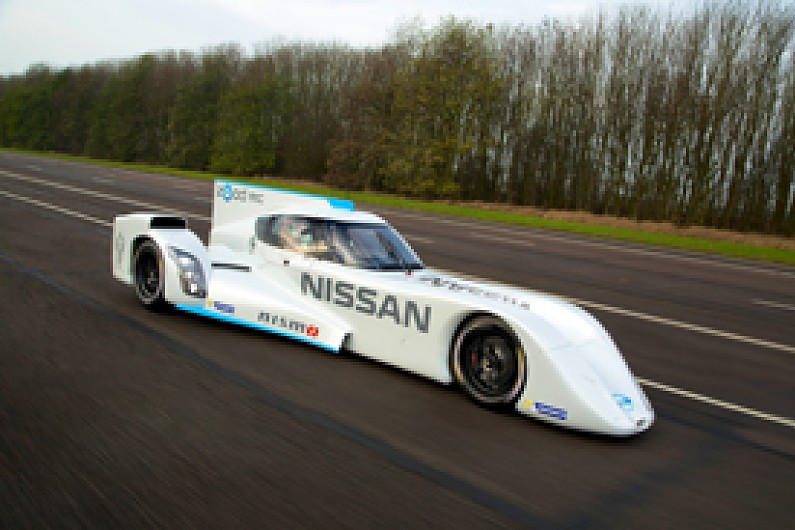 Nissan's experimental ZEOD RC Le Mans 24 Hours entry is due to run on a race track for the first time next week.
The ZEOD has so far run only at the Bruntingthorpe proving ground in Leicestershire since beginning testing with its full petrol-electric powertrain in January, but the car will move onto a race track proper with a three-day test at Snetterton at the end of next week.
Nissan GT Academy winner Wolfgang Reip, who was announced as one of the ZEOD Le Mans drivers earlier this week, will undertake the test.
Nissan global motorsport boss Darren Cox told AUTOSPORT: "We're going back to Bruntingthorpe again this week, but it is without doubt time to get on a proper circuit."
Cox revealed that there were now two ZEOD test cars, one with only the electric element of its powertrain, and that development was now ramping up.
"At any one time something is nearly always running: we are running electric-only, petrol-only and both engines together," he explained.
"We also now have a rolling road set up at RML [where development of the ZEOD is centred] and are running the car with the electric motor a lot."
Cox pointed out that the project was ahead of where the Nissan Deltawing, which like the ZEOD took the Garage 56 spot at Le Mans, was at this stage in 2012.
"We are definitely ahead of where we were with the Deltawing two years ago," he said.
"Don't forget that we hadn't even announced the project at this stage in 2012."