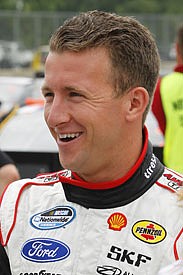 AJ Allmendinger will return to the Grand-Am field with Michael Shank Racing for next weekend's race at Indianapolis.
The 31-year-old won the Daytona 24 Hours for the squad last year, and finished this year's race in third, just 55 seconds down on the victorious lead Ganassi Riley-BMW MkXXVI.
He was left without a full-time drive this year following his NASCAR drugs ban in 2012, but has competed in a number of championships including IndyCar and NASCAR's Sprint Cup and Nationwide series.
"It has been a really busy summer, but I am grateful for every opportunity I get," Allmendinger said.
"I love racing for Mike (Shank) so I am really looking forward to the weekend.
"It is going to be a little weird to be going through Turn 1 one way, and then going through it the other way later in the day, but I think it is going to be a lot of fun and hopefully we can get Mike another trophy."
Mike Shank, for whom Allmendinger first drove in the 2006 Daytona 24, added: "I am really looking forward to having AJ race with us again and hopefully he can have the same kind of magic at the Speedway that he's always had for us at Daytona."
Allmendinger contested this year's Indianapolis 500, finishing seventh for Penske, and also plans to compete in the NASCAR Sprint Cup event at IMS on July 28.
Only three drivers - Juan Pablo Montoya, Jacques Villeneuve and Scott Pruett - have competed in at least three marquee Indy events since the circuit opened in 1909.