Dean Harrison says a battle with Davey Todd during Thursday's Ulster Grand Prix Supersport race meant he lost touch with the leaders and left him "f*****" in third.
Harrison ran in the lead group at the start of the five-lap SSP contest on Thursday evening, but he was quickly cast over a second adrift by eventual winner Peter Hickman and second-placed Lee Johnston after engaging with Padgetts' Todd for third.
By the time Todd's Honda expired on lap four, Harrison found himself almost nine seconds off the lead and resigned to a distant third.
With the ZX-6R down on power relative to Hickman's Triumph and Johnston's Yamaha, Harrison joked the only way he'd be able to fight for the win on Saturday in a similar situation is if "we bore out" the engine.
"It was fine, to be fair," Harrison told Autosport. "They [Hickman and Johnston] were just chipping away and Davey kept passing me back on the straights.
"So I was knackered. I could ram him in the turns, but I was fucked - when they [the top two] were nibbling away - once I lost the tow.
"Then I was knackered, I wasn't winning anything. It is what it is."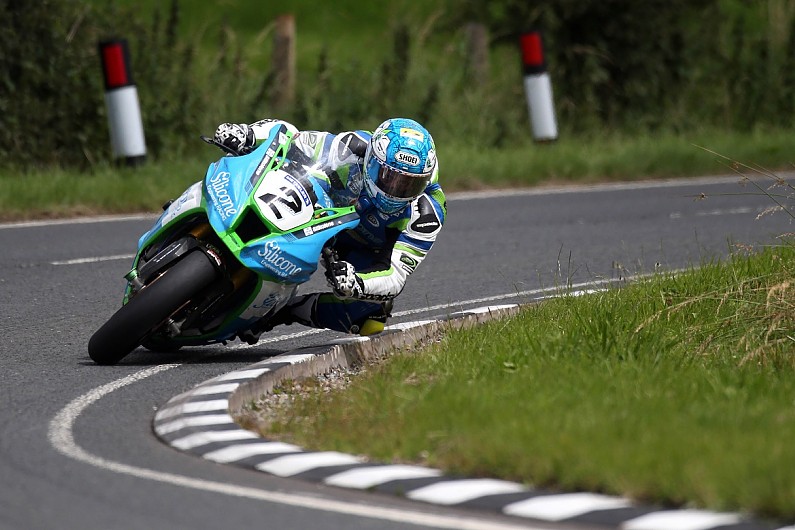 Harrison finished runner-up to Hickman in the opening Superbike race of the 2019 Ulster GP earlier on Thursday.
He led for the first two laps, but a mistake at the Rock Bends section allowed Hickman through and Harrison then fell 3.2s adrift at the flag.
When asked by Autosport to assess his SBK outing, he replied: "It wasn't too bad, to be honest. Second, I'm happy with that.
"The Superbike's quite good, to be honest. [I've got] a few handling problems, but nothing major. But the Superbike's potential is massive.
"It's just [about] me getting the best from it, whereas we've just extracted the best we can from this [the SSP bike] to be honest.
"I ran on at Turn 2, so just a fault on my behalf. Nothing you can do about that."
Pictures courtesy of Pacemaker Press