Aston Martin Racing Academy driver Alex Toth-Jones impressed in the latest round of British GT at the Silverstone 500, taking Academy Motorsport's best result of the season so far.
Alongside team-mate Will Moore, the Silver-Silver pairing achieved fifth place in class after battling back through the field following contact on the opening lap of the three-hour race last weekend.
"Qualifying was the first time we had done dry laps in that car around Silverstone which was a bit of an unknown and we didn't really get the most out of it," said Toth-Jones.
"But we learned a lot from it and applied that for the warm-up where we went quicker than we did in qualifying. We took that into the race, and the car was mega for the entire race.
"Lap one we had some contact and had to pit, so it put our strategy on its head as we were out of sync with everyone else."
After the unscheduled pitstop, Toth-Jones took over in Academy's Aston Martin Vantage GT4 and put in a stint of an hour and ten minutes, setting impressive laptimes as he brought the car back up through the order.
"It's the longest stint I have ever done, but to be honest I knew it was going to be a long one," added Toth-Jones.
"I set myself a laptime and just tried to be as consistent as I could. I just knew that we were on the backfoot and I had a job to do and the boys just let me get on with it."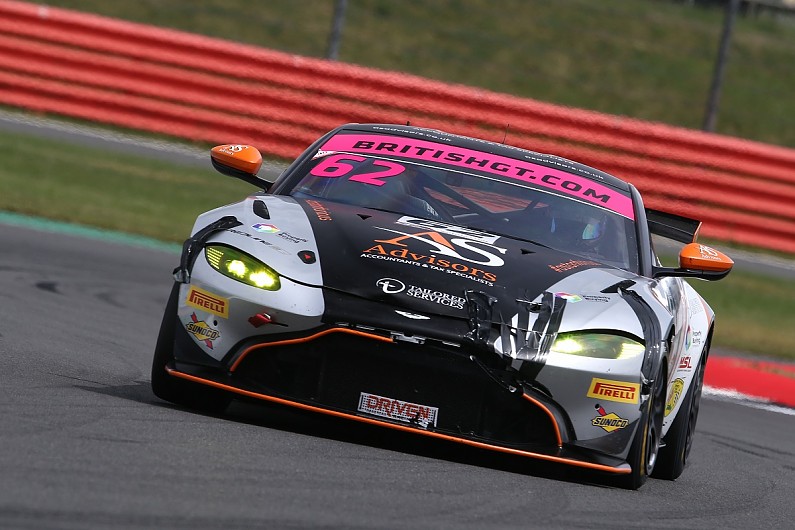 Toth-Jones was back in the car again for the final 30 minutes of the race, bringing the car home in a competitive position following a difficult start to the season at Snetterton and Oulton Park.
The 22-year-old, who is one of 23 drivers vying for an AMR junior role with the famous British marque, believes the team taking a step forward with the car and that his experience of the Silverstone GP layout were pivotal in the final result.
"The track suited our car, the other Astons were quick during the weekend and we learned a lot about the car," he said.
"We made some quite big changes and that's why we were as quick as we were in the race. We knew that we had to find something.
"Silverstone is one of those circuits where I know quite well, I've got a lot of knowledge of the track and when I jumped in I was comfortable that I would be able to get on with the job.
"I'm quite a smooth driver, I like to carry speed through the corners so it suits my driving style."
The next round of British GT will take place at Donington Park on June 22/23.