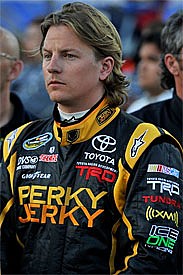 Kimi Raikkonen will test a NASCAR Sprint Cup car for the first time at Virginia International Raceway on Tuesday as he continues to acclimatise to stock car competition.
The Finn is driving Robby Gordon's #7 Dodge at one of the preferred NASCAR test venues ahead of road course events, as preparations are already underway for next month's race at Sears Point.
Through his twitter account, Gordon confirmed the 2007 Formula 1 world champion is driving his car on the first day of testing, while he plans to be behind the wheel on Wednesday.
"Testing at ViR tomorrow, Iceman in car today. Trying to give him some speed," wrote Gordon.
Although no announcement has been made yet by Raikkonen or his team, the Finn's name was on on the preliminary entry list issued by NASCAR for this weekend's Nationwide Series race at Charlotte. He was the named driver of the #87 NEMCO Motorsports Toyota, which is prepared by Kyle Busch Motorsports.
Last Friday the Finn was non-committal when asked about his future plans in NASCAR, while moves for his next step were well underway already.