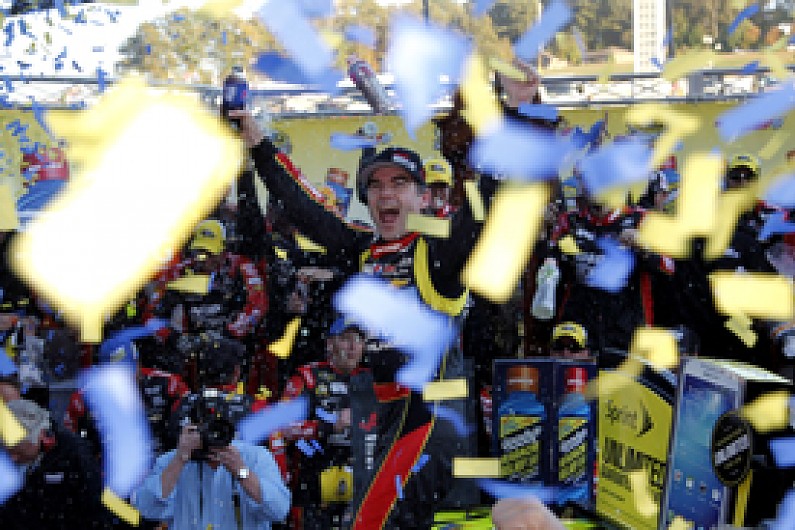 Jeff Gordon scored his first NASCAR Sprint Cup race win of 2013 at Martinsville, as title rivals Matt Kenseth and Jimmie Johnson drew level in the standings.
Gordon passed Kenseth for the lead with 20 laps remaining in a bruising race that featured a season-high 17 caution periods.
Johnson, Gordon, Kenseth, Clint Bowyer and polesitter Denny Hamlin had been the main lead protagonists as the race order repeatedly shuffled through divergent strategies amid the seemingly endless yellows.
Kenseth's Joe Gibbs Toyota dropped down the order mid-race but worked his way back to lead going into the closing stages.
Hendrick driver Gordon managed to get down the inside of Kenseth on lap 480 of 500 following a long battle, and then edged out just enough breathing space amid heavy traffic.
As Gordon won by half a second, Bowyer's Waltrip Toyota closed in on Kenseth and came within 0.064s of stealing the runner-up spot.
Brad Keselowski beat Johnson to fourth place, meaning Kenseth and Johnson are now level on 2294 points with three races to go.
After the race Johnson was involved in a heated argument with Greg Biffle, the pair having made contact repeatedly during a late dice. Biffle finished ninth.
Kevin Harvick took sixth, ahead of Denny Hamlin and Dale Earnhardt Jr.
Results - 500 laps:

Pos  Driver              Team/Car                         Time/Gap
 1.  Jeff Gordon         Hendrick Chevrolet           3h44m21.000s
 2.  Matt Kenseth        Joe Gibbs Toyota                  +0.596s
 3.  Clint Bowyer        Waltrip Toyota                    +0.668s
 4.  Brad Keselowski     Penske Ford                       +4.698s
 5.  Jimmie Johnson      Hendrick Chevrolet                +5.321s
 6.  Kevin Harvick       Childress Chevrolet              +10.891s
 7.  Denny Hamlin        Joe Gibbs Toyota                 +11.553s
 8.  Dale Earnhardt Jr   Hendrick Chevrolet               +12.219s
 9.  Greg Biffle         Roush Fenway Ford                +13.806s
10.  Jamie McMUrray      Earnhardt Ganassi Chevrolet      +16.207s
11.  Jeff Burton         Childress Chevrolet              +17.360s
12.  Carl Edwards        Roush Fenway Ford                +17.541s
13.  Juan Pablo Montoya  Earnhardt Ganassi Chevrolet      +17.930s
14.  Joey Logano         Penske Ford                      +19.010s
15.  Kyle Busch          Joe Gibbs Toyota                 +19.911s
16.  Martin Truex Jr     Waltrip Toyota                   +20.731s
17.  Danica Patrick      Stewart-Haas Chevrolet             +1 lap
18.  Kurt Busch          Furniture Row Chevrolet            +1 lap
19.  Marcos Ambrose      Petty Ford                         +1 lap
20.  Aric Almirola       Petty Ford                         +1 lap
21.  Casey Mears         Germain Ford                       +1 lap
22.  Paul Menard         Childress Chevrolet                +1 lap
23.  David Gilliland     Front Row Ford                     +1 lap
24.  Travis Kvapil       BK Toyota                          +1 lap
25.  Elliott Sadler      Waltrip Toyota                     +1 lap
26.  Michael McDowell    Parsons Ford                      +2 laps
27.  Kasey Kahne         Hendrick Chevrolet                +3 laps
28.  Ken Schrader        FAS Lane Ford                     +4 laps
29.  Landon Cassill      Hillman Chevrolet                 +5 laps
30.  JJ Yeley            Baldwin Chevrolet                 +5 laps
31.  Ricky Stenhouse Jr  Roush Fenway Ford                 +5 laps
32.  Bobby Labonte       JTG Daugherty Toyota              +6 laps
33.  Joe Nemechek        NEMCO Toyota                      +7 laps
34.  Josh Wise           Front Row Ford                   +10 laps
35.  Cole Whitt          Swan Toyota                      +41 laps
36.  Mark Martin         Stewart-Haas Chevrolet           +45 laps

Retirements:

     David Reutimann     BK Toyota                        451 laps
     Ryan Newman         Stewart-Haas Chevrolet           432 laps*
     Dave Blaney         Baldwin Chevrolet                357 laps
     Reed Sorenson       Leavine Ford                     275 laps
     Tony Raines         Circle Sport Chevrolet           220 laps
     Kyle Larson         Phoenix Chevrolet                160 laps
     David Ragan         Front Row Ford                   109 laps

* Running again at chequered flag