There's a driver balancing life in an FIA-sanctioned Esports series as well as his progression up the junior ranks on the real-life racing ladder.
His is the story of a sim racer switching to real-life competition, which is now fairly common, whether it be the many successful GT Academy graduates or Enzo Bonito's recent success at the Race of Champions.
But Igor Fraga is one of only a few junior drivers to be at the top-level of sim racing, while also enjoying a successful rise up the single-seater ladder.
Although current Formula 1 drivers Lando Norris and Max Verstappen have often stayed sharp by competing in sim racing events throughout their careers, recently they've been restricted to one-off outings or special events.
Fraga, by contrast, is the defending FIA-sanctioned Gran Turismo Championship winner and he won McLaren's Shadow Project Esports competition back in January (below). He also took a last-gasp victory at the most recent round of the Gran Turismo series, held alongside the real-life Nurburgring 24 Hours.
Fraga started the final race from pole position but fell to third by the final lap. He rose to second briefly when Australian racer Cody Nikola Latkovski made a mistake. But when Latkovski attempted to retake the position, he outbraked himself and hit the race leader, Williams Esports driver Coque Lopez.
Lopez was sent into the barriers, while Fraga snuck through to take the race win and book his place in the grand finale, which will be held later in the year.
"It was a tough weekend, everyone was very competitive," Fraga tells Autosport. "The series is growing a lot and because of that, the quality of the competition is rising with every event.
"It felt really good to be on the top step of the podium again, after the first event where we didn't have the results [Fraga finished in seventh place] that we wanted.
"I saw Cody coming very quick from behind, I was not expecting him to do the overtake on the final lap. I needed to keep P2, but then I realised I might get a chance on the last lap, so I stayed as close as possible. It was a crazy finish."
Despite his growing profile and the pressure of defending his Gran Turismo crown, Fraga believes that has had little effect on his performance.
"I don't feel a lot of pressure," he explains. "In each race, I just try to enjoy it because racing is what I love. I just try to do my best. It's been working out until now, so I'll just keep doing what I'm doing and improving my skills."
"In the future, I think I will have to prioritise Esports or single-seaters. Both are becoming more professional and competitive" Igor Fraga
Alongside his sim racing commitments, Fraga races in the brand-new Formula Regional European Championship, which uses the FIA's Regional F3 car.
It's the first time he has raced in Europe, as his previous real-life racing experience came from competing in USF2000 on IndyCar's Road to Indy ladder in America last year, and previously in Brazilian F3 and in NACAM Formula 4 (pictured below) in 2017.
Following uncertainty on the junior single-seater scene, FRegional's teams and drivers, including Fraga, had little pre-season preparation. Despite this, he earned a maiden podium in his first race, with third at Paul Ricard, a result he repeated in the second race.
"It's been tough," Fraga says. "Our confirmation in the championship was quite late, so I arrived in the workshop for the first time three days before the season started at Paul Ricard. FP1 was the first time the car went to the track.
"It's been a little bit difficult for us because we don't have any data from the past. We've had very few testing days because of the budget - real-life racing is very expensive.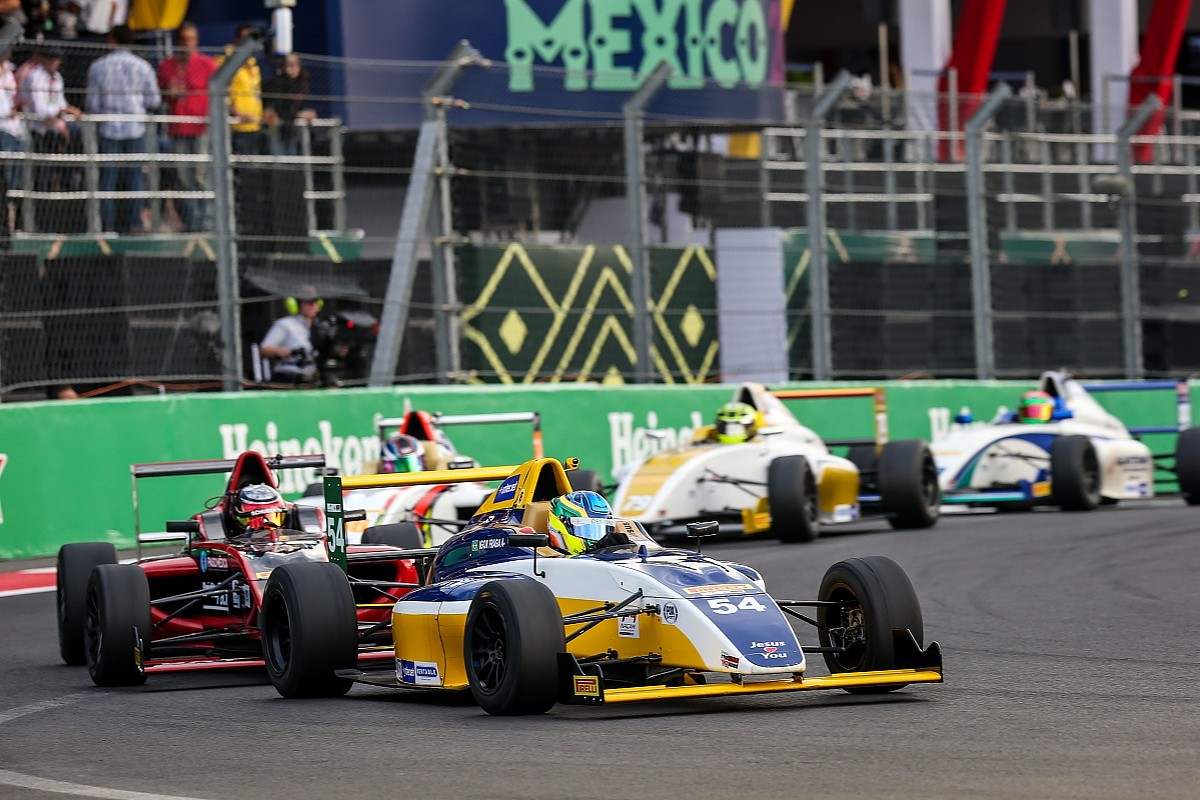 "But it's going well so far, we're fourth in the championship with two podiums. Every place has a different culture - the team, the organisation, the tracks. Last year I was racing in the US. It's been a lot of new things, [but] I'm having a lot of fun here, I'm learning a lot."
While some would question the wisdom of juggling a sim racing career with a full-time real-life campaign, Fraga believes the two disciplines complement each other. Although with sim racing's rising popularity, he admits he'll eventually have to choose one or the other.
"They're different, but the differences are where you can learn things," Fraga says. "When you combine the two, it really helps you learn positive things for both the sim racing and the real-life racing. I don't have a problem with balancing them.
"In the future, I think I will have to prioritise one or the other. Both are becoming more professional and competitive. You'll have to dedicate even more time, so it will be difficult to do both and continue having good results."
Fraga explains how, from a very young age, his love for video games was mixed with his real-life racing.
"I've always loved video games and racing cars," he says. "When my dad was planning on putting me in a kart, he bought me a PlayStation 2, Gran Turismo 3, and a steering wheel. I was very small, and he wanted me to understand the basics of the throttle, brakes etc, before he put me in a real-life kart. It's when everything started."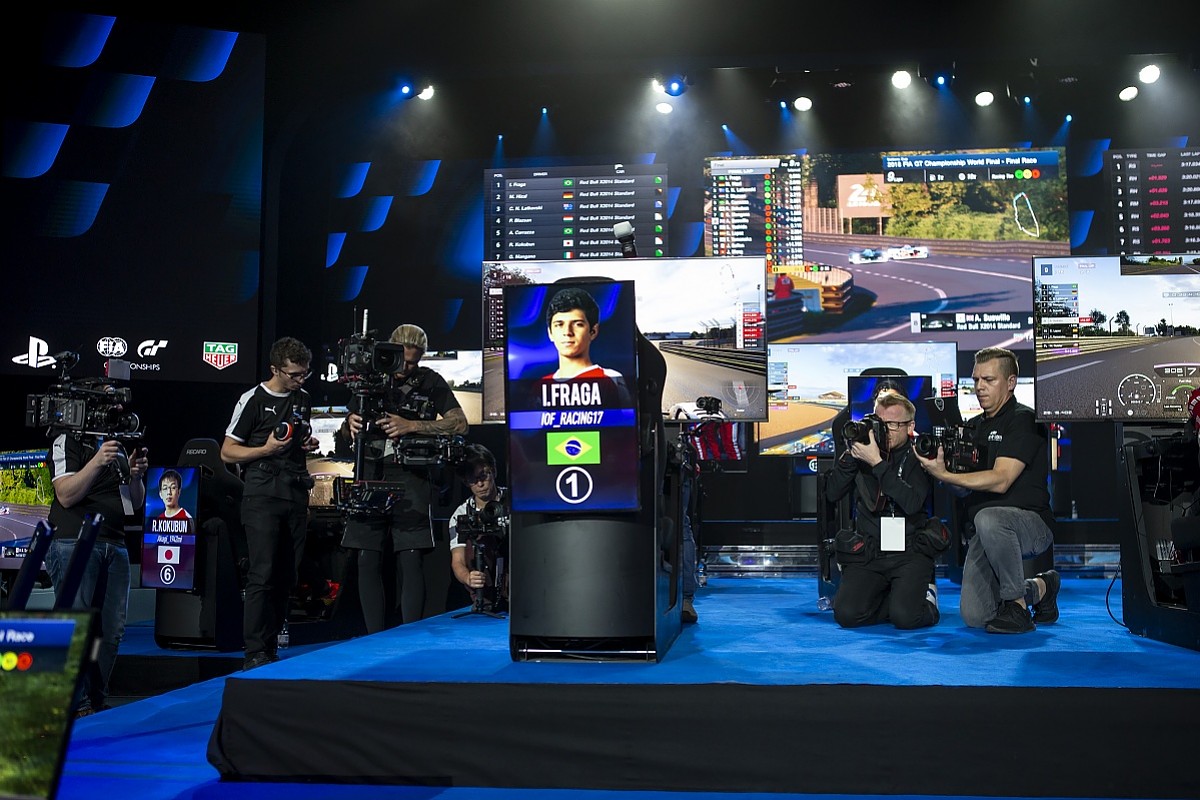 Fraga also foresees an increase in Esports' popularity and expects more drivers to compete full-time in both real and virtual racing.
"Right now, it's the boom of Esports," he says. "In the past, they didn't have these official F1 series or FIA-sanctioned series, so I expect the number of drivers doing both to increase.
"With $1000 you can set up everything, and have a great sim racing set-up. With that same money, you can buy one set of tyres. In real-life racing, that probably won't last longer than a day.
"Also, one of the biggest positives of sim racing is that everyone has the same car performance, everyone has a chance and it's so accessible to everyone because it's so much cheaper. It gets very close to the public because anybody watching has a chance to compete."
He may not be the first driver to compete in both virtual and real-life racing, but few can boast as much success across both disciplines as Fraga.