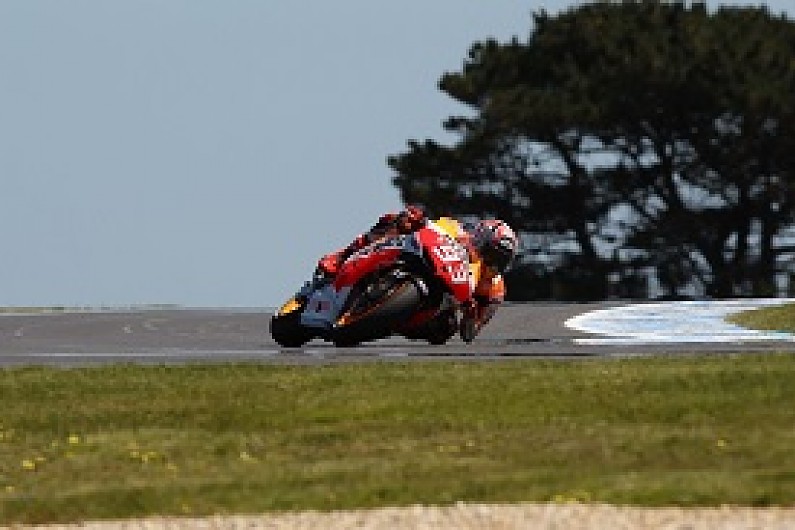 MotoGP organisers have ordered that riders must change bikes during Sunday's Australian Grand Prix after concerns were raised over the duration of Bridgestone's rear tyre.
The Phillip Island circuit was resurfaced at the end of last year, and Bridgestone said after understimating "extreme" tyre temperatures it could not guarantee the safety of its rear slick beyond 14 laps.
That means it will be the first time in the championship's history a mandatory mid-race change of bikes has been required in the dry.
Factory, satellite and CRT riders will all only be able to use the hard tyre and cannot do so for more than 14 laps without pitting to change onto the fresh tyre-shod second bike.
The pitlane speed limit zone will be extended on both entry and exit and marked out by a painted white line and crossing it will result in a penalty.
In addition, the race has been shortened from 27 laps to 26, while the Moto2 encounter had already been halved in duration. The Moto3 race is unaffected.
"We anticipated tyre temperatures would be higher this year at Phillip Island, but not to the extreme levels we have seen this weekend," said Shinhi Aoki, Bridgestone's tyre development manager.
"After analysing the used tyres after today's sessions, we have decided that the maximum safe distance that our rear slick tyres can be run is 14 laps.
"Following discussions between Bridgestone, Dorna and the FIM on how to best manage rider safety for the race, it was race direction's decision to make tomorrow's race a flag-to-flag contest."
Jorge Lorenzo will start from pole, ahead of championship leader Marc Marquez.