eRace of Champions winner James Baldwin believes his Veloce Esports team is heading into the Super Final of the Le Mans Esports Series as the underdog.
Sim racing giants Veloce earned one of the two wildcard positions and will join the 10 three-driver teams, who qualified via the six-round qualification period on Forza 7, in this week's Super Final.
Baldwin has muscled his way into sim racing limelight over the past year, accumulating great success across a range of games and beating two-time F1 Esports champion Brendon Leigh among others to win the 2019 eROC in Mexico City.
Baldwin along with his LMES team-mates Noah Schmitz and David Kelly were informed that they would be competing less than three weeks prior to the Super Final.
While Sauber Esports driver Kelly and German sim racer Schmitz are Forza specialists, Baldwin had no prior experience of the game.
"We're the underdog no doubt about it," Baldwin told Autosport.
"Some people may think 'James is going to be really good because he's done eROC' and all that stuff, but I'm a complete novice [at Forza].
"So I've got to keep myself grounded and just hope I get surprised by the results we do get when we're out there.
"However, there is the argument that my LAN [on-site esports event] experience and form over the past year will help me with the high-pressure situation and with everyone watching you at the event.
"Hopefully that can play into my favour."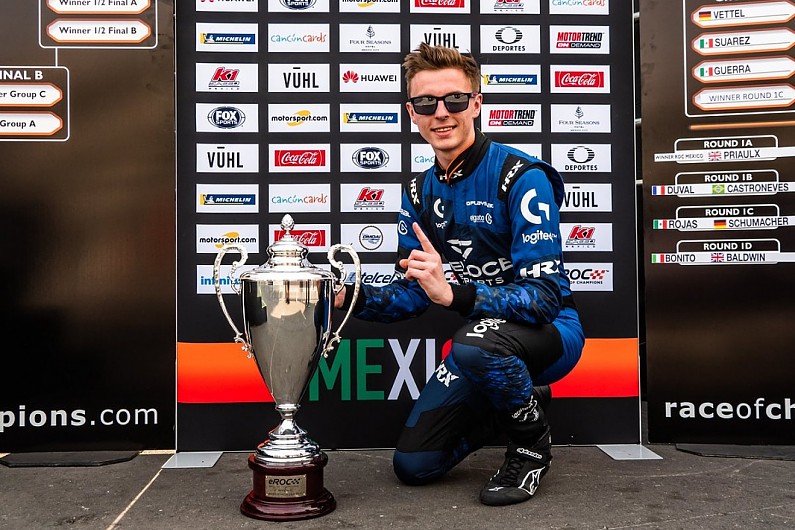 Baldwin won the Renault Esports Series on ProjectCARS 2 last summer and earned his place in the eROC invitational, where out of 16 drivers from a range of sim racing disciplines, he triumphed and then went onto win a spot in the real-life event.
He then beat Mexican stock car driver Ruben Garcia Jr in the real-life event, while his 'Sim Racing All Stars' team-mate Enzo Bonito beat both Formula E champion Lucas di Grassi and 2012 IndyCar champion Ryan Hunter-Reay.
"Before the competition, not many people knew who I was," Baldwin explained.
"It was definitely my biggest achievement, I was just on fire for that particular month.
"It's almost like I look back at it and wonder how the bloody hell did I manage that, but now I go into everything naturally feeling more confident.
"I feel like I belong to be at the top before I was perhaps scared when I was near the top, but now I feel more comfortable there.
"It's definitely my biggest achievement but it's not going to be my biggest achievement in a couple of years time, and maybe LMES can be one of them."
The entire 24-hour Super Final will be live-streamed across Motorsport.TV, Facebook and YouTube on June 14-15.