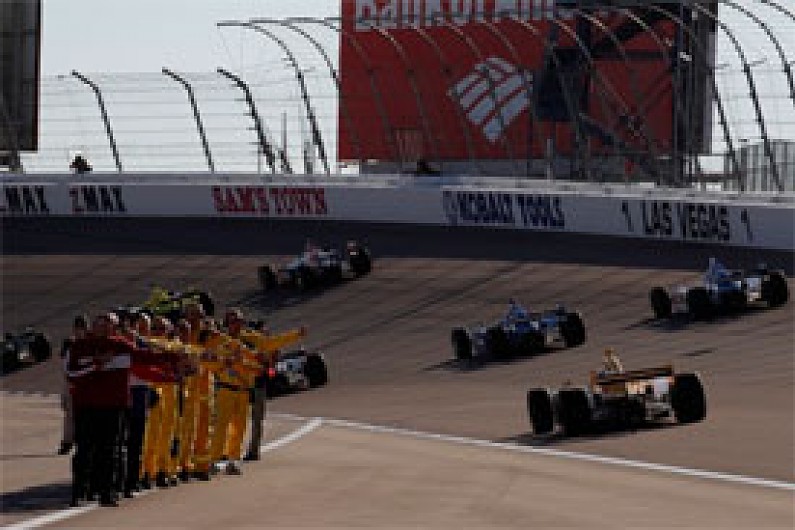 IndyCar CEO Randy Bernard says the series will launch a thorough investigation into Dan Wheldon's fatal accident at Las Vegas in a bid to improve future safety.
In his first comments since announcing Wheldon's death, Bernard said his priorities were to look after Wheldon's family and fully understand the tragic accident.
"We've got a lot to do, and we don't have any time to mess around," Bernard said. "We need answers.
"We must continue to move forward with a thorough investigation. Fortunately, that has already begun, and we have the protocols in place to get this done.
"This was a tragic accident, and IndyCar needs to understand everything possible about it. This has been a very difficult time, but we have to stay focused more than ever right now."
Alongside the investigation, Bernard said IndyCar would help the Wheldon family in any way it could. The series has already helped to launch a memorial website and trust fund, and organised a public service at Concesco Fieldhouse, Indianapolis, on Sunday, a day after his funeral in Florida.
"The first thing we have to do is take care of the Wheldon family and make sure we are there to help them anyway we can," Bernard said.
"Those were the things that were very important for us to get done as quickly as possible.
"Everyone in this community is so focused on letting the Wheldon family know our thoughts and prayers are with them, and we are doing everything we can to support them."
Bernard declined to discuss safety questions surrounding the Las Vegas circuit, saying his focus would be solely on Wheldon this week.
Autosport has produced a standalone special magazine to celebrate our 70th birthday. All current print subscribers will receive a copy for free. To order your copy of the 196-page Autosport 70th Anniversary issue, please go to: autosport.com/autosport70th