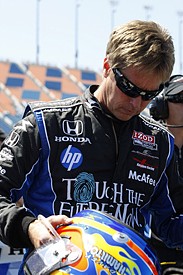 Davey Hamilton will join Dreyer & Reinbold for a three-event IndyCar Series campaign this year.
The American had been expected to return to De Ferran Dragon Racing, his 2010 home, before the team folded prior to the start of the season, but will instead resume his relationship with Dreyer & Reinbold - which fielded him at Indianapolis in 2009.
This year Hamilton will enter the Indy 500, the Texas double-header, and the Las Vegas season finale.
"It's good to be back with Dreyer & Reinbold Racing," said the 48-year-old.
"We had a great relationship in the past and after a brief absence, it's nice to be back with the team and to have [sponsor] HP with us as well. I have high hopes for the three races and I'm very excited about the possibilities."
Hamilton was a series regular from 1996 until he suffered horrific leg injuries at Texas in 2001. He has returned for occasional races every year since 2007, focusing primarily on the Indy 500.
Dreyer & Reinbold is also running Justin Wilson and Ana Beatriz for the full season and fielding an extra car for Paul Tracy at Indianapolis.