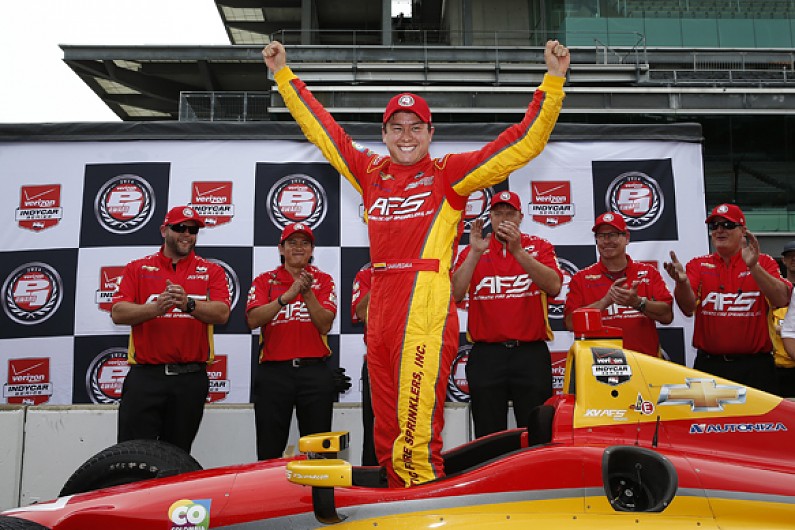 Sebastian Saavedra capitalised on a mistake by Ryan Hunter-Reay to secure a surprise pole position for Saturday's inaugural IndyCar race on the Indianapolis Motor Speedway road course.
On a track still soaking from rain a few minutes earlier, Hunter-Reay had just claimed provisional pole when he lost the rear of his Andretti Dallara-Honda on the exit of the final corner, sending it into a long loop that ended with a heavy impact against the wall.
"Every time through there I had almost lost it," Hunter-Reay said. "In the wet you're always going for it, and there's a very fine line.
"The standing water was definitely an issue at times."
The Andretti driver escaped injury, but was docked his two fastest times from the session for causing the subsequent red flag.
That dropped him to third on the grid, and handed pole to KV driver Saavedra, who had moved into the top spot a short time earlier. It is the first IndyCar pole position of the Colombian's career.
"This is huge," he said. "It's a great way to start the Month of May. We saw there was a great opportunity and we took it, and I'm very proud of the team."
Simon Pagenaud will start from fourth and is the new track record holder after going quickest when the track was at its driest at the start of qualifying, while Will Power and Scott Dixon will line up from the third row, with both drivers being denied the chance to make a final run on new rubber by the red flag.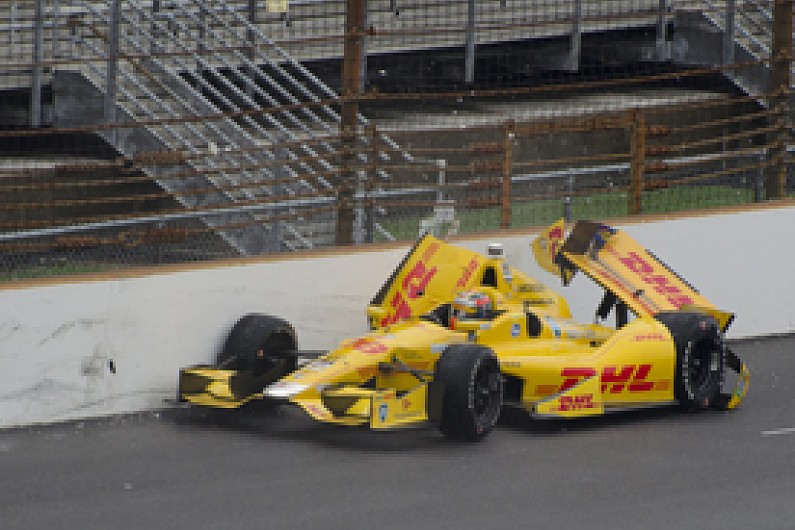 "It was our strategy to go out on older tyres at the start," said Power. "But you never know what is going to happen."
While Hunter-Reay (pictured) was the most visible victim of the rain, the changing conditions caught a number of drivers out.
Marco Andretti was among them; the Andretti driver using his tyres up early in the first qualifying phase in anticipation of showers, only to lose out when the track remained dry and his rivals' times improved.
There was also drama for Mikhail Aleshin, who had initially gone fast enough to progress from his group in the opening phase before he was issued a penalty for interference. That cost him his two best laps, which dropped him down the order and allowed Graham Rahal to progress in his place.
Pos  Driver              Team/Engine      Time        Gap
 1.  Sebastian Saavedra  KV/Chevy         1m23.8822s
 2.  Jack Hawksworth     Herta/Honda      1m24.0788s  +0.1966s
 3.  Ryan Hunter-Reay    Andretti/Honda   1m24.8882s  +1.0060s
 4.  Simon Pagenaud      Schmidt/Honda    1m25.2881s  +1.4059s
 5.  Will Power          Penske/Chevy     1m25.5216s  +1.6394s
 6.  Scott Dixon         Ganassi/Chevy    1m25.6548s  +1.7726s
 7.  Sebastien Bourdais  KV/Chevy         1m24.5187s  Round 2
 8.  Juan Pablo Montoya  Penske/Chevy     1m24.6209s  Round 2
 9.  Tony Kanaan         Ganassi/Chevy    1m24.7099s  Round 2
10.  Helio Castroneves   Penske/Chevy     1m24.8839s  Round 2
11.  James Hinchcliffe   Andretti/Honda   1m25.1318s  Round 2
12.  Graham Rahal        Rahal/Honda      1m25.4748s  Round 2
13.  Marco Andretti      Andretti/Honda   1m10.2488s  Group 1
14.  Ryan Briscoe        Ganassi/Chevy    1m10.2261s  Group 2
15.  Josef Newgarden     Fisher/Honda     1m10.3601s  Group 1
16.  Takuma Sato         Foyt/Honda       1m10.2804s  Group 2
17.  Carlos Huertas      Coyne/Honda      1m10.4264s  Group 1
18.  Justin Wilson       Coyne/Honda      1m10.4141s  Group 2
19.  Carlos Munoz        Andretti/Honda   1m10.5097s  Group 1
20.  Martin Plowman      Foyt/Honda       1m10.4591s  Group 2
21.  Franck Montagny     Andretti/Honda   1m10.5571s  Group 1
22.  Oriol Servia        Rahal/Honda      1m10.5996s  Group 2
23.  Charlie Kimball     Ganassi/Chevy    1m10.6413s  Group 1
24.  Mike Conway         Carpenter/Chevy  1m10.6535s  Group 2
25.  Mikhail Aleshin     Schmidt/Honda    1m11.2704s  Group 2

All drivers use Dallara chassis