With the championship already decided there was a certain sense of 'nothing to lose' about the decision-making running through the penultimate race of the Formula 1 season in Brazil.
The combination of the tyre choices and the conditions at Interlagos meant that this looked like it could be a race with few strategic variations and limited scope for an undercut tactic at the pitstops.
However with two fast cars out of position after Lewis Hamilton crashed in qualifying and Daniel Ricciardo suffered a 10-place grid penalty, the race took on a different complexion.
A safety car at the right moment, around lap 18-20 might have given Hamilton the chance to win the race, but as it turned out the safety car was deployed far earlier than that and fourth was the best he could manage.
Pre-race considerations
The two main tyres Pirelli brought to Interlagos were the super-soft and the soft and Friday's practice running showed that it would be possible to do the race with just one stop as the degradation was very low, like in the Bridgestone tyre days in the 2000s.
However it also became clear from Friday that the best order for the tyres was soft first, when the cars were heavy on fuel and then super-soft at the end, as the track ramped up in grip. The other way around - the standard format for the top 10 qualifiers - was tricky for the super-softs, which needed management against overheating.
Knowing this and also mindful that he had a 10-place penalty to serve, Ricciardo opted to qualify on the softs and do the mirror strategy to the top 10, who would all be starting on super-softs. Sadly he wasn't able to fully capitalise as he had to be careful with running the engine too hard.
Hamilton, had no such concerns in the race. He had crashed on his first flying lap in qualifying and the decision was made to fit a new engine, which he could run at maximum power for much of the race after starting from the pits. Clearly starting on the softs was the best strategy for him and he would be able to use his superior engine power to overtake cars.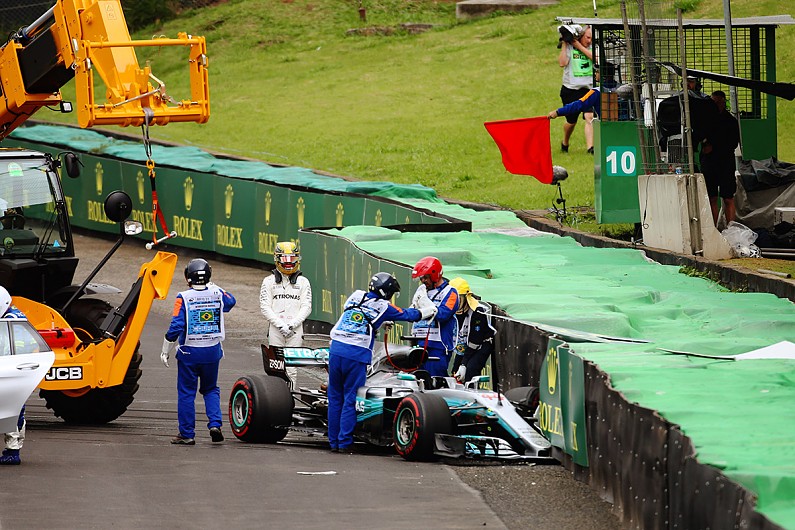 On race day the weather was hotter than in practice and this meant that the tyres overheated and suffered wear, but still not any meaningful degradation (drop off in lap time performance).
What this meant was that the undercut would be difficult to achieve (pitting before your rival ahead and then using the new tyre pace to jump him when he stops a lap later). To make that really work, you need the degradation to be meaningful between an old tyre and a new, so you can make the move when you are within two seconds of the car in front.
In Interlagos the undercut margin was only around 0.8s to one second, which means that you had to be right behind to have any chance.
This in turn put the emphasis on the start and the opening lap as the place to make up positions. And when you have that situation, you have a strong likelihood of a collision and an early safety car, which is what we got.
Ferrari wins, Bottas loses
Valtteri Bottas had pole position, but failed to convert it into a win because he lost the start.
But he still had two more chances to get the lead back from Ferrari's Sebastian Vettel. One was at the restart after the safety car, the other was at the pitstops, if he could get close enough for the undercut.
He wasn't able to challenge at the restart, as Vettel played a cat and mouse game with him before accelerating, like Hamilton had done with him in Baku. So it was all about getting close enough from lap 26 onwards to have a go at the stops. From this point onwards the softs would be able to make it to the end of the race without too much difficulty.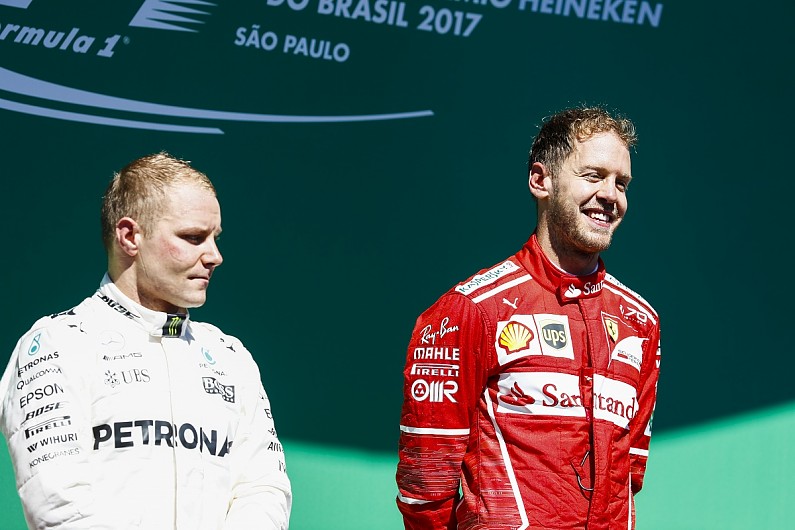 Mercedes moved Bottas into position and pulled the trigger on lap 27, but Bottas came into his pit box a fraction too hot and the team lost 0.3s adjusting position to remove the wheels.
When the leader Vettel came in a lap later to cover the move, his stop was normal and he came out approximately 0.3s in front.
Bottas would not have been ahead with a normal stop, but Vettel would certainly have been coming out into a drag race with him down to Turn 4. In the end it was more comfortable than that for Vettel.
Hamilton and Ricciardo charge through
Ricciardo did a fine job to race from 14th on the grid to sixth at the flag on his mirror strategy. Although clocked at 338km/h with DRS and a tow on one lap, he did not enjoy the consistently enormous straight line speed advantage that Hamilton had with a new spec engine - sometimes as much as 25km/h faster on the straight than the cars he was passing - so it took longer to make progress. He wasn't helped by contact on the opening lap, which dropped him down to 17th and last place.
The accidents at the start helped Hamilton's cause, boosting him to 14th from 20th, but the safety car didn't help him particularly.
That's because when he was racing he was able to pick off one car every lap - and two per lap in the early stages.
Race history chart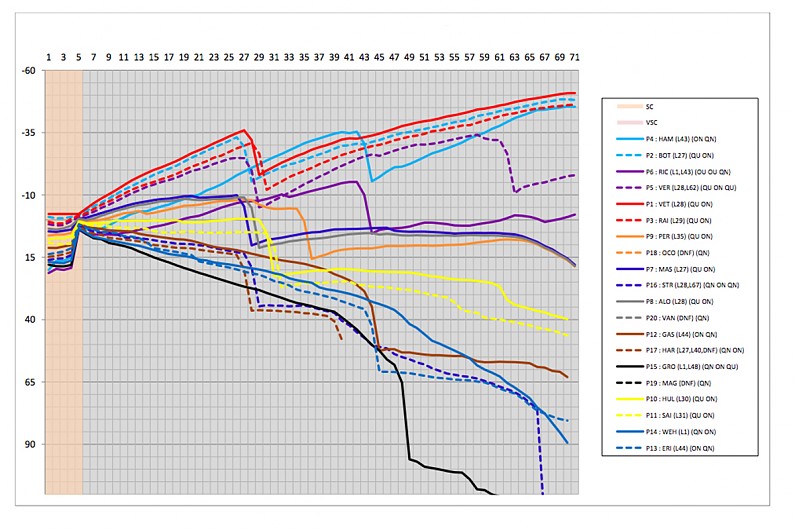 So the five laps behind the safety car meant five fewer opportunities to overtake in the early stages and gain ground.
Once he got to the front - after the leaders had pitted - his pace was strong, but once he pitted and came out on new tyres in clear air on lap 44, Hamilton was dipping down consistently into lap times that were a second faster than the lead cars.
With low tyre degradation and a clear track ahead as Hamilton was leading after the frontrunners pitted, Mercedes extended his stint by seven laps over the original plan to lap 44. He mounted an attack on Raikkonen at the end, but had lost 1.5 seconds passing Stroll and with tyres that were worn, he didn't quite have enough impetus to make a pass for a podium.
Could Perez and Force India have done anything else?
Force India had a disappointing afternoon by its own high standards. Esteban Ocon's long finishing streak came to an end due to a collision at the start with Romain Grosjean. That gave him his first retirement in F1 after a season and a half!
Sergio Perez started fifth, but finished ninth after losing out at the start to Massa and Alonso. This tight midfield battle was a case study for the problem with the undercut. As the pit stop window opened on lap 26, Alonso was one second behind Massa and Perez was one second behind Alonso.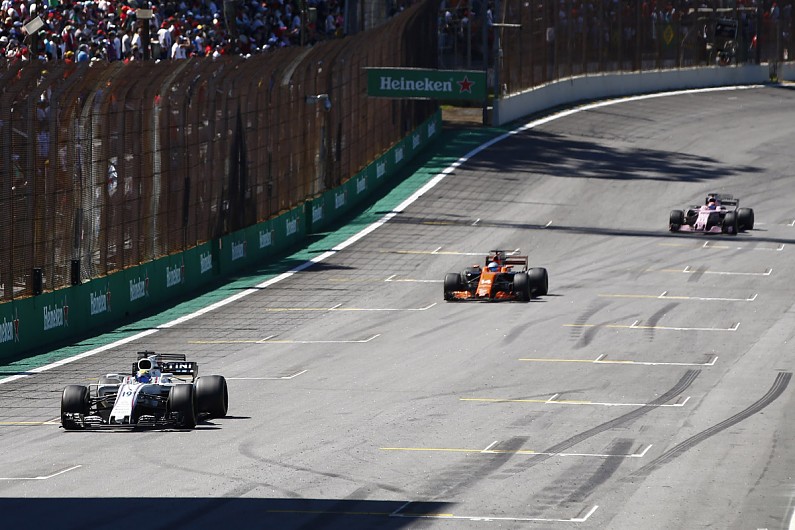 That was close enough to try an undercut but neither McLaren nor Force India tried it. Perez would have benefitted most from it as he was struggling to pass two cars, with Alonso able to get DRS from following Massa ahead.
Massa had the luxury of pitting first on lap 27 with no undercut attempt, then Alonso pitted and inevitably came out behind him. Perez and Force India, having missed the opportunity, decided to extend the stint and then try to make it up later on fresher tyres.
He extended by seven laps, but lost too much time during that period and wasn't able to get the benefit at the end. They crossed the line together in the same order in which they had raced.
The UBS Race Strategy Report is written by James Allen with input and data from several F1 team strategists and from Pirelli
Access even more news on Autosport.
Register for free to increase your monthly limit from 15 to 25 stories - or subscribe today and get unlimited access.
Get unlimited news for £1
Full access to our news and in-depth Autosport Plus features - all in an ad-free enviroment.
Subscribe for just £1
Access 10 extra stories
A quick upgrade and you'll boost your monthly news limit instantly - for free.
Register for free