The new-for-2018 Mazda Team Joest RT24-P had a shakedown at Donington Park ahead of a US return to prepare for the IMSA SportsCar Championship opener at the Daytona 24 Hours.
Mazda ended its SpeedSource partnership in July and withdrew from IMSA to link up with serial Le Mans winners Joest.
It then began a development programme, with Donington proving to be the first time the new RT24-P has run in its full updated specification.
A Mazda source said the running was used "to make sure everything was connected and to confirm some new pieces and elements".
Mazda added that a skeleton Joest crew took the car to Donington from UK firm Multimatic to take advantage of the open session.
Drivers have yet to be confirmed for the coming season, but 2017 Mazda racer Jonathan Bomarito returned to the wheel to conduct the shakedown.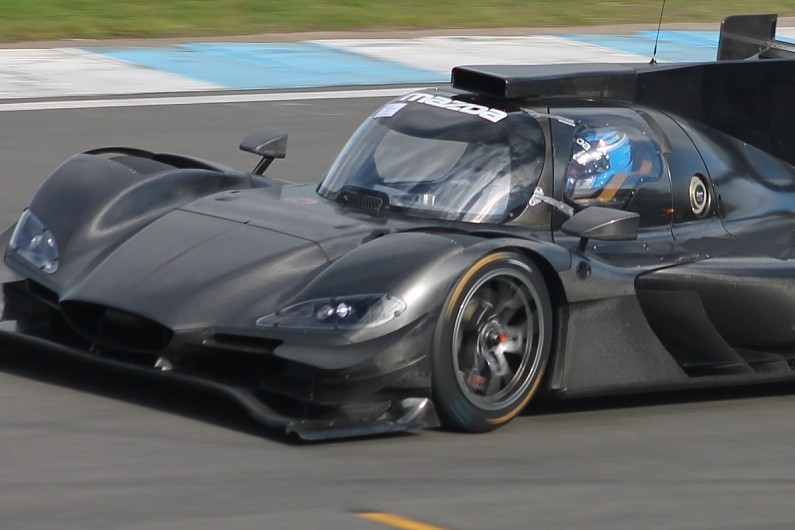 "This was the first time out with the complete new car," he said.
"The tub is the same as the old car, but the rear end is all new.
"We need to get a little weight off it though, but it's a good rigid chassis and good to drive too."
The new alliance between Joest and Mazda has also recently tested at the Hockenheim track.
"We gave the old car a run at Hockenheim with some of the new bits on," said Bomarito.
Mazda will be one of two new manufacturer-backed DPi entries for 2018, with Penske aligning with Acura and entering two cars in next year's championship.