In association with
It was 7am on a Thursday in South London. Having snapped at my alarm, I awoke in a strange bed after a particularly liberating evening in Clapham. Confusion had already swamped the senses. A brief glance at the window, and my purpose had been abandoned outside on the previous evening; a 2001 Audi S8. It looked good, melding into its surroundings with the menacing yet subdued stance that only an S-powered Audi could summon.
Rising quickly having seen the time, the destination was set and my clothes reassuringly found. Having awoken feeling like a poor impression of a gonzo journalist, I realised that I needed my photographer rather than an attorney, and 750 miles lay between us and our final destination; the Nürburgring.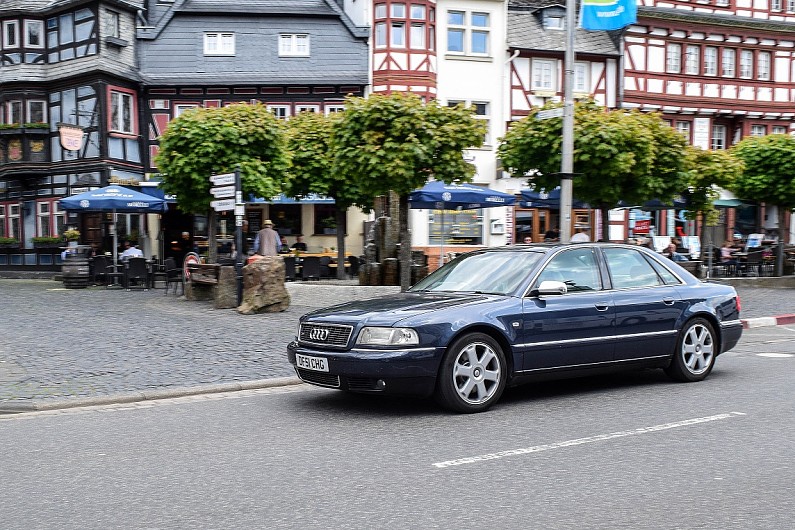 The French breakfast I had planned (a coffee and a cigarette) would have to wait. Time was of the essence, and with the Nürburg Classic commencing the following morning, it would take some gritted teeth and an impulsive right foot to make such a journey happen.
Navigating through central London, with bed hair and a baggy but creased paisley shirt, I felt out of place driving such a car. Someone had paid the equivalent in today's money of £85,000 for this subtle yet demonic looking Audi back in 2001.
That's the kind of money that would make most folks recoil if the original owner had seen how far the car had fallen, or perhaps whose hands it had fallen into. A 26 year old journalist with a tobacco problem and a desperate desire to quench his thirst with a stein of beer.
Most people would agree that they would rather contract diphtheria than use the M25 on any day of the calendar year, so central London it had to be. Driving across the river, and circumnavigating Hyde Park down Park Lane was less anxiety-inducing than expected given the time of the morning. The creased Recaro leather and double glazing offering solace aplenty from the city that never sleeps. Burl walnut veneer stretches around the cabin with alcantara accents for some added luxury.
Rolling through Marble Arch and central London, the car created the illusion of a continuous ripple of tarmac, a hushed flow of water meandering its way towards the North Circular with only a muted V8 for company upon my super yacht.
Considering the car's sporting credentials, this beast still knows a thing or two about refinement. Yet simultaneously, the V8 gave the impression of a drugged and muzzled Alsation full of venomous intent, with my right foot acting like a movement of smelling salts towards the nostrils, only to be retracted by London's bustling commute, allowing the beast within to calm once more. An addictive combination.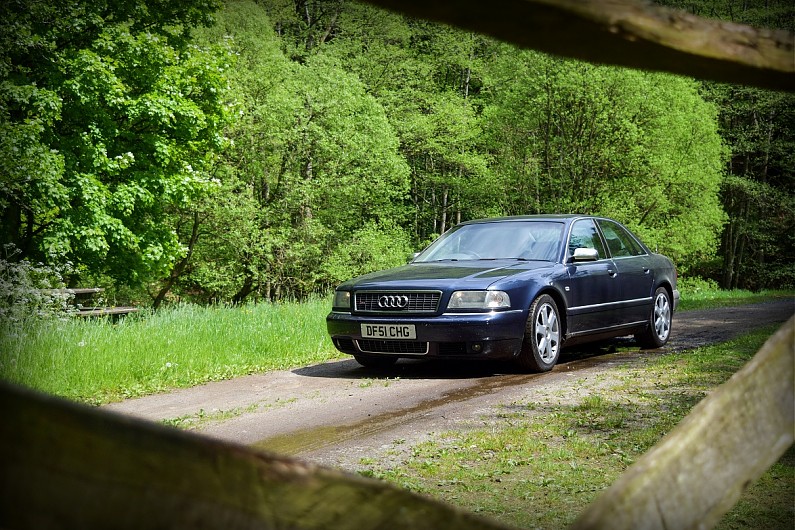 Time had forgiven me for my frantic, bewildered start this morning, and my ETA was in the clear. London had been breached, and the desire for that French breakfast had to be dealt with.
Having arrived at Dover ready for our voyage to Calais and beyond, some minutes were available to appreciate the car I had been given for this quest to the Green Hell. Flashbacks of the metallic green S8 from Ronin plunge into view along with a car chase designed with pinpoint precision.
Somehow the 450SEL 6.9 that featured alongside simply didn't get the same attention. A car that was pure, unadulterated gangster. Yet the S8, with its chromed door mirrors, beefy Ronal alloys and intoxicating stance is the car we all remember.
With several of my brain cells finally beginning to communicate with one another, some less car related memories were being recalled, like the biblical bill for espresso martinis that wafted into view. Apt, perhaps, with a car like this. A vehicle that can give you a buzz when you want it, yet deliver that pulsating euphoria that only caffeine and alcohol can deliver (this side of the law, anyway). Like a Jägerbomb, but classy and sophisticated.
By around 9pm it was time for some Austrian grub. A day of finding my feet with the car taking in every possible terrain. The crazed concrete jungle of central London's rush hour, the sloping stretches of the A1M, country roads in Cambridgeshire and a plethora of European motorways, with a brief wrestle in Brussel's maze of underground tunnels, giving the Audi an opportunity to introduce itself to passers by means of a snarling bark.
Driving gives us something raw, visceral, entertaining. The opportunity to live a moment how you want to see it and how you want to do it. In a world slowly becoming autonomous, enjoying a car with cult status is one of life's diminishing pleasures.
Only this morning did I find myself positioning my Rayban's amidst the bed hair, having selected 'Cool For Cats' by Squeeze on the stereo for some light-hearted amusement given my specific location, "In and out of Wandsworth with the numbers on their names." A wry smile spread across my otherwise defeated face, "the Sweeneys doing ninety 'cause they've got the word to go..."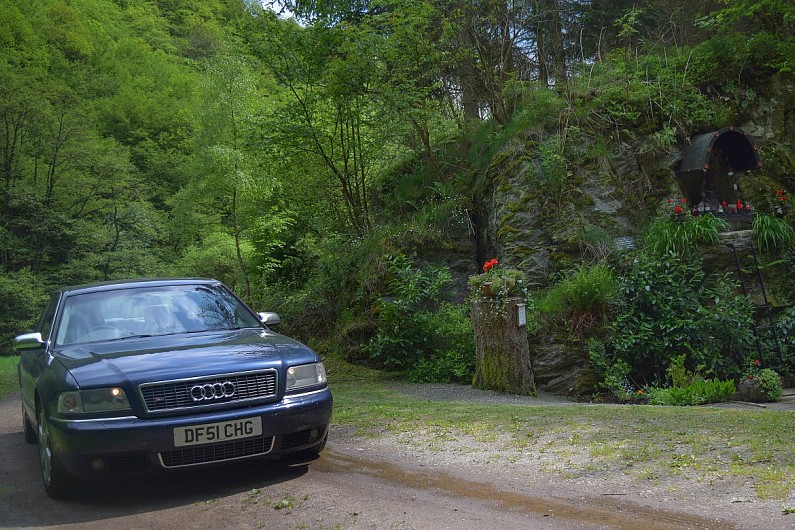 Sat at dinner in the outskirts of a small city like Liège, one can absorb the benefits of an actual road trip as opposed to a city break. The places, the smells, the atmosphere and stories; all things that you miss to some degree when venturing onto an overpriced airline in a poorly placed airport.
We discuss our day over dinner, and the cars overwhelming list of attributes. A monstrous V8 that in 2001 made most manufacturers gulp reading the spec sheet, and that was before looking at the equipment. Sure, feedback may be lost with a four wheel drive setup, yet unlike an X308 XJR, the S8 feels as sturdy as when it left the factory. A difficult point to mention, as the XJR is one of my all time favourites. Perhaps the S8 has changed categories, however. The XJR is a car that most would opt for as a weekend toy in 2019. I know I wouldn't if money fell on me as hard as my caffeine come downs, but perhaps the public are more sensible.
The S8 can be used daily, and it's age is immaterial. You feel confident driving it. There isn't a single sound uttered from anywhere in its suspension, trim, or engine compartment. It feels like an £85,000 car should two decades on. Worn in but just as willing to eat the miles.
I summon the waitress at our greasy spoon, who apparently failed to get the memo that smoking inside, even in Belgium, was a romance dearly departed many moons ago. It was time to hit the autobahn in the sunset and cross into Germany. The moment that this whole day, taking in hundreds of miles, had led up to.
A sign for the delimited stretch of autobahn approached having driven the car delicately thus far. Having informed with my colleague that this particular road sign translated to play time, we both locked eyes and nodded with an immediate understanding.
'Time' by Pink Floyd was queued. A thoughtful and subtle downshift using the tiptronic gearbox locks the car in second, with revs sitting around 3.5k. The hammer drops, with venom in my bloodshot eyes, along with gritted teeth and the throttle body wide open.
The rear end squats and the metaphorical Alsation is let off the leash like an exorcism gone wrong, the red needle of the tachometer moving like a sprung trebuchet to the intoxicating 7K red line at approximately 70 miles per hour. With a stretch of road as quiet as you could hope for, it was time to see what an 18 year old S8 with 158,000 miles could do.
The seats, the engineering, the quality. All features that suddenly became so much more important and that continued to appreciate in value as speeds crept beyond 130. The cabin was calm, the chassis planted, the engine clearly in its peak, but we needed more.
The needles kept climbing, wind becoming unmistakable and shrill like a deterrent, the engine singing louder and louder penetrating the cars typically insulated cabin. Concentration was at full capacity beyond 150, feeling every move and signal to ensure this was the right thing to do.
The need for speed had taken hold now, and sewn itself to my hard wiring like an alter ego taking the reins. The limiter had to be reached. The magical 155 landmark came, yet it didn't stop. With tarmac still stretching into the setting sun and David Gilmour giving the Fender Stratocaster his all in the background, the acceleration continued its merciless fight. 160. 165... The world had crumbled around me, with only the horizon in focus.
I had to come up for air, the world had stopped rotating, and the Matrix had been all but destroyed. The S8 seemingly had no intention of finding a roof to its capabilities, so I had to tap out. Easing back to a comparatively sedate speed, my palms were sweating with the blood having drained from my knuckles. Dopamine coursed around my brain. One hundred and seventy miles per hour, in a D2 S8. It transpires Audi did need that 180 mile per hour speedometer after all.
A total of 17 hours came and went. This morning; Clapham, confusion and fatigue. This evening; Nürburg, euphoria and bewilderment. Having unpacked the car whilst listening to the satisfying clink of red hot metal cooling in the engine bay, I had a huge amount of new found respect for this machine. Had the car ever been that fast in its life? Probably not, but did it care? Just as unlikely.
Sat at the hotel bar in the cellar, we recounted our adventure to the hotelier who naturally shrugged off our brief encounter surpassing the speed of an average helicopter. Yet it mattered little, for there was a stein sat frothing in front of me with a cigarette sat glowing in an ashtray, Atomic by Blondie echoing around the room. An Audi resting out the front sat under the stars, whose front end was littered with the insect populations casualties of the day, patiently sat waiting for its next Hollywood moment.
As our favourite cars grow older, perhaps our impressions of them become over inflated for what they are capable of all these years later. Like parents growing weary with age, these cars are by and large not as capable as we once thought. The Audi S8, however - even more bulletproof than you could have imagined.