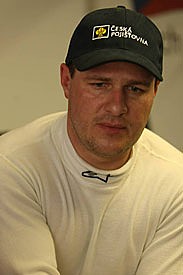 Tomas Enge has been suspended from racing after testing positive for a banned substance after the FIA GT1 World Championship event at Navarra in May.
The 35-year-old Czech, whose failed drugs test in 2002 effectively cost him that year's F3000 International title, denies any wrongdoing.
Enge, who drives for the Reiter Lamborghini squad in GT1, said: "I am in shock. After what happened in 2002, I've been careful in every way of anything related to doping.
"I suffer from long-term health problems and recently asked the FIA for an exemption so that I can take medicines that are on the banned substances list. Now I will consult with experts to find out how this situation occurred."