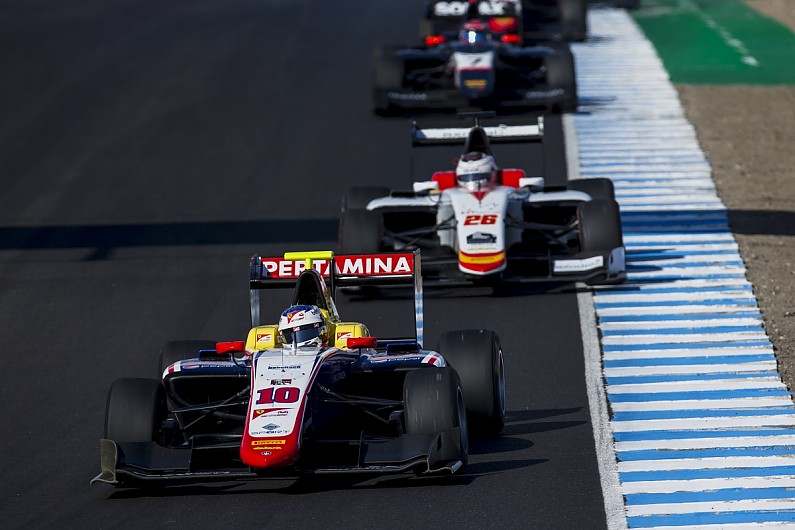 Ferrari Academy driver Giuliano Alesi disagrees with the stewards' decision that means he has lost pole for tomorrow's GP3 reverse grid event at Jerez.
Trident driver Alesi had finished eighth on the road in the first GP3 race at the Spanish track, which was won by Honda junior Nirei Fukuzumi, after emerging on top in a race-long battle with Jenzer Motorsport's Alessio Lorandi.
But a final lap clash between the pair that occurred as Alesi attacked Lorandi on the long straight approaching the downhill right of Turn 6 was investigated after the race.
The stewards decided that Alesi was the blame for the coming together and penalised him one place, which means that Lorandi is now classified eighth and will start race two from pole when the top eight positions from race one are reversed.
"In their theory it was unsafe driving," Alesi told Autosport.
"It's very unclear in the video - it looks like we both touched and they put the fault on me because I was trying to take back my racing line when it was time to brake.
"But to be honest, I looked very carefully and we both touched at the same time so I really don't know who was at fault there.
"But it's their decision - I'm not the one making the decisions and I'm not going to go against the referee.
"I just respect and take what they have decided even if we don't always agree.
"It is what it is - I start P9 tomorrow and will try to make the best of what I can."
The son of former Formula 1 driver Jean Alesi, is currently fifth in the GP3 standings, which are headed by Mercedes junior driver George Russell.
Alesi has scored three wins so far this season, all of which have come in reverse grid events.
He did not start any of them from pole position, although he started in a net first place when his team-mate Dorian Boccolacci failed to line up on pole in race two at Silverstone due to gearbox and hydraulic problems.