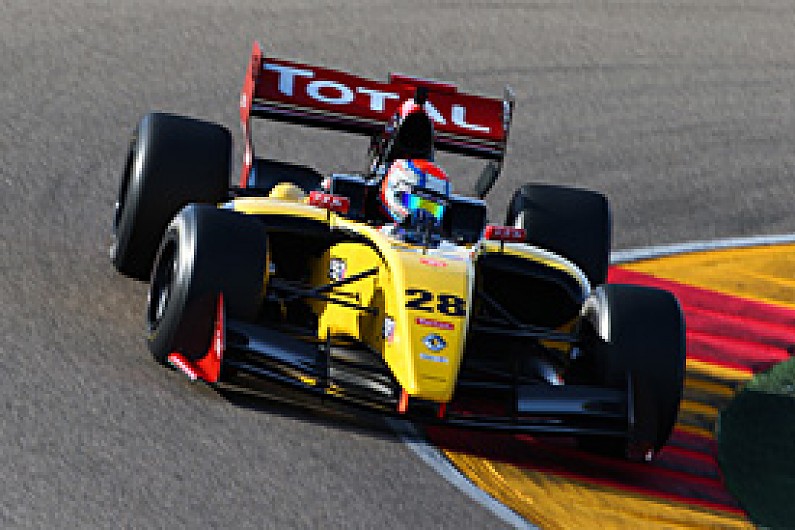 Kevin Magnussen topped Formula Renault 3.5 testing for the third time since the end of the season, as he led the way for DAMS on day two of this week's Aragon test.
The McLaren junior driver improved on his time from Wednesday by half a second on Thursday morning, giving him the edge over Formula 3 convert Carlos Sainz Jr with new team AV Formula.
Formula Renault 2.0 racer Norman Nato was third fastest for Tech 1, while the top five was rounded out by 2012 FR3.5 race winners Marco Sorensen and Antonio Felix da Costa. The latter was back in action just four days after his Macau Grand Prix victory.
Stoffel Vandoorne, who has confirmed that he will step up from the Formula Renault Eurocup to FR3.5 next year, was sixth fastest, making good on his promise that he would improve on being 20th on a troubled opening day.
Magnussen, who will sit out the final day of the test on Friday, said: "I did some Formula 1 testing for McLaren in Abu Dhabi and it took me a while to find my bearings again in the Formula Renault 3.5.
"The DAMS car was perfect. You don't get any points for it, but it's nice to end the season in first place."
Red Bull junior da Costa admitted that he was not at full strength on his return to FR3.5, but he had wanted to get back out in the car he won four races in towards the end of the 2012 season.
"What with the F1 testing with Red Bull and then my win in Macau, I've been pretty busy in the last few weeks and physically I wasn't 100 per cent today," said the Portuguese driver.
"It's not official yet, but there's every chance I'll be driving here in 2013. That's why it was important for me to get back in the car before the winter break."

Pos  Driver              Team            Time       Gap
 1.  Kevin Magnussen     DAMS            1m39.479s
 2.  Carlos Sainz        AV Formula      1m39.617s  + 0.138s
 3.  Norman Nato         Tech 1          1m39.649s  + 0.170s
 4.  Marco Sorensen      Lotus           1m40.017s  + 0.538s
 5.  Antonio Da Costa    Arden Caterham  1m40.075s  + 0.596s
 6.  Stoffel Vandoorne   DAMS            1m40.137s  + 0.658s
 7.  Marlon Stockinger   Lotus           1m40.268s  + 0.789s
 8.  Sergey Sirotkin     ISR             1m40.313s  + 0.834s
 9.  Daniel Kvyat        Fortec          1m40.351s  + 0.872s
10.  Jazeman Jaafar      Carlin          1m40.417s  + 0.938s
11.  Zoel Amberg         Pons            1m40.443s  + 0.964s
12.  Lucas Foresti       Comtec          1m40.494s  + 1.015s
13.  Paul-Loup Chatin    Tech 1          1m40.553s  + 1.074s
14.  Pietro Fantin       P1              1m40.561s  + 1.082s
15.  Yann Cunha          AV Formula      1m40.630s  + 1.151s
16.  Will Stevens        Arden Caterham  1m40.643s  + 1.164s
17.  Nikolay Martsenko   Tech 1          1m40.663s  + 1.184s
18.  Will Buller         Comtec          1m40.702s  + 1.223s
19.  Carlos Huertas      Carlin          1m40.747s  + 1.268s
20.  Josh Hill           Fortec          1m40.753s  + 1.274s
21.  Esteban Guerrieri   ISR             1m40.947s  + 1.468s
22.  Andre Negrao        Draco           1m41.026s  + 1.547s
23.  Matias Laine        P1              1m41.101s  + 1.622s
24.  Riccardo Agostini   Draco           1m41.291s  + 1.812s
25.  Tamas Pal Kiss      BVM Target      1m41.750s  + 2.271s
26.  Dimitry Suranovich  Pons            1m41.882s  + 2.403s