The Formula E narrative over the past 12 months has been driven by the influx of manufacturers into the all-electric racing series. And with Mercedes, Porsche, BMW and Nissan signing up to take on Audi, DS, Jaguar, NIO and Mahindra (Renault is leaving at the end of this season) that can come as no surprise. But on-track the story is very different. Despite the resources - both financially and technically - of the manufacturer teams, it's an independent sitting at the top of the points table: Techeetah.
The story of how the Chinese-owned and backed customer team has been able to take on and beat the manufacturers is a classic David-and-Goliath tale. It's also testimony to how the rules the FIA and Formula E have put in place have found a perfect balance between allowing technological development while at the same time keeping a handle on costs, which in turn creates the sort of unpredictable results and races the fans crave.
"The biggest thing in this series is that the power is capped," says Techeetah team principal Mark Preston, an F1 veteran of Arrows, McLaren and Super Aguri. "I don't think people have fathomed that that is such a huge thing. If you are in F1 and the MGU-H has unlimited development and you're Mercedes you keep going and going and going, and if you're Honda you're always trying to catch up.
"In this series, at least in qualifying, you all have the same peak power and you should be able to be with the other guy, and if your driver is great and you do a good job you should be able to deliver pole. Maybe you won't survive in the race, because your energy and stuff can't handle it over the race distance. This is the only series in the world where the power is capped. I'm 100% sure that that's a huge parameter that allows us to compete."
Despite having no manufacturer affiliation, Techeetah has been able to win three of the past eight races (and take three further podiums) because it was able to buy a complete powertrain - motor, inverter and gearbox - off the shelf from Renault, the only entity to have won the teams' championship so far in the series' short history. And not only does Renault have to supply any potential customers, the amount it's able to charge is affordable (a low six-figure amount).
This means for a small organisation like Techeetah, which is not much bigger than a frontrunning Formula 2 operation, the limited resource it has can be more focused on maximising efficiencies - the essential element in electric-racing success.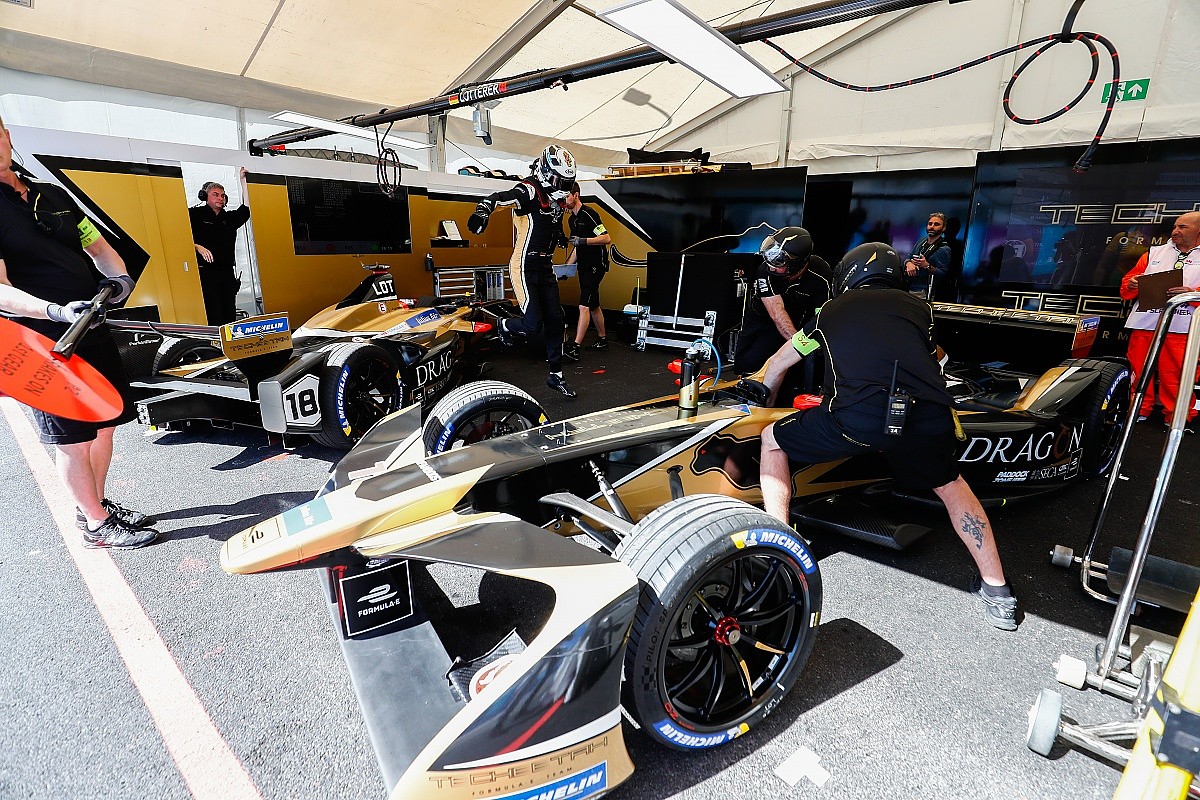 "A big benefit of being a customer team is that we don't have to worry about the stuff Renault has to worry about," Preston confirms. "They give us a great powertrain and we run it. We are decoupled from that side of things, so we kind of end up having more resources as Renault is doing some of the hard bits for us.
"And the drivers can make a bigger difference as there are so many more things that are limited in the series that push everything to driver ability. We have a short day of racing - we joke with the guys from F1 about all the time they have - and I think that benefits drivers who can just go bang!, and JEV can do that, so we benefit from that."
The importance of JEV (Jean-Eric Vergne) in Techeetah's success should not be underestimated. The Frenchman arrived in the series early on in the first season as a reluctant convert after losing his Toro Rosso F1 drive. His pace was immediately apparent as he took pole for Andretti on his debut in Punta del Este, but his ability to manage the energy was at first abject.
"I've worked much harder than before, because I have more influence in the team" Jean-Eric Vergne
A move to DS Virgin for season two initially meant he failed to gel with the tricky car and its heavy twin-motor concept, and then couldn't gel with the team after an acrimonious spat in Buenos Aires. Switching to Techeetah, which was born out of the ashes of Team Aguri, was on the face of it a step down.
But JEV has a share in the ownership of the team, and as a result a much greater say in its running. He's been inspired by the additional responsibility and, after finally ending his victory hoodoo in the season-three finale in Montreal, has been far and away the most consistent driver.
"I believe I've worked much harder than before in my career, because I have more influence in the team compared to other places I've been," he states. "I have a lot more to say in this team and I've had quite a lot of input in not making mistakes and making sure everything is right on the car and in the team. I spend quite a lot of energy with the management trying to make those things happen."
Following the Paris round, Vergne holds a 31-point lead over former DS Virgin team-mate Bird. There are still four races and 116 points to play for, but this is the first time since 2011 and Formula Renault 3.5 that he's been in a championship fight.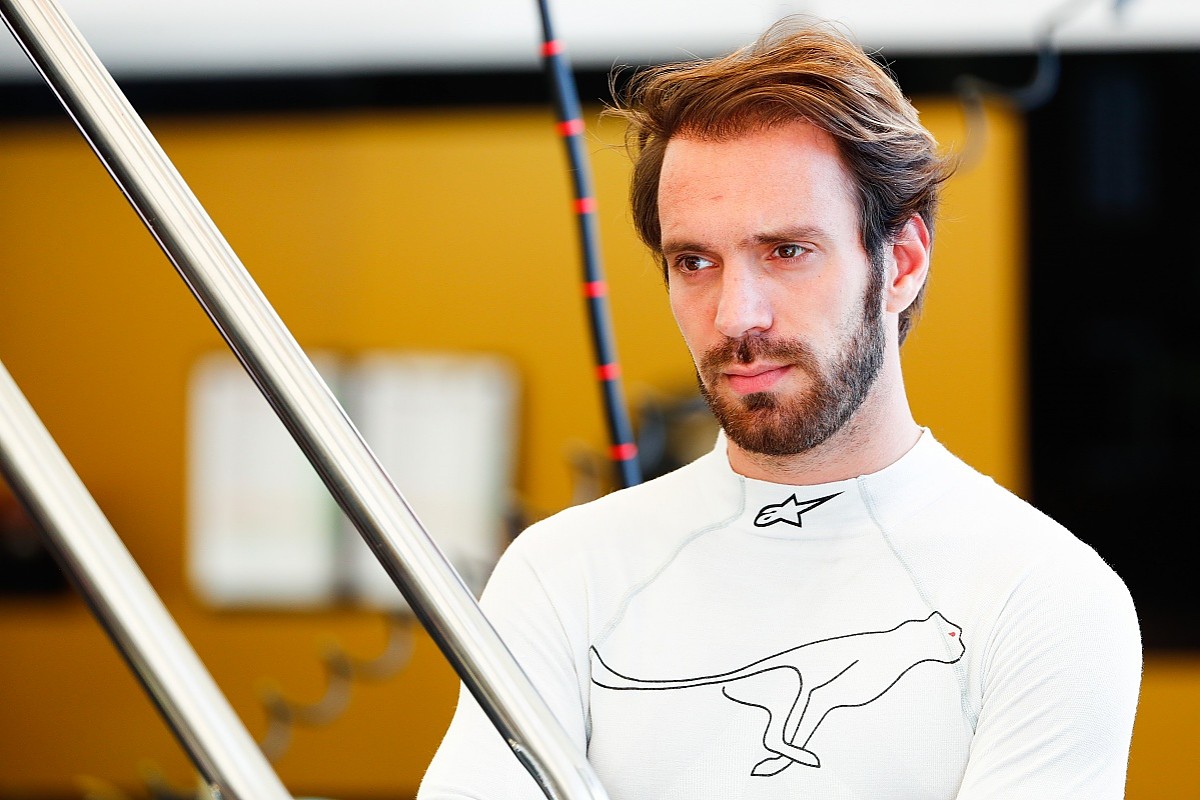 The closeness of the Formula E field - 11 drivers from eight teams have scored a podium this year - means that while gunning for victory at every race may not be a necessity, the margin for playing it safe is negligible.
"Now the focus is on making sure the car finishes the races, that when we finish the races we don't get disqualified for a stupid reason," says Vergne.
"We have to make sure that everyone in the team is doing their job properly, especially the engineers, and that they keep pushing hard and find new things to help us try to improve the car. And that's the key: everybody else has improved their cars and they have a lot more resources than we do, so everybody has to stick together and keep working hard, regardless of where we are in the championship."
Vergne's insistence that the team keeps its eye on the ball is understandable. In its first race in Hong Kong in 2016 he suffered reliability problems on both his cars, while next time out in Marrakech he suffered the ignominy of missing his slot in the superpole shootout as the team misunderstood the rules about when he needed to take to the track!
A lot of this can be put down to the lack of preparation the team had. As a customer entry it was only entitled to three days' pre-season testing, so it was still coming to terms with how to best run the car in the glaring scrutiny of a race environment.
Going into this season, it was much better prepared. It stuck with Renault as the powertrain supplier and, while this has been updated, the concept is fundamentally the same, which has allowed the team to spend more time on improving its operational performance.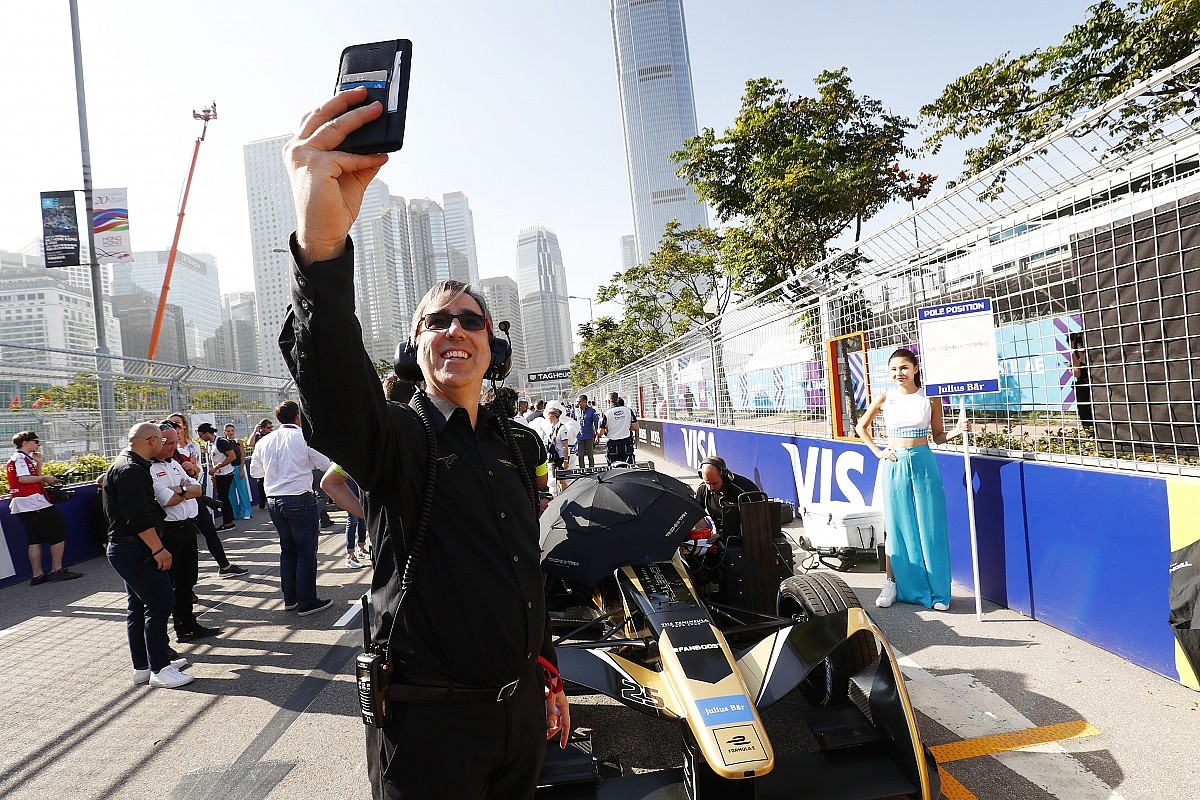 "We obviously made a bunch of mistakes in Hong Kong and Marrakech," Preston admits. "The thing you can do differently in this series is processes, procedures and operational aspects. The powertrain that Renault delivered is nice and reliable and the drivers can deliver.
"The rest came about through operations and processes and that's one thing you learn a lot in F1. Working for the McLarens of this world, you know what the extremes are - we didn't go that far, but did enough to change the way we do things. In the first two seasons with Aguri, we only had two of the car lifters for example, so we bought four and that made it easier to do things in the garage.
"This year we've been kind of a bit lucky, some others have dropped the ball, and we hope we don't from now on as there are still a lot of races to go. But, as we have seen in F1 this season, even the big teams with lots of resources can still make mistakes.
"When I was back at Arrows, every year we had a new powertrain. And then I went to McLaren and they had the same powertrain year on year and that was really smooth. We didn't have to redesign the gearbox every year, relearn software, relearn cooling systems and all that.
"Having the same powertrain from last year to this year helps - we didn't have to change that much" Mark Preston
"So having the same powertrain from last year to this year also helps because it's a small group of people - way smaller than if you were in a bigger series - and we didn't have to change that much."
Techeetah's customer status means it has drastically fewer test days in which to prepare pre-season than its manufacturer rivals. With a combined age of 71, Fred Makowiecki and James Rossiter stretched the definition of rookie to breaking point, but their deployment by Techeetah at the mid-season test in Marrakech may well prove to have been the masterstroke in delivering the title.
Bringing in two drivers with such an enormous wealth of experience - Rossiter was an F1 tester at a time of virtually unlimited running, while racing in Japan comes with reams of tyre testing, and Makowiecki has equally been pounding around the test tracks evaluating various rubber compounds - meant that rather than assessing the drivers' abilities, the team could work on the car instead.
"We found out after Marrakech we had suspension that was basically not working in some corners," says Vergne. "I was losing a lot of time because of that. We did some work on this. Our rookie drivers did a great job. They helped us understand things on the car. We went for a better direction on set-up and it helped us."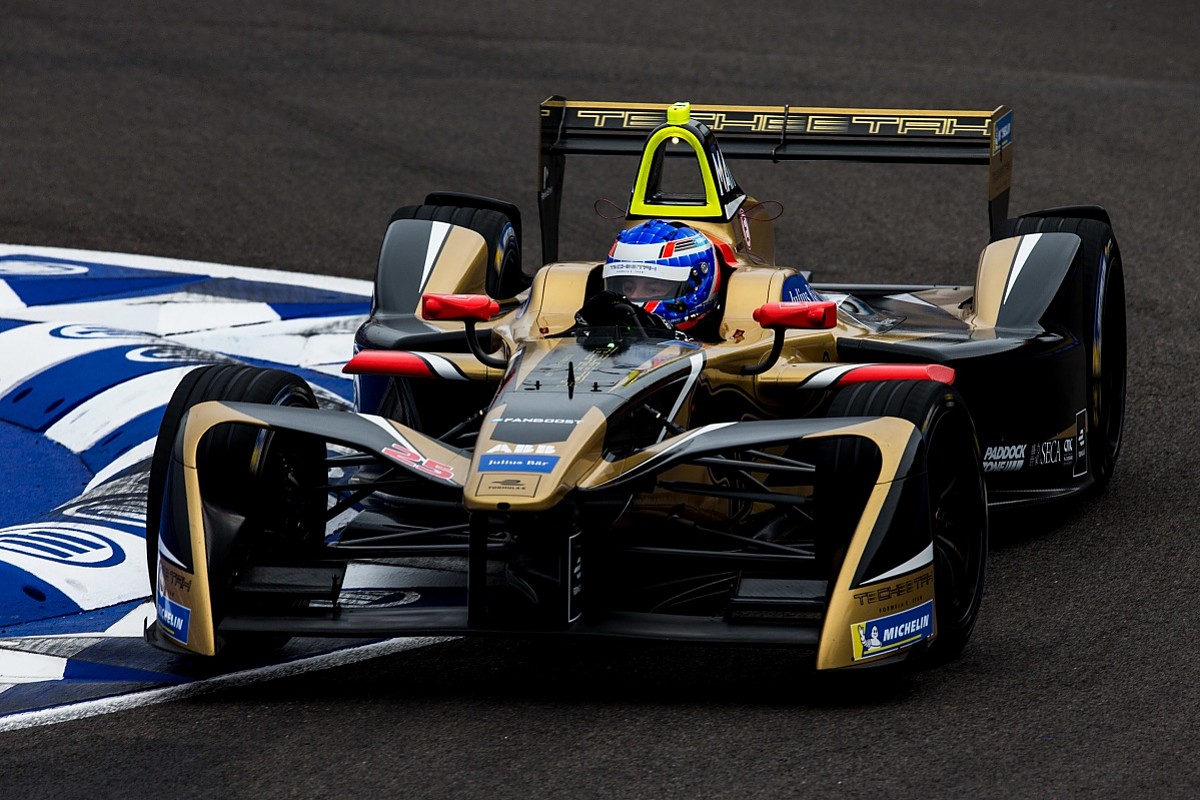 "We had 33% more testing than we'd had previously," adds Preston. "That really gave us a great boost."
On-track success has also been rewarded commercially. In Uruguay the team revealed its first major sponsor - Dragon Inc, a crypto-currency exchange (surely the ultimate 2018-style sponsor!).
Techeetah commercial director Keith Smout, another F1 veteran with the likes of BAR, has sensed the team is on a massive upward trajectory in terms of its ability to attract sponsors: "The advantage that we have is the sustainable nature of our sport. We can approach companies on two levels.
"One is traditional marketing and sponsorship, the other is the CSR [corporate social responsibility], and we have a real ability to go after those budget areas. And it's genuine. It's not that we say we are green, we actually are green. I watch what's going on in F1 and I see us in a better space."
Techeetah is owned by SECA CMC, which is also an investor in the series itself. It owns numerous sports rights in China, including the NBA, NHL and ATP, and sees all these as well as Formula E as key parts of its portfolio.
"They want to unlock the market in China for Chinese companies to go out internationally and vice versa, and they see the team as a perfect conduit for that," Smout adds. "They also want to look to the development of Chinese drivers. We recognise that there's nothing there right now, but it's in its infancy and we know that it's going to take time.
"The Chinese like to win and we like the David-v-Goliath attitude. For me it's been incredible - although I've been in teams where we've had podiums, I'd never had a win until this year! Also, not since I was at BAR have I had a company call me and then convert that into a deal, and that's happened since we've been in first place."
It's a remarkable story, one with echoes of Leicester City's improbable run to the Premier League title. But the job is by no means done just yet. Two rounds ago in Rome, Felix Rosenqvist was on course to wipe out most, if not all, of JEV's points lead before one bash over the kerb too many broke the left-rear suspension and all but ended his title hopes. Such are the margins in street racing.