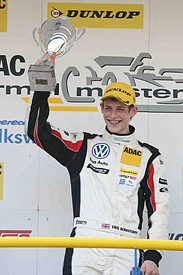 Emil Bernstorff will race in the FIA European Formula 3 Championship this year after signing for Volkswagen-supported team ma-con Motorsport.
The Briton, a McLaren AUTOSPORT BRDC Award finalist last year, steps up from ADAC Formel Masters, in which he was the runner-up in 2011, and will take in the full Euro Series as well as the British F3 rounds at Pau and Spa that count for European Championship points.
"It's great to be racing in European F3 with ma-con this year," said Bernstorff, 18.
"It is quite a late deal and I haven't tested the new car yet, but as I get used to the car I expect to be near the front challenging for victories."
Bernstorff's signing means that 14 cars are now confirmed for the Euro Series, two more than regularly competed in the second half of last season.