Ferrari Formula 1 junior Robert Shwartzman says he is "99%" sure he will step up to Formula 2 next season after sealing the FIA Formula 3 title at Sochi.
The Prema Racing driver took three wins on his way to a dominant title, which he won by 54 points - the equivalent of more than two wins - over fellow Ferrari junior and team-mate Marcus Armstrong, sealing the title at his home round in Russia.

Why Leclerc isn't Ferrari's only 2019 sensation
The logical step for SMP Racing-backed Shwartzman is F2 and Autosport understands that is the plan. Prema's F2 seats are hotly contested, so it is uncertain if Shwartzman can stick with the team he won the F3 title with or if he will have to move elsewhere.
"I think the biggest chance, like 99%, is that I'm going to go to Formula 2," said Shwartzman.
"I'm really excited about that, but I don't know with which team yet. I have no idea at the moment.
"Anyway, my target will be to deliver my best like this year.
"I have liked to work with Prema Racing. They are talented guys.
"I have a good relationship with them, but you never know.
"I just hope for a good car and a good team and I'll do my best like this year, to try and be in the same position next year."
The driver market has been shaken up in the last month by the death of Anthoine Hubert, who had been set to secure a top seat owing to his strong performances in 2019.
F2 rookie Juan Manuel Correa's recovery from surgery from his involvement in the Spa crash that claimed Hubert's life will also rule him out for next season.
Disappointed Vips uncertain after missing superlicence cut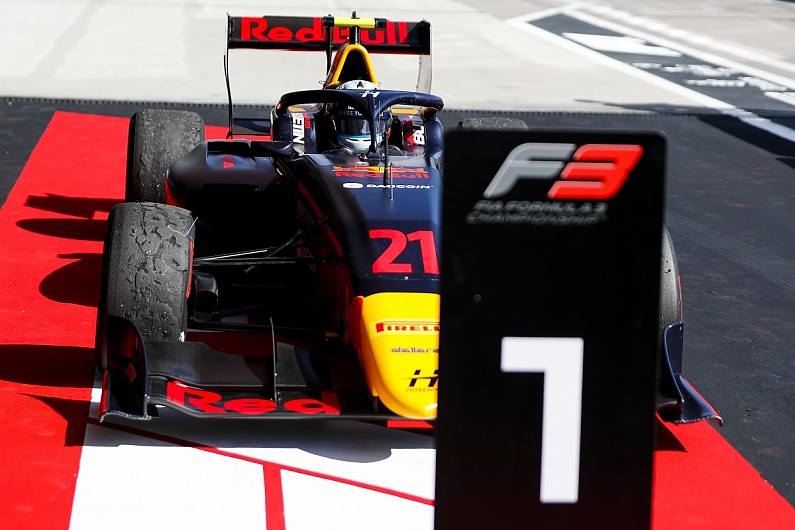 Juri Vips is uncertain of where he will race next season after missing out on third place in the F3 standings, which would have awarded him enough superlicence points to reach F1.
An outsider for a 2020 Toro Rosso F1 seat, Vips had a tough end to the season, although he capped it off with a win.
He struggled to contend with Prema's drivers, all three of whom were regulars at the front of the field, won races and eventually locked out the top three in the championship.
"Honestly it doesn't feel like a victory, the only thing that really mattered for me was to get third in the championship so I could get the superlicence points and I couldn't get that, so it feels like any other race and I'm just disappointed," Vips told Autosport after winning the Sochi sprint race.
Asked if F2 was his most likely destination for 2020, Vips added: "Helmut [Marko, Red Bull motorsport advisor] is taking care of that, and I'm actually not sure where I'm driving next year.
"It looks most likely like F2 or Super Formula, but I'm not sure about that yet."
Vips will contest the Macau Grand Prix, which is effectively a non-championship round of the FIA F3 Championship this year.