Nissan GT Academy graduate Jann Mardenborough will move to Formula 3 this season, as predicted by AUTOSPORT, having been signed as part of Carlin's European series line-up.
AUTOSPORT revealed last month that Mardenborough was bound for F3 after a single year in car racing, having started out in the British GT Championship as part of Nissan's programme for computer gamers trying to break into real-life motorsport.
Mardenborough joins Harry Tincknell, Nicholas Latifi and Jordan King at Carlin.
Tincknell spent the past two years in British F3 with Fortec and then Carlin, and is a multiple race-winner in the category.
King drove in Formula Renault last season after a partial Formula 2 campaign in 2011, while Latifi moves up from Italian F3.
Team boss Trevor Carlin said the relative inexperience of his quartet was not a concern.
"Despite it being quite a young team, I look forward to seeing what surprises they can deliver as they progress throughout the season," he said.
He also clarified that Carlin's focus would be on European F3 after the truncation of the British series.
"While we did have drivers interested in the British F3 series, circumstances have dictated that we now focus on the FIA European Formula 3 Championship ," Carlin said.
"I'm extremely pleased to have four such talented drivers with us for the season ahead."
Nissan LMP2 still aim for Mardenborough
Nissan motorsport chief Darren Cox added that Mardenborough would still be part of his firm's future Le Mans programme despite his diversion into single-seaters.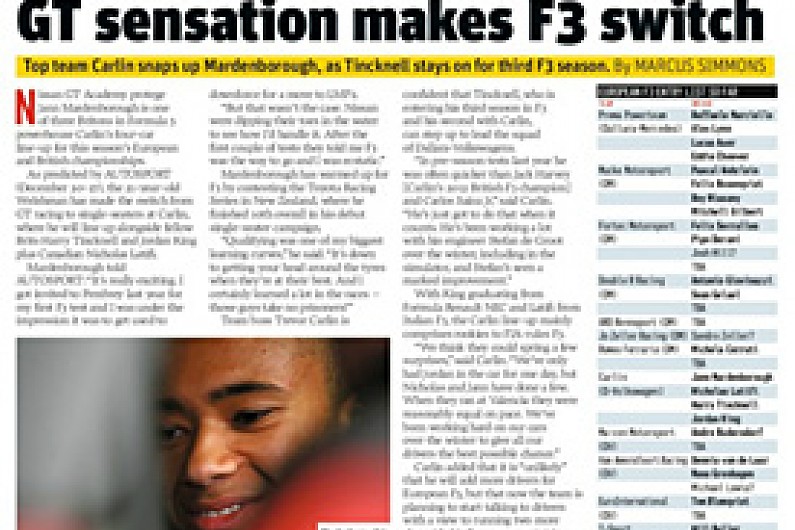 "Putting Jann into a Formula 3 seat is the perfect way to fast-track his education in downforce cars," said Cox.
"As with all of the GT Academy graduates, Jann will at some point compete at Le Mans in an LMP2 car.
"After competing for a season in the Nissan GT-R Nismo GT3 car, racing in F3 is going to teach him everything he needs to know about running with downforce, readying him for LMP2.
"Look at all the top prototype drivers of today - [Allan] McNish, [Alex] Wurz, [Anthony] Davidson, [Andre] Lotterer - they all learned their craft in single-seaters.
"Jann has completed just one full season of GT racing so we don't expect him to go out there and compete on equal terms with drivers who started karting before they started wearing long trousers.
"He is going out there to learn and any good results will be a bonus."
2013 European F3 Championship line-up so far:

Team               Car             Drivers
Prema Powerteam	   Dallara-Merc	   Lynn/Auer/Marciello/Cheever
Mucke          	   Dallara-Merc	   Gilbert/Nissany/Wehrlein/Rosenqvist
Carlin         	   Dallara-VW  	   Mardenborough/King/Tincknell/Latifi
Ma-con Motorsport  Dallara-VW  	   Andre Rudersdorf/TBA
URD Rennsport  	   Dallara-Merc	   TBA
Jo Zeller Racing   Dallara-Merc	   TBA/TBA
Fortec Motorsport  Dallara-Merc	   Felix Serralles/Pipo Derani/TBA/TBA
Van Amersfoort 	   Dallara-VW  	   Dennis van de Laar/Mans Grenhagen/TBA
EuroInternational  Dallara-VW  	   Tom Blomqvist/TBA
T-Sport        	   Dallara-Nissan  Spike Goddard/Will Buller