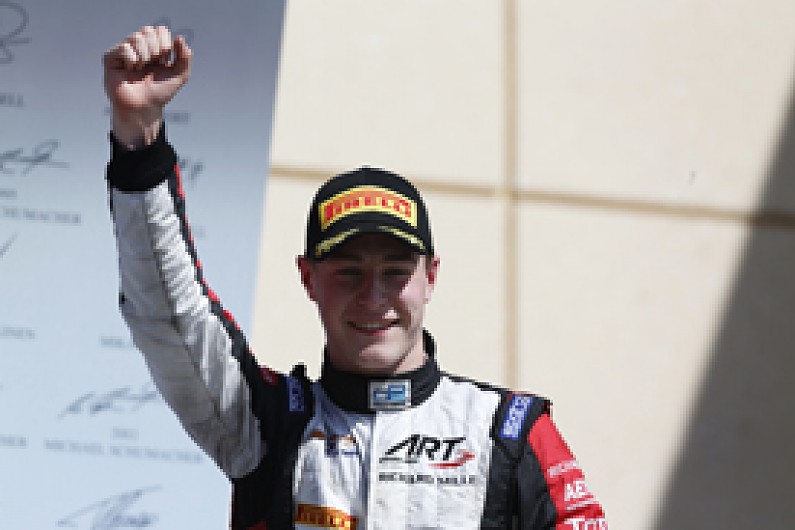 McLaren Formula 1 junior Stoffel Vandoorne won on his GP2 debut in Bahrain for ART Grand Prix, grabbing the lead off the startline and keeping his challengers at arm's length.
As polesitter Jolyon Palmer spun his wheels off the line, Vandoorne grabbed the lead into Turn 1, ahead of Stephane Richelmi, Stefano Coletti, Rio Haryanto and Mitch Evans.
Palmer slipped back to sixth, while Evans relieved Haryanto of fourth at Turn 1 at the start of lap two.
The safety car was then required as Kimiya Sato punted Axcil Jefferies into a high-speed crash on the approach to Turn 4 from which the Zimbabwean emerged unscathed.
At the restart, four of the leading pack dived into the pits to get rid of their soft tyres for hards as the pit window opened: Richelmi, Coletti, Haryanto and Nasr.
Evans and Palmer left their stops a lap later, and Palmer was the big beneficiary, leaping from sixth to second with "a really good stop".
Julian Leal then came into the podium frame, despite starting 12th on the grid. He stopped on lap eight, and rejoined right with Palmer, effectively in third place.
The race splintered into two elements, as those who started on the hard-compound tyres ran a long first stint. Among them was Simon Trummer, who stalled his Rapax machine on the dummy grid and started from the pitlane.
He worked his way through the hard tyre runners to inherit the lead when Nathanael Berthon pitted (the two almost colliding as Trummer was passing Berthon as he tried to enter the pits).
Despite a botched stop for Berthon, which required his wheels re-tightening a lap later, he immediately set a sequence of fastest laps, which should have been the trigger for Trummer to pit.
However, his Rapax team ordered him to stay out until just two laps to go, while others who had pitted earlier, such as Takuya Izawa, tore through the pack on their fresh soft rubber.
Ahead of all the frantic action in the pack, Vandoorne coasted home to a 1.5s victory over Leal, who passed the tyre-troubled Palmer with two laps to go at Turn 1.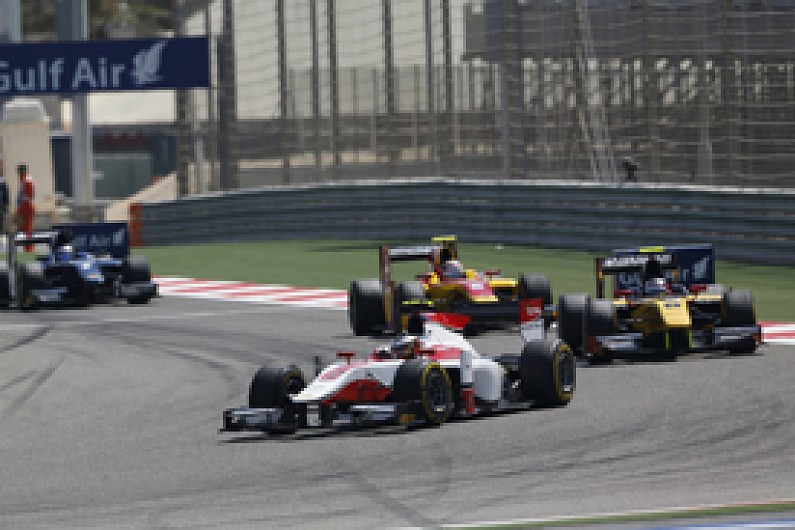 "It was incredible today," said Vandoorne. "I had a really good start and managed my tyres.
"Thanks to the team for giving me a really amazing car. Every lap my engineer told me to get with [the pace of] Jolyon, and I was able to manage it."
Palmer held on to third, just ahead of Coletti. Arthur Pic managed to finish fifth from ninth on the grid, making it a great return to the series for Campos Racing.
As Evans and Haryanto tumbled down the order, to 14th and 16th respectively, Izawa rocketed up to sixth, finishing ahead of Trummer who he'd been well behind when he pitted.
Nasr took eighth, and reversed-grid pole for Sunday's race, with Rene Binder and Adrian Quaife-Hobbs rounding out the top 10.
Results - 32 laps:

Pos  Driver               Team                   Time/Gap
 1.  Stoffel Vandoorne    ART                 59m57s.411s
 2.  Julian Leal          Carlin                  +1.551s
 3.  Jolyon Palmer        DAMS                    +5.880s
 4.  Stefano Coletti      Racing Engineering      +6.317s
 5.  Arthur Pic           Campos                 +15.100s
 6.  Takuya Izawa         ART                    +21.729s
 7.  Simon Trummer        Rapax                  +21.979s
 8.  Felipe Nasr          Carlin                 +24.425s
 9.  Rene Binder          Arden                  +24.861s
10.  Adrian Quaife-Hobbs  Rapax                  +26.194s
11.  Daniel de Jong       MP                     +27.034s
12.  Conor Daly           Lazarus                +31.931s
13.  Daniel Abt           Hilmer                 +36.231s
14.  Mitch Evans          Russian Time           +36.997s
15.  Artem Markelov       Russian Time           +41.030s
16.  Rio Haryanto         Caterham               +41.714s
17.  Jon Lancaster        MP                     +42.412s
18.  Raffaele Marciello   Racing Engineering     +46.849s
19.  Stepahen Richelmi    DAMS                   +49.656s
20.  Andre Negrao         Arden                 +1m02.346
21.  Johnny Cecotto Jr    Trident               +1m13.454
22.  Alexander Rossi      Caterham              +1m34.560

Retirements:

     Nathanael Berthon    Lazarus                 30 laps
     Kimiya Sato          Campos                  27 laps
     Axcil Jefferies      Trident                  2 laps
     Facu Regalia         Hilmer                   0 laps