Why rivals don't want BOP tweaks to help stop Red Bull F1 dominance
The Singapore Grand Prix should theoretically present Red Bull with its toughest challenge so far in 2023 as it seeks to create Formula 1 history by winning every race in a season.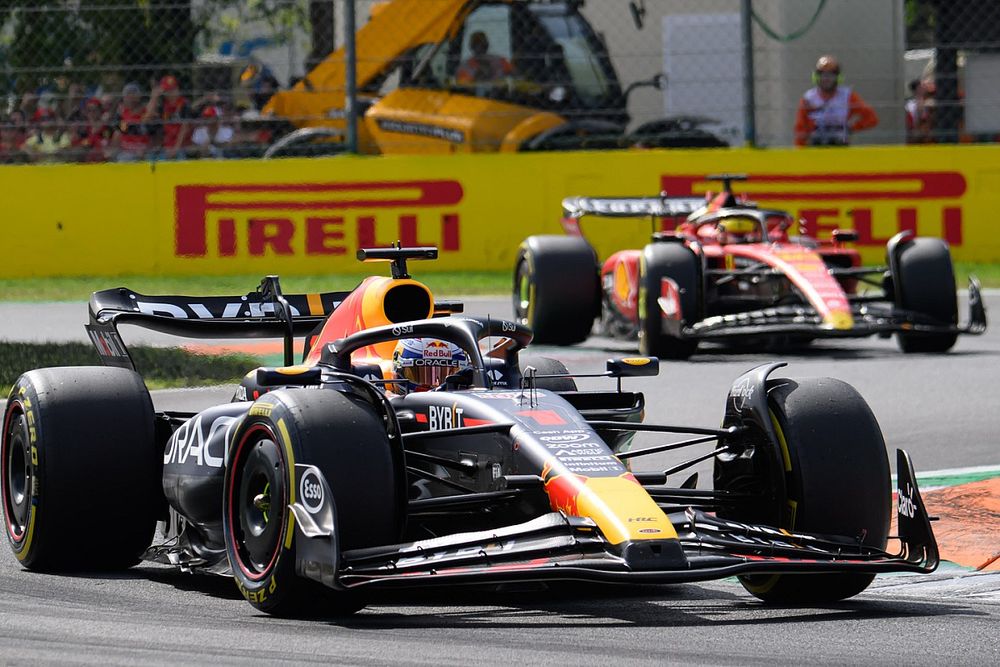 Construction work around the final sector of the Marina Bay city circuit means four of the characteristic 90-degree turns have been ditched. The replacement, a longer back straight, will ease the strain on the rear tyres. That could leave the door open for Ferrari in qualifying.
The anticipated limited effectiveness of DRS will then slow a Red Bull recovery should one of Max Verstappen or Sergio Perez miss out on pole position. And the RB19 has never properly excelled over the lumps, bumps and kerbs that pepper a street track.
PLUS: Why Singapore's 2023 F1 track changes should hurt Red Bull
But Red Bull's competitors might not have needed to wait until round 15 of 22 to end a sprint race and GP winning streak that began in Abu Dhabi last year. The competition would be much more closely contested if Balance of Performance was a feature of the topflight.
Given that Red Bull is busy maintaining a 100% record - and the prospect that the rulebook will remain largely unchanged until 2026 to seemingly point to another two seasons of a Milton Keynes monopoly - the subject of BoP in F1 has reared its head again more recently.
Most prolific in sportscar and GT racing, performance-equalising measures work to offset disparities across the field. A turbo boost tweak would help recover the 30bhp deficit Alpine claims is blunting its campaign. Mercedes could go some way to resolving driver complaints over an unstable rear end by having freer rein to position ballast. Williams might hope others were pegged back with their aerodynamics to diminish a downforce deficit.
Across the World Endurance Championship and IMSA SportsCar classes and in touring car series, BoP works to allow front-, mid- and rear-engine cars, front- and rear-wheel drive machines, hatchbacks and saloons, V8s and V6s to go toe-to-toe. That encourages manufacturer participation since a BMW M4 can battle with a Lamborghini Huracan.
But for F1, adopting BoP would concern itself purely with creating closer racing to boost the spectacle. The early 2022 dogfight between Red Bull and Ferrari seems like a long-lost luxury. A three or even four-team F1 title fight would feel like an embarrassment of riches.
BoP is a key element of sportscar championships around the world
Photo by: Jake Galstad / Motorsport Images
Yet, when presented with the prospect of teams being given a helping hand, none of the grid seems keen. Even in this period of commercial boom underlined by the popularity of Netflix series 'Drive To Survive', teams would rather the on-track action suffers and audience numbers put at risk so long as the sanctity of F1 remaining as a sporting meritocracy is upheld.
Ferrari team boss Fred Vasseur sums up the sentiment when it comes to the suggestion that the FIA and FOM should intervene to slow down Red Bull. He says: "I'm not a big fan of the Balance of Performance or any kind of artifice like this. It's not the DNA at all of Formula 1.
"And on the top, we have already the wind tunnel allocation, with a kind of balance, not balance of performance but balance of allocation and it's enough."
One explanation for Vasseur and his fellow team principals finding a moment to agree with one another is that the paddock has migrated towards engineers. Despite the success achieved by Mercedes and Red Bull under the leadership of Toto Wolff and Christian Horner, these two are the exceptions rather than the rule.
See McLaren promoting Andrea Stella, Williams poaching James Vowles and Aston Martin hiring BMW motorsport boss Mike Krack. The new model is to put engineers in charge. Engineers relish the challenge of closing a gap on their own terms and BoP is firmly at odds with this.
PLUS: How Aston Martin's "filter" defied Berger criticism to thrive in F1 leadership
As Vasseur alludes too, it is not as though BoP is a totally alien concept in F1 anyway. It's more that there's no place for anything as overt as fitting engine restrictors and success ballast. Already, the cost cap and the sliding scale of the Aerodynamic Testing Restrictions that limit the number of wind tunnel and CFD runs teams may complete exist to serve a similar purpose. If not overnight, they should pave the way for convergence.
Aston Martin's surge forward from 2022 to 2023 plus McLaren's in-season gains so far prove that the competitive order is by no means locked in. Red Bull feels beyond reach because it started the ground-effects era with the optimum concept and has had two years to evolve it. The rest play catch up having had to, at least partially, reconsider their architecture.
The progress made by Aston to become Red Bull's closest challenger at times in 2023 shows the order is not locked in
Photo by: Zak Mauger / Motorsport Images
Red Bull insists the RB19 is not made in the mould of the pioneering Lotus 72 and therefore will set the template for car design for generations to come. It is more a 'jack of all trades'. Chief engineer Paul Monaghan puts it simply when he says: "Its weaknesses are less than those of our rivals… our ducks are lined up in a row presently."
PLUS: The troubled story of F1's greatest racing car
The team is similarly surprised that it took so long for a rival outfit, in this case McLaren, to mimic its powerful DRS effect - achieved by marrying a low-drag rear wing mainplane with a higher-downforce spec beam wing.
This is reflective of nine teams somewhat dropping the ball to afford Red Bull its current rich vein of success. The rest of the pack are not, for example, scrabbling around to devise their own version of the game-changing double diffuser as per the early races of 2009. Red Bull started the ground-effects era off strongly and has stayed ahead via constant refinement.
The fear is that, having ridden out the worst of the 10% ATR penalty for exceeding the 2021 cost cap, Red Bull will continue to evolve its concept and remain largely unchallenged as a result. But this is what the field prefers. Laissez-faire, not BoP.
Stella says: "We don't want to have any help. We want to close the gap by our own means. And we like this challenge. And that's what we want for the next couple of years."
Subscribe and access Autosport.com with your ad-blocker.
From Formula 1 to MotoGP we report straight from the paddock because we love our sport, just like you. In order to keep delivering our expert journalism, our website uses advertising. Still, we want to give you the opportunity to enjoy an ad-free and tracker-free website and to continue using your adblocker.
Become a subscriber.
Disable your adblocker.