Why race wins were not the highlight for departing AlphaTauri F1 boss
After an 18-year tenure at the helm of Toro Rosso and AlphaTauri, Franz Tost will walk away from the team principal role at the end of the 2023 Formula 1 season.
His stint in charge has been beaten among current bosses only by Christian Horner, who started at Red Bull a year earlier, and while the Italian outfit hasn't matched the sister team in terms of results, that was never the intention.
Its focus has always been to train young drivers, and as such it helped to create two world champions for Red Bull in the form of Sebastian Vettel and Max Verstappen. Other graduates have either established themselves in F1 or moved on and found consistent success in Formula E or WEC.
The Italian GP wins achieved by Vettel in 2008 and Pierre Gasly 12 years later are the obvious standouts in statistical terms.
However, Tost himself prefers to consider the bigger picture rather than individual results, having succeeded in creating a strong organisation on the bare foundations of the former Minardi team.
"When Dietrich Mateschitz called me and said you go now to Italy," he says when asked about the highlights. "And when I came there and saw how it looked like, because I couldn't believe that this is the infrastructure for an F1 team! And then to build the team up.
"You know, it was not one highlight. It was a fantastic time to build together with the team, Scuderia AlphaTauri, and in the beginning, Toro Rosso. And I must say in Italy, especially Emilia Romagna and Faenza, it is a fantastic area.
"You have really good people there, you have enthusiastic people there. They have passion for F1, they like to work. And it was a real pleasure to build everything up together with these people.
"And it's not one highlight, of course You will see now someone can say the two wins in Monza were good. No, it's generally everything. And then also to see that the team worked successfully.
Franz Tost, Team Principal, Toro Rosso, and Max Verstappen, Toro Rosso
Photo by: Steven Tee / Motorsport Images
"Mateschitz said you have to educate young drivers. And then if you see that Vettel won races and championships, the same with Verstappen or with Daniel Ricciardo who won races. and [Carlos] Sainz and [Pierre] Gasly.
"That's good. And to see now how Yuki [Tsunoda] is developing, and then [Nyck] de Vries will also get there. So, this is a good feeling for the team."
Is he proud of having been so closely involved in the careers of all those guys?
"I don't like the word 'proud'," he says. "I have no reason to be proud about anything. It's the team. And the team did a really good job, I must say, also with educating the young drivers, because it's much more complicated and a much higher workload than people think.
"And our engineers, especially the data engineers, and race engineers, spend a lot of time with young drivers, sitting together, analysing the races and analysing qualifying, free practices.
"And this takes a lot of effort, and therefore I must say thank you to the team and to the engineers for their good job."
It was just prior to the Azerbaijan GP that rumours began to swirl around AlphaTauri. The suggestion was that Ferrari sporting director Laurent Mekies would be returning to Faenza, although in what capacity wasn't clear.
However, logic suggested that it could only be in the role of team principal, which would mean that Tost would be out.
The truth emerged in a press release hurriedly issued by the team just before Baku at the specific request of Tost, to put a stop to the rumours. Yes, he was leaving, but in a controlled manner and at the end of the 2023 season. He'd decided that at 67 it was time to retire and move on.
Mekies would indeed be joining, but at a time to be agreed by Ferrari, to work alongside a new CEO, former FIA man Peter Bayer.
Tost is no doubt genuine in his assertion that this is his decision, one that was even discussed with Mateschitz before the Red Bull boss's death.
However, it was also time for change at AlphaTauri as the main company reorganises in the post-Mateschitz era, and its second F1 team has to justify its existence. Horner certainly backs the new twin-pronged leadership arrangement, which he sees as potentially improving the synergies between the two teams.
"It was my decision," says Tost. "It started already two years ago, I discussed it also with Dietrich Mateschitz in those days. Because I'm now 67 years old.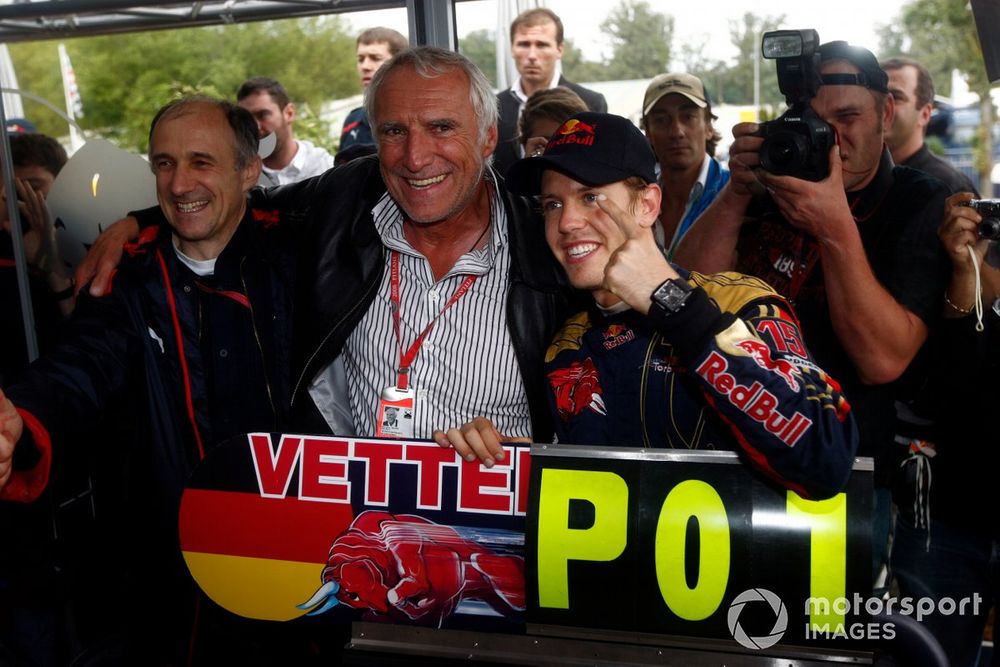 2008 Italian Grand Prix - Sunday Race
"And when I was younger, I always said to myself if you're in a leading position, then you should not glue on the seat, you should give this position to younger people, more clever people, creative people, motivated people.
"And now I'm going to the 70s, and it's time to say goodbye. I love F1. But it's a story which once has to end. And especially now with the solution with Peter Bayer as CEO and with Laurent Mekies we have two fantastic people who will replace me. And I think it's the best time to go out from F1."
As part of the departure arrangements, Tost will retain a consultancy role, although he insists that he won't be interfering with the new bosses.
"I can tell you now, I'm not the guy to look behind the shoulders or what Peter and Laurent will do," he says.
"They are really very good. And they know what to do. I will be there at the beginning, when they are coming, one month or so. But then 100%, I will step back. I'm not a person to advise someone and to tell someone what to do. They know it.
"It's also important, and this is also a personal desire, a wish from my side, the team has to step up, to come to another level. And I am there now for 18 years. And this was always my intention to bring in new people, new ideas.
"F1 is developing very fast, they have maybe different points of view, and they should do it. And I am convinced they can do it much better than myself. Therefore it's better if I shut my mouth."
AlphaTauri is following a recent trend that has seen a highly-qualified engineer in the team principal role, often working in tandem with a CEO who has more of a business and political overview of the organisation. In other words, it's no longer a job for one clear leader.
"I think it's a good constellation," says Tost. "Because then you have one person being concentrated on the technical side, and you have a second person who is more on the organisation, marketing and strategy for the future. All this kind of stuff.
"Because it's really a lot of work for a team principal if you take everything together, and therefore this constellation I think is a good possibility for the future.
"F1, now with 24 races, it's a lot of work to do. And they're much cleverer than me, because I work 24 hours, and they will divide it 12 hours each!
Franz Tost, Team Principal, AlphaTauri, with Laurent Mekies, Sporting Director, Ferrari
Photo by: Sam Bloxham / Motorsport Images
"Seriously, it's better if there's a CEO and the team principal, because you have to make the structure for the future. And racing itself is such an intensive job, that it's better it's being split by two people."
The drivers with whom Tost worked didn't always have an easy time, because much like Helmut Marko, he has always said exactly what he thinks. However, they have positive opinions of him as a boss.
"I spent a little bit over a year with Franz," says Verstappen. "And especially when you're just at the start of your career, I think it's good to have a person like Franz around you, I think he was helping me a lot in the beginning as well, giving me advice and sharing experience as well.
"I think everyone when they join, they want to achieve a lot in a very short time, but it's sometimes important to just calm everything down. And yeah, just having these kinds of chats with him, I think helped a lot.
"Running Toro Rosso and AlphaTauri of course, for such a long time. He has seen a lot of talent also progressing to the main team. It's an amazing career. And, of course, I think most of all it's sad to see him go, but at one point when you have done so many years in F1 it is time for a bit more family time as well."
"I like Franz a lot as a person," says Alex Albon. "He was a true kind of racer. I felt like he was very technical in his approach, and I think as he had so many rookies coming into the team, he definitely had an understanding for what it took.
"I spent six months more or less in the team. He really got me to understand what it takes to be an F1 driver and almost get prepared for it, because I think coming from F2 you never really understand what you're in for. But he's obviously had that experience with a lot of people, a lot of drivers."
"I have a lot of respect for Franz," says Carlos Sainz. "He's been part of that team for a long time and there's so many young drivers that have been part of, at the time Toro Rosso now AlphaTauri, and he's helped all of us to become better drivers, better professionals, better persons for sure."
Tost insists that when he finally stops, he will switch his attention back to skiing, an early love of his before motor racing completely took over his life.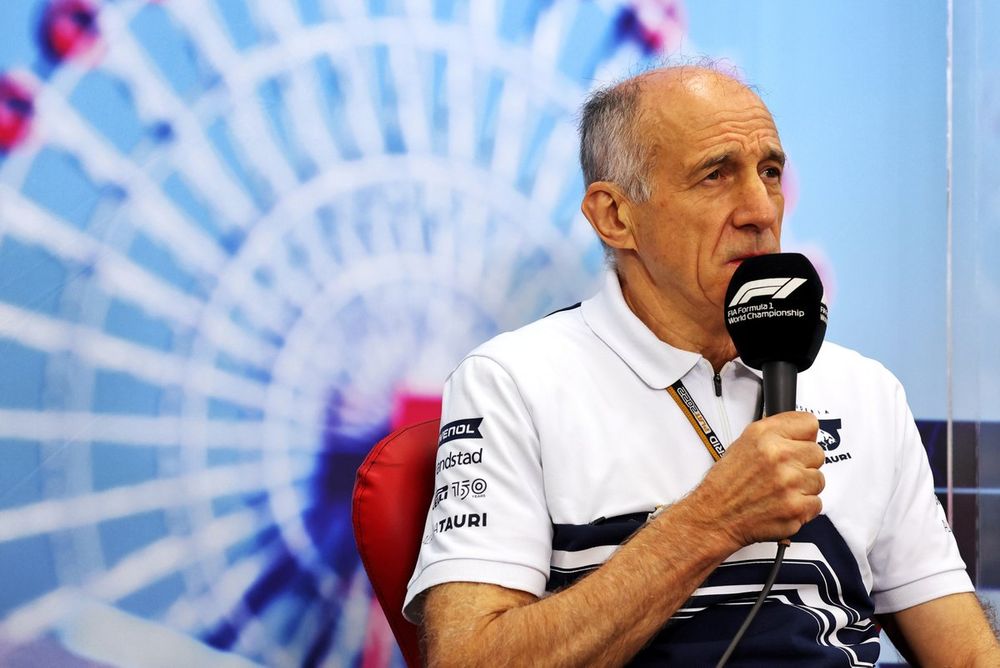 Franz Tost, Team Principal, Scuderia AlphaTauri, in the team principals Press Conference
Photo by: FIA Pool
"When I was young, I was always taking part in ski races," he says. "But the last 20-30 years, I simply didn't have time anymore for going skiing and the last three years even not one day. Why? Look to our calendar.
"We come back at the end of November, beginning December. Most often there's no snow in December. And then the best time for skiing is in February, March - there we have testing.
"Then we go to Bahrain, this year Saudi Arabia and then Melbourne, and then the ski season is over. Therefore, no time…"
Subscribe and access Autosport.com with your ad-blocker.
From Formula 1 to MotoGP we report straight from the paddock because we love our sport, just like you. In order to keep delivering our expert journalism, our website uses advertising. Still, we want to give you the opportunity to enjoy an ad-free and tracker-free website and to continue using your adblocker.
Become a subscriber.
Disable your adblocker.